Taking a scenic stroll to the Pope's Summer residence, viewing Rome from the Colosseum's upper rings, visiting Vatican Museum's many secret rooms, preparing seasonal dishes from a Roman farm house…Even in Rome, one of the world's oldest touristic cities, there are still genuine experiences known to only a few. Many foreign tourists ask me the question, "are there any Italian living in Rome?" My answer is, "Of course there are, but unfortunately they never go to the places normal tourists go." After giving travelers advices on where to go in Rome for a few years, I think it's time to reveal the secrets.
You probably already get the idea – Locals in Rome hide their secrets well. Rome is multi-layered, on the outside it seems unbearably touristic, yet on the inside there is still a strong culture core. If you are a culture-savvy traveler that looks beyond the mass-produced touristic things, keep reading. You're about to uncover a Rome that is still quaint, old-fashioned, and unmistakably Italian.
1. Visit Castel Gandolfo – the Pope's Summer residence
Just 12 miles out of the Eternal City, the Pope's country retreat recalls the grandeur of times gone by. Popes have come to this picturesque, lake-side town for generations, and so did his pilgrims. Perfectly curated gardens, ancient stoned roads, and carefully paired flower pots everywhere make Castel Gandolfo the best place for a scenic stroll. Not to mention the turquoise lake surrounded the town – a real gem to treasure in Rome's hot summer days.
2. See the Grottos (Pope's Tombs) under the ground
Lots of Rome's best secrets are under the ground. The Grottos, Rome's vast underground graveyards house tombs of Popes. This underground world is extremely sophisticated, consisting of tombs, rooms, chapels, and encompassing structures that make meaningful connections in the past. You'll want to go with an experienced guide that read Latin to help you decode the inscriptions on the tombs. It is truly a hidden Rome experience, and emotional.
3. View Rome from Colosseum's upper level
Nobody would miss Colosseum, but only a few know that the best views stay on top. Going to the Colosseum's upper ring not only excludes you from the hectic tourist crowd, but also offers you a bird's-eye view of the ancient Forum. You'll admire the arch of Constantine and surrounding monuments from above and get a panoramic city view. I call this a true "Instagram-worthy" moment.
4. Private visit to Vatican and Sistine Chapel's secret rooms
Not many rooms of the Vatican museums and Sistine Chapel are open to the public, and the best rooms are always the hidden ones. I always strongly recommend travelers with higher budget to take the private tour, mainly because the private visit best keeps the sensory experience. Based on private connections, guards will open certain rooms just for private viewings, and you'll admire Michelangelo and Raffaele in absolute silence. You'll even smell the aromas from the ancient paints, and have the private space to meditate under Rome's best masterpieces. It's hard to imagine getting that sensory experience in a room packed with massive tour groups.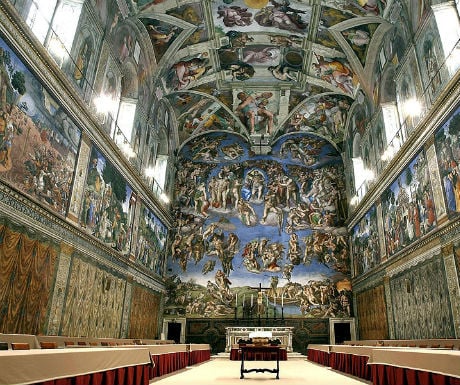 5. Meet an Italian tailor for your wardrobe classic
Why do you need a tailor-made clothing when you can simply buy a designer dress in stores? Well, not only does a tailored clothing fits better, accentuates your figure, it also makes the occasion all the more special. What gets better than having a suit or dress artfully made for you in Rome?
And I have to be honest, Italians simply dress better. The secret? They still do it the old-fashioned way – custom-made tailoring. Some of the best tailors in Rome have their own artisan workshops, and you'll need to come over to have every details measured.
In fact, simply visiting the pattern-filled studio is quite an experience in itself. It starts from getting to know you personally, the tailor then creates the patterns, selects the fabric, cuts and fits the finished piece on you. The ultimate Italian experience from the bygone era.
Paul Lewis is Managing Director at Luxo Italia.
If you would like to be a guest blogger on A Luxury Travel Blog in order to raise your profile, please contact us.