If you ask anyone who's planning a trip to The Maldives why they've chosen to visit that particular part of the world, one of the most common reasons is for the unbeatable snorkelling and diving experiences. The Maldives are renowned for excellent visibility, crystal-clear waters, and pleasant, warm temperatures – making underwater sightseeing top of the to-do list.
With so many different island resorts to choose from, deciding exactly where to stay can be difficult. Here are our recommendations for the best places to stay in The Maldives offering excellent snorkelling and scuba diving opportunities:
Constance Moofushi
This resort is home to one of the best house reefs for snorkelling in the Maldives. There's also access to some great nearby diving spots, including Shark Point – where tonnes of sharks (up to 6ft long) gather above a steep drop-off point. Dive scooters are on offer to help you reach patches of reef that would otherwise be a challenge to access, and instructors are on hand to give lessons if you've never used one before.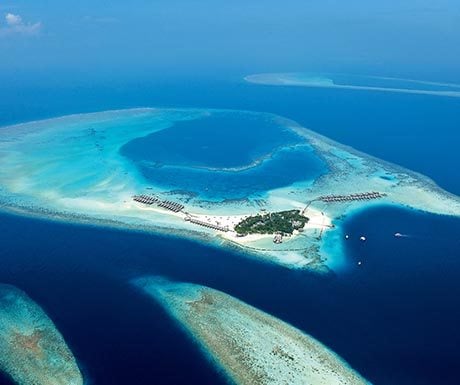 Oblu by Atmosphere at Helengeli
Oblu is renowned for its colourful house reef, located just metres away from the island. It's another great option for snorkelling as well as diving – you'll see all manner of fish, octopus, eels, turtles, sharks and stingrays close to the surface. There are two house reefs, one either side of the harbour. Nearby there are some good opportunities for drift diving – an exhilarating experience, which feels like flying underwater as you're carried along by the current. It's also one of the more affordable Maldives resorts to visit (relatively speaking!).
Jumeirah Vittaveli
Aside from being one of the most luxurious island resorts in the region, the main attraction here is the house reef – one of the best of any resort in the South Male Atoll. Stretching out 500m on either side of the island, you don't have to swim out far before you're greeted with an abundance of captivating coral and shoals of reef fish. For more experienced divers, there are five other decent dive spots nearby. The resort has been working hard to take care of their house reef, bringing in an in-house Marine Biologist as well as independent organisations to nurture and protect the coral, ensuring it'll stay beautiful for years to come.
One&Only Reethi Rah
Another top-end choice, One&Only Reethi Rah does have a house reef, accessible by a short canoe ride, but the best diving spots are a short boat ride away. The hotel boasts the Maldives' only PADI National Geographic Dive Centre, and one of the region's best shark-spotting sites is nearby. There's the chance to take part in more advanced diving situations, with strong currents, drift, wreck and night diving all on offer – as well as more relaxed sites for less experienced divers. The resort also runs a Reef Project, encouraging visitors to transplant pieces of coral onto frames, before planting it in new location on the reef. Long after you've left the island, you can log onto the website where the resident marine biologist periodically uploads photographs, allowing you to keep an eye on its progress.
Park Hyatt Maldives Hadahaa
The house reef at this resort is very memorable; they've done a great job of preserving it (it's very healthy – teeming with life). You'll spot many different types of marine creatures – including fish, shark, turtles and even octopus. There's no need to take a boat; great snorkelling is accessible by jumping right in from the end of the jetty. Ask anyone who's been to this resort, and they'll almost inevitably start raving about the spectacular underwater scenery. The snorkelling is so varied at the house reef there's almost no need to venture further afield, but experienced divers may wish to take a boat trip to some nearby sites. There's even the chance to see whale sharks – if you visit at the right time of year.
Spencer Groves is Commercial Director at letsgo2.
If you would like to be a guest blogger on A Luxury Travel Blog in order to raise your profile, please contact us.