They say love and marriage goes together like a horse and carriage; by the same token so do the mountains along with luxurious accommodation. A hotel is fine for many but there's something extra special about being spoiled rotten in your home from home. Luxury chalets have certainly come a long way in terms of the facilities on offer to their guests. They've always been luxurious but some have gone the extra mile to include an ever growing list of essentials required by the discerning client.
Some have gone as far as providing a Heli-port. They probably won't catch on for many reasons but an indoor pool, or even an out door heated pool? now you're talking. If there's one thing to light up the kids faces on holiday, it's when they discover that the accommodation they are staying in has a swimming pool. And it's not just the kids who'll appreciate this feature. Not all who visit the Alps are there to ski. The mountains are alluring in their own right, spending time there is a perfect getaway for many, so if you're a non skier it makes sense that your accommodation provides you with things to do and spending time in and around a beautiful pool area is as good a way as any to spend time relaxing. So, here are my top five luxury chalets, each with their own private pool.
Marco Polo, Val d'Isere
Wellness is at the heart of Marco Polo as the whole of the first floor is dedicated to relaxation and well being. The spacious pool with jet stream sits adjacent the hot tub and is flooded with natural light from floor to ceiling windows. The sauna and relaxation area, complete with entertainment system, allows you to completely unwind and enjoy the ultimate luxury ski chalet experience.
This chalet is the last word in opulence and exotic luxury. Carved wood, chandeliers, exotic fabrics and furnishings lift this fabulous chalet out of the ordinary and elevate it to a league of it's own. Situated in the heart of Val d'Isere, yet set back from the main road, the chalet affords privacy, sumptuous luxury and easy access to the centre of this beautiful high altitude ski resort.
Marco Polo wasn't averse to a little luxury and the finer things in life, after all he did much to introduce Europeans to the delights of Central Asia' and China' exotic tastes and treasures. He left a lasting legacy and inspired others to follow in his footsteps. One wonders, were he still around today, what he would make of his namesake, Chalet Marco Polo, I'm guessing that he would be very impressed indeed. He'd probably don his budgie smugglers too, and have a quick dip.
The Lodge, Verbier
The glamorous indoor swimming pool, sleek with dark grey tiled floor and bright spotlights, can be found on the entertainment level of this stunning chalet, along with an indoor Jacuzzi and a steam room A second outdoor Jacuzzi awaits on the Ibiza style terrace upstairs – spoiled for choice.
Your own pool table, chill out area with big comfy sofas, and a huge seating area surrounding the giant Plasma screen that serves as your own private cinema. The space is generous and versatile, and can adapt to suit your mood whatever the time or occasion.
If James Bond had a week off, it would be no surprise to find him here, sipping a martini from the elegant private bar in the superb party area offered exclusively to guests of Sir Richard Branson's Lodge. Though she leads the way in luxurious ski accommodation, The Lodge is neither loud, nor brash, but sits proudly in pole position; just 200 meters from the Médran lift station, the Ruinettes piste taking you to the edge of her private garden.
The star attraction here is likely to be the party area; an authentic and stylish bar awaits for your own private après ski party – or late night venue should you choose. Pull up a bar stool and peruse the cocktail menu – and watch Mr Bond thrash around in the pool, spluttering and gasping for air.
Chalet Dent Blanche, Verbier
The ground floor of Dent Blanche is occupied by the amazing spa and entertainment area. There's a beautiful infinity pool for you to wallow in, and a sauna and hamman to indulge yourself and soothe your limbs as you prepare yourself for another exhilarating day on the slopes. Adjacent to the wonderfully appointed spa and pool area is a plush cinema room, perfect for a night in at the movies. If you feel you have energy to spare, you could partake in a serious workout in the well appointed gym.
Chalet Dent Blanche is an absolute joy to behold. Full of wonderful artefacts, modern art, beautiful furniture and very tastefully decorated with a fine eye for detail and design. This gorgeous property was completed in 2009 and must surely be one of Verbier's most impressive private homes.
The chalet is conveniently located in the heart of the village but is discreetly hidden away in a quiet location. It proudly stands on the edge of the Verbier plateau and from this vantage point it benefits from spectacular and breathtaking views of the surrounding mountains.
Chalet Dent Blanche is set out over 5 floors, linked by stairs and a lift. The main entrance takes you into the 2nd floor where you'll find the beautifully furnished living area and dining room. Chalet Dent Blanche is fitted throughout with state of the art entertainment technology, including iPod docking stations, DVD players, Wi-Fi and satellite TV. In short there's everything you could possibly need for an unforgettable stay, in this wonderful property. Bring you own water cannons if you must, why not?!
Chalet Mont Tremblent, Meribel
If you have members of your family or party that don't ski, this wonderful chalet will keep them amused and occupied. The large cinema room with surround sound will please all ages. There's a pool table for friendly or not so friendly tournaments, depending on the competitive nature of the players, it's all fun. Or you can go wild on the football table and the Wii system. For the less competitive amongst you, there's a massage area, hammam, and outdoor hot tub. Last but not least and sure to be a big hit with the kids is the heated outdoor infinity pool with jet stream.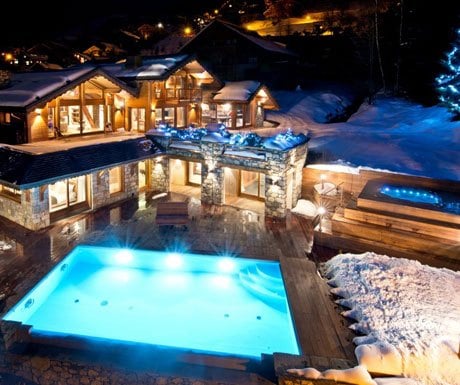 Chalet Mont Tremblent is your dream chalet, conceived and designed to offer you the utmost comfort, space and luxury. Standing proudly in its own grounds, in the heart of Meribel, this wonderful accommodation is the perfect place to hang your hat for an amazing ski vacation.
On the surface Chalet Mont Tremblent is all glass and honey toned timbers but look a little deeper and all the wonderful furnishing, fabrics and design details start to become very apparent. The architects took into account the mountain setting to allow for contact with the outdoors at every opportunity. The light floods into the interiors in the daytime and this makes for a wonderful ambience and offers you a constant reminder of your location in the spectacular mountain landscape. You definitely get a dose of the feel-good-factor here.
The double height lounge with the open log fire is a wonderful place to relax and kick back. The spacious dining area looks out over the mountains and to top that off, you even have a bar area for pre dinner drinks, you can even have your own lock-in, then down to the pool, and go wild.
Chalet Edelweiss, Courchevel 1850
This extravagance on display permeates every element of Chalet Edelweiss; from the spa with its colossal swimming pool adorned with lion busts spouting water and a vast marble waterfall, to the incredible party room complete with your own bar and a pool table. Or perhaps you could hire a DJ to play for you from the podium as your guests dance the night away on your private dance floor; your own private nightclub in fact.
Winding up through Courchevel 1850 at each bend in the road you pass designer boutiques and lavish jewellers; window displays glisten and twinkle as though mimicking the snow covered pistes behind. You climb higher still, towards those enticing white slopes, before drawing up at the solid black gates of the exclusive Bellecote hamlet. Chalet Edelweiss is the shining jewel in Courchevel's crown, and here you have truly arrived.
The gates part seamlessly in greeting and you glide onwards to be welcomed to what is surely the grandest chalet Courchevel has to offer; no mean feat in a resort world-renowned for its prime ski real estate. As you enter, the sheer size and scale of Chalet Edelweiss becomes apparent; she is unique in her stately opulence.
The generous spaces of this magnificent Alpine palace spill from a central staircase, dramatically carving through Edelweiss' 7 expansive floors. The sight from the top floor through this central well is quite a thing to behold; that is if you have a head for heights. If not there is the lift of course, to save your ski legs any un-necessary additional strain.
Rebecca Taylor is Director at SkiBoutique.
If you would like to be a guest blogger on A Luxury Travel Blog in order to raise your profile, please contact us.