By
Naomi Sheehy
on Mar 13, 2017 in
Attractions
,
Europe
,
Events
,
Going Out
,
Ireland
,
Leisure Travel
,
Regions
,
Speciality Travel
,
Travel Miscellany
,
Western Europe
Friday the 17th March is Ireland's Saint Patrick's Day. Global monuments go green in cities all over the world to nod to our small country. Pubs and clubs fill with revelers enjoying the excuse to indulge, dressed head to foot in green and sing along to the latest singer songwriter that Ireland has produced. In Ireland, we celebrate our history, culture and our love of fun. Putting aside clichés, here is a list of things to do to celebrate our national day.
1. Eat fish and chips on a pier
Pick a windswept coastal village on the south or west coast while driving the wild Atlantic way (mapped out coastal drive that boasts being the longest in the world). Get out of the car and take a walk to let the clean Irish sea air blow away the city cobwebs and build an appetite. Find a local fish and chip shop, order the catch of the day and smother it with sea salt and vinegar. Take your catch down to the pier, find a seat and dig in. We would recommend Lahinch in County Clare as a great spot to soak in the sea air.
2. See a play / enjoy Irish theater
We have a love of theater. We write and perform with great passion. The country is awash with local amateur theater groups that like to perform their masterpieces at this time of the year ( away from the busy summer months. ) Check out the local newspapers, ask around and see the posters up in the local pup. There is a wealth of talent hidden in the local theater and a completely unique way to witness Irish culture fist hand. We recommend hanging about a little while after and find out were the cast are going for their drink after, you could be in for a spontaneous night of song and music that just cannot be planned!
3. Eat in an excellent Irish restaurant
Ireland has undergone a transformation the past thirty years. More wealth and visitors has allowed us to indulge in fine dining. Although we may have been slower to get to the table, we have left some foodie destinations behind in our ability to take local produce and transform it into unique masterpieces. A few that have taken Ireland's terroir and absorbed into their cooking are Galway's Anair Restaurant, Heron & Grey in Dublin, Aran Island's "Inish Meain". Its's a great way to taste Ireland at its best.
4. Night kayaking
In the southern part of County Cork is a salt water lake with a unique biology and beautiful scenery. Lough Hyne has an ancient history as a spiritual place and visiting it you can see why. A local adventure sports company bring people on night kayaking trips on the lake. Lucky few get to experience the phosphorescence (light emitting Phyto plankton), while their paddle hits the water. Your guide entertains with stories of fairies and legends while nature surrounds you.
5. Visit a castle ruin
While most of Ireland's castles were actually built by the Anglo Norman invaders, they still remain as a quintessentially Irish experience. They are dotted up and down the country and while some are in terrible state of ruin, some have been maintained or beautifully restored. Trim Castle in County Meath was and still is one of the most impressive Norman built castle in Europe. It was built as a stronghold of the Anglo Norman power in Ireland by the De Laceys, and used by Mel Gibson as a backdrop in his movie "Braveheart". It is a fantastic way to spend a day seeped in Irish history.
6. Listen to U2's Joshua Tree
It is the 30 year anniversary of the release of the Joshua Tree. U2 are one of Ireland's greatest exports and frankly I don't think you need any reason to listen to this, but Saint Patrick's day will do!
7. Drive the Ring of Kerry
It is one of Ireland's most popular drives. There are a lot of bus tours and heavy traffic in the summer, but at this time of year the roads are quieter and the tourists aren't here yet. Make sure you head to the very tip of the peninsula and take in the view over the Skellig Islands. The boats don't land at this time of year, but the view is fantastic.
8. Play golf at a world-famous golf links
If golf is your thing, you might know that Ireland is a mecca for golfers searching for the most challenging links and the best views. The very north and the very south are the two best regions to look for. The " Royal Portrush & the Royal County Down" golf clubs in the North some of the highest ranked links in the world. County Kerry in the south have Waterville and Tralee Golf Clubs to rival anywhere. Golf has become so synonymous with Ireland, that incorporating it into a cultural trip of Ireland is becoming a necessity!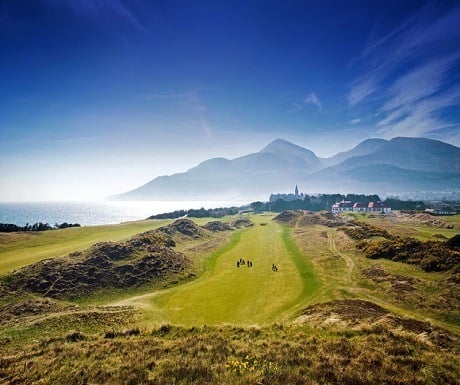 9. Visit the GPO Witness History Visitors Centre
1916 was the year that Ireland rebelled and set about gaining its independence. 2016 was a big year in Ireland with commemorations and tributes to the rebellion and the people involved. The GPO visitors centre was opened in Dublin to exhibit the details of the events. Definitely worth visiting to discover the modern history of Ireland.
10. Take a Cork City tour
Cork City is Ireland's second city. It is colourful, friendly and as a university city, is very youthful and hip. It was originally a Viking town, and has a long fascinating history. We recommend taking a tour of the city and finish with lunch in the "English Market". Upstairs is Farmgate café, serving great lunches. Enjoy views over the balcony to the food stalls below.
11. Stay in an Irish country manor house
Ireland has great country manor houses that operate as guesthouses and fantastic restaurants. The farm surrounding the house supply the kitchen and they are still operated by the family. With ever changing menus that reflect the season, cosy old styled rooms and friendly staff, Ireland's friendly reputation will be confirmed and enjoyed. We recommend Viewmount House in County Longford or Ballymaloe House in County Cork, but every county has something to offer and there is no excuse for missing out in the experience while visiting Ireland.
12. Attend the all-Ireland club hurling or football finals in Croak Park, Dublin
Hurling and football are Ireland's native sports. Not just a sport, it is a religion for many and the greatest achievement for any club is to win an All -Ireland final where bragging rights remain for decades. Witness the thrill and excitement for yourself as two rival communities battle for the ultimate title.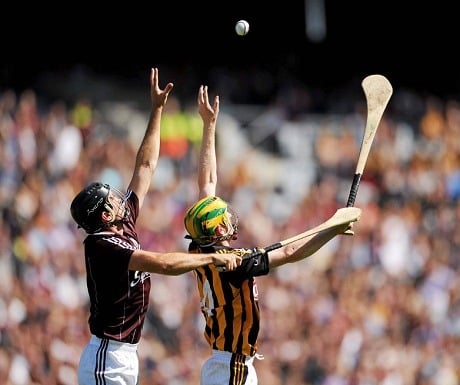 13. Watch Game of Thrones
Yes, not what you would expect on a list of Ireland activities. All the "northern" scenes of the popular HBO tv series were filmed in the north of Ireland. The moody, misty mountains, the stone castles and the windswept islands can all be visited in County Antrim and County Down. If you need to see Ireland's northern coastline looking great, enjoy a Game of Thrones marathon on you own couch.
14. Trace your Irish roots
While this could take some investigation, if you have your suspicion that you might have some roots in Ireland, why not look into it? Visit the homestead and see your name over the shops and pubs in a small Irish village for the first time is a satisfying and peculiar feeling ( or so we are told). We suggest getting the help of a genealogy or heritage specialist and enlisting a few experts to advise you while you search the archives.
15. Enjoy a cosy pub, whiskey over a heated glass and a great novel by Edna O' Brien
This is a great thing to do on you own. Ireland's pubs are very welcoming for a solo traveler passing away a rainy day by the fire. An authentic Irish thing to do.
Naomi Sheehy is CEO of Ireland Luxury Travel.
If you would like to be a guest blogger on A Luxury Travel Blog in order to raise your profile, please contact us.