By
Zach Smith
on Mar 15, 2017 in
Belize
,
Central America
,
Costa Rica
,
Cruises & Boat Travel
,
Ecuador
,
Guatemala
,
Peru
,
Regions
,
South America
,
Speciality Travel
Spend a day on the water, and feel the sea breeze in your hair and the sun on your face. With experienced captains, you can visit spots along the coast where dolphins frolic and fish are eager to bite. Boating tours also allow you to explore as many beaches as possible — cruise up and down the coast until you find the beach where you want to bring a cooler and watch the sunset. Go further inland to see the rivers and lakes that have helped local cultures take shape. Whether you paddle your own boat, or climb aboard a gleaming yacht, these destinations all offer easy-going adventure.
Reef fishing — Ambergris Caye, Belize
The Belize Barrier Reef is the second-largest reef in the world. It is a healthy marine habitat for some rare animals, including whale sharks and manatees. But you can't take those home to eat, so your guide will show you how to cast your line to boost your chances of catching snapper, barracuda, grouper, king mackerel, and jack.
Whale watching in Ecuador — Salinas, Ecuador
The waters near Ecuador's Pacific coast attract humpback whales and their calves between June and October. Ecuador's main hotspots for whale watching are Salinas and Puerto Lopez.  Puerto Lopez is right outside the protected waters of Machalilla National Park.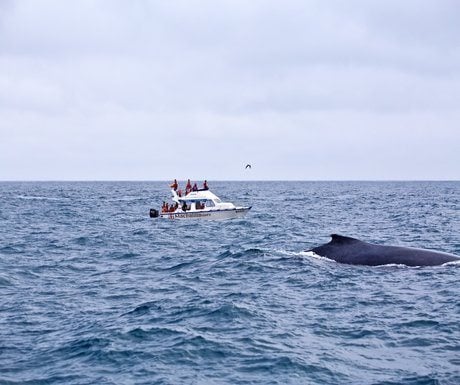 Humpback whales in this area sometimes leap out of the water, putting on an athletic display for such mammoth animals. Mother whales and their calves swim close to the surface of the water, expelling water from their blowholes.
Tamarindo catamaran tour — Tamarindo, Costa Rica
You can find sailing tours that leave from Tamarindo and set sail for other popular beaches in the Guanacaste region, like the pristine, seashell beach of Playa Conchal. You can find sailing tours that stop so you can snorkel and swim at scenic spots where the water is calm.
Tortuga island tour — Nicoya Peninsula, Costa Rica
Depart from Jacó or Puntarenas to head for the island paradise of Tortuga Island. It has a scenic white sand beach, but it is best known for what's happening in the surrounding waters. There are three sunken ships in the vicinity, and these artificial reefs attract stingrays, angel fish, sharks, spinner dolphins, and octopi. Bring your scuba diving gear and take the plunge.
Boating in Manuel Antonio — Manuel Antonio, Costa Rica
Manuel Antonio National Park has many miles of coastline. Hop in a kayak and see some of the park's beaches. Further inland you can explore the park's estuaries and mangroves from the comfort of a motorboat. These are both ideal terrains for marine bird watching.
Lake Titicaca boating tour — Puno, Peru
Lake Titicaca is one of the world's highest-altitude lakes. Native people live on islands scattered throughout the lake. They are the descendants of indigenous people who had to flee the conquering Inca. Some of the largest occupied islands in Lake Titicaca are Taquile, Amantani, and Uros. You can still see the ruins of bygone cultures on some of the islands.
Lake Atitlán — Guatemala
Three volcanoes surround Lake Atitlán, which author Aldous Huxley hailed as the most beautiful in the world. On the shores of the volcano, you can visit villages where modern-day Maya live and support themselves by selling traditional handicrafts. Pick a boating trip that makes stops at traditional villages like Sololá and Santiago Atitlán.
Río Dulce river tour — Livingston, Guatemala
Travel from Livingston to Fronteras on a boating tour of Guatemala's loveliest River. The scenery here is lush and memorable, thanks in part to the Río Dulce National Park. You'll pass by a canyon called La Cueva de la Vaca, where you'll see an enormous sheer rock face. Look on the shores to spot jungle animals checking out your boat as you sail by.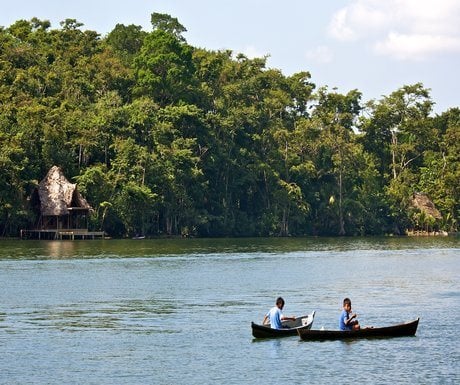 Luxury cruises in the Galápagos — The Galápagos, Ecuador
On a luxury tour of the Galápagos, you can get an exclusive look at species that have flourished in a predator-free environment. You can find opulent yachts that come with on-deck swimming pools and meals prepared by chefs. Find tours that allow you to explore the land and the sea. Stop at Santa Cruz to find a luxury hotel for an overnight stay, and then visit more remote islands with hidden snorkeling spots and bird nesting sites.
Zach Smith is CEO of Anywhere.
If you would like to be a guest blogger on A Luxury Travel Blog in order to raise your profile, please contact us.