Is Spain your Summer destination? With its fun-loving attitude and relaxed atmosphere, it's a great choice for those looking for stunning nature along with beautiful beaches and a vibrant nightlife. Whether you want to enjoy the Catalan vibe of the Costa Brava or you prefer to be on one of the Balearic Islands, a luxury villa is a great option to spend an unforgettable holiday.
Exclusive and secluded, Villa Blue Bay is situated on a beautiful cliff with direct access to the sea, close to the bay of Cala Mastella, and near the picturesque village of San Carlos. The poolside dining, lounging and bar areas are perfect for enjoying long, leisurely days and nights with family and friends. The villa is surrounded by magnificent gardens, with palms, trees and plants, including an amazing bamboo and cacti garden. Blue Bay has a lot to offer to those who enjoy swimming: a quite unique swimming deck to dive into the Med, and two pools, an infinity pool for relaxing and an Olympic pool for swimming laps: what else could one ask for?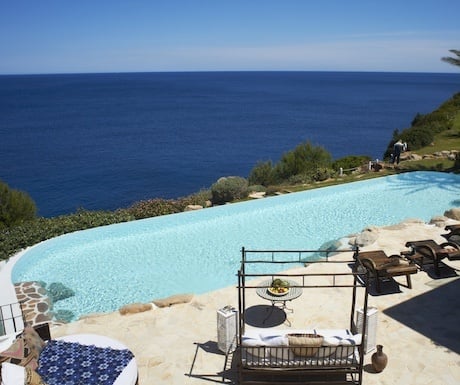 One of the most exclusive properties in Ibiza, Villa Roca offers every luxury and comfort one could think of. Not far from Ibiza Town, the estate is close enough to nightlife and clubs, but also offers privacy and a chance to relax to those seeking them. The swimming pool, with its waterfalls, a cave and a floating cabana, is ideal for spending a perfect day in the sun, while the poolside bar awaits those who enjoy a cocktail with a view over Ibiza Old Town, the beaches of Salinas, Es Codolar and Formentera.
With its 11 bedrooms and large living quarters, Cugo Gran is the perfect choice for large parties traveling to Menorca! A renovated former farmhouse, this villa has everything one could expect from a five-star hotel, with the exclusivity of a private estate. The interiors are exquisitely furnished with attention to detail to create a homely, yet elegant feeling. The outdoor area, thanks to the beautiful surroundings of the villa, is an ideal spot to relax and rest, forgetting all about everyday life. The swimming pool and the proximity to some of the best beaches on the island are the crowning jewels of this incredible property, making it just perfect for a Spanish island vacation.
One of the most exclusive and luxurious properties on the Costa Brava, villa Mas Mateu is a masterpiece of Catalan elegance. A remodeled 18th century Spanish estate, the house sleeps 20 guests and offers plenty of space and privacy for everyone. Each bedroom is decorated in a different way, with unique details and touches, while the common areas are designed with relaxation in mind. On top of a beautiful swimming pool, the property is also home to Southern Europe's leading equestrian facilities led by a member of Spain's highly regarded classical training team, making it perfect for sport enthusiasts.
Mi Cielo, Formentera
Please note that Mi Cielo is no longer on the rental market and the owner has requested its removal from this article. – The Editor, January 2021
A dream-like property, Can Dream is the ideal place to enjoy an incredibly fun, yet relaxing holiday with your family and friends. The villa is surrounded by a beautiful lush park with breathtaking sea views and was designed with relaxation in mind. Sport enthusiasts can have fun windsurfing or canoeing just a stone's throw away from the villa, while other guests can lounge by the pool and enjoy lunch al fresco with amazing views of the Mediterranean Sea. At Can Dream, there is something for everyone, no matter how picky your friends or family members can be.
With around 130 hectares of nature surrounding it, Son Doblons is a dream come true for nature lovers who are looking for a summer holiday in Mallorca. The estate offers beautiful views of both the sea and the mountains, and its gardens, terraces and porches are perfect to immerse into nature and become one with it. The estate isn't far from the natural preserve of Son Real, making it the ideal starting point for hikes, bike tours or horse riding excursions. And if you are a golf enthusiast, a mere 20-minute drive will take you to the nearest course. It seems like Son Doblons really has something for everyone!
Stylish and beautiful, Villa Can Dos Rocas offers beautiful sea views and everything one could expect from a luxury villa in glitzy Ibiza. The property features a swimming pool and steam room for those wanting to stay in shape during their vacation, as well as large lawns and a barbecue to enjoy time outdoors with your friends and family. The whole house has been designed with fun and comfort in mind and is located in a tranquil spot not far from Cala Conta, the perfect place to soak up the sun before heading out to enjoy the island's legendary nightlife.
Paolo Macchiaroli is CEO of My Private Villas..
If you would like to be a guest blogger on A Luxury Travel Blog in order to raise your profile, please contact us.