Set in the exotic Arabian Gulf, surrounded by sand-dunes, Dubai is a luxurious pleasure-dome that is wonderfully obsessed with fashion and style. The sun-soaked adult playground is a constantly innovative land where soaring skyscrapers create spectacular skylines, in a city that seems to have an endless imagination when it comes to entertainment.
Its futuristic appeal and audacious architecture can be traced back to the opening act of Sheikh Rashid bin Saeed al Maktoum: the World Trade Centre, which is essentially a lattice fashioned out of ivory. Perhaps an opening act that in retrospect was predictive of what was to come – the creation of one of the planet's most fashionable destinations.
All that glitters is not gold…
The majestic metropolis also has a rich culture, which can be experienced in the city's bustling souks. Head into the glittering gold souk and enjoy a simple Oriental pleasure: haggling for gold. When evening falls, you can savour sunset from the vantage point of a camel's back. Or experience another aspect of Dubai's Bedouin culture by enjoying some falconry.
The list of possibilities in Dubai is almost endless. Sand-skiing, sky-diving, 4WD desert safaris, world-class golf, camel and horse-racing are just a few of the umpteen options. The sunshine is glorious, the spas are sumptuous and the designer boutiques are decadent.
How little or much you experience in this high-rise oasis is very much up to you, but one thing is for sure, you won't want to miss out on Dubai appreciated from the perfect perspective of the Gulf's warm blue waters. When you see this glamorous city from the sea, you'll definitely realise that all that glitters is not gold, as the sun sparkles on this amazing creation, that is Dubai!
A perspective and experience you're sure not to forget
Imagine seeing Dubai from your own dream yacht. You don't even need to have any nautical experience and surprisingly, you don't need to break the bank! Taking a Royal 44 yacht as an example, which has a capacity for 10 people – the hourly rate is 699 AED which works out around £152 per hour, that is only just over £15 per person. You need to book a minimum of two hours with the innovative provider of the service, CharterClick.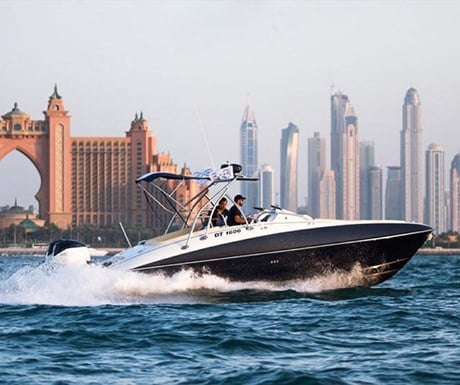 All you have to do is choose your yacht or speedboat model, pay with a credit card from the comfort of your own home or hotel, and then it's time to wave at the superyacht owners as you cruise on by. Captain and crew are provided with all boats, so no nautical experience is necessary.
The views from the perspective of your own yacht are absolutely spectacular, and its an experience that you're sure not to forget. Of course some of us could imagine nothing better than a deep sea fishing trip in a Gulf.
Sights and routes
What you choose to see is entirely up to you, as are the routes; which can vary from a couple of hours to a few days. In fact if you decide to opt for a couple of days, you can head off on your own yacht exploring neighbouring countries like Oman and Qatar, or other Emirates.
A few hours is also enough to give you some amazing angles on the city, such as the incredible archway of Atlantis. Check out the Palm Jumeirah landmarks and what new development is taking place in Dubai, as you navigate your way around.
Just taking in that stunning Downtown skyline is an ultimate vista that really deserves to be appreciated from a boat. Get perfect shots of the Burj Khalifa, and if you're sailing between 8pm and 10pm, you'll be able to sail under the canal's waterfall. Enjoy sumptuous views of the strip of summer palaces, and check out the world's largest artificial archipelago: the World Islands. Much like the city itself, the possibilities are almost endless.
How can I book my own yacht?
It's as simple as a couple of clicks, when you head over to the CharterClick website. Over there you'll be given a choice of snazzy, sleek vessels with their hourly rates. The website is totally transparent. The prices you see are the rates that have been given directly by the boat owners.
Essentially CharterClick is like using a system such as Booking.com. It's a super convenient vessel booking service. Currently there's no other company in the United Arab Emirates that offer a comparable service.
Before the launch of CharterClick, to book a yacht or speedboat in the UAE, you would have had to trawl through a variety of websites. Then you would have had to call the company, to try to confirm availability along with trying to figure out the final price, not to mention the fact that you would most likely have had to pay cash when picking up the boat.
CharterClick do not add mark up on the vessels. They offer simplicity of service, convenience and transparency. Simply choose your dream yacht, enter the date and time you wish to book it for and pay online. It's all done from the comfort of your own sofa! Watch this space, as very soon CharterClick will be offering the same service in Abu Dhabi and other fantastic destinations.
Disclosure: This post is sponsored by CharterClick.