The adrenaline pumped Paul Ricard Circuit at Le Castellet offers so much for a family outing during a holiday in glorious Provence; with plenty of activities and sights, the whole family will love spending time here. The Paul Ricard Circuit has one of the longest straight lines in Europe, the 'Mistral Straight' which is 1.8 km long. Sport Prototype teams choose this track solution for their own tests and prepare for the famous endurance race of 24 hours. And earlier this year the Circuit was thrilled to announce that it would be hosting the F1 race in 2018! We thought we'd help you out with planning your perfect day at Paul Ricard with a range of activities and local spots to enjoy nearby!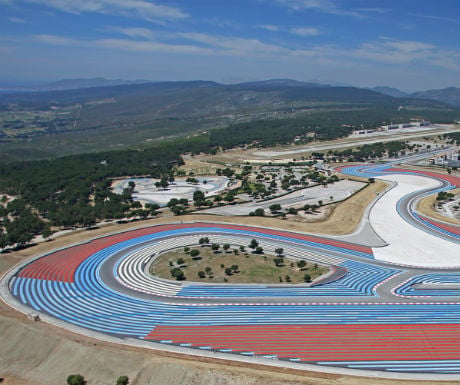 Start your day the French way with a delicious coffee and croissant at the restaurant the 'Grand Prix Burger'; the restaurant has excellent views over the racetrack, and you are free to enjoy your morning breakfast either in the sunshine on the decking overlooking the circuit, or in the sleek restaurant area. Having revved up the energy levels for all in the Grand Prix Burger you might have already heard the high speed cars zooming round the track from the restaurant, allowing for excitement levels to peak! You can then head down to the spectators seating area and marvel at the various cars (depending on what day you choose to visit), guessing who might win and choosing which car each member of the family would choose to drive! We would advise bringing binoculars so you can follow the action as closely as possible.
Now the taste for speed is in the air it is definitely time to put that ambition into practice amongst your own family, with a go karting race on a separate track. With instructors on hand to help you and a selection of courses to drive, your family will all enjoy the thrill of the chase, perhaps you could conduct your own prize giving session after the event…?! All sessions come with complete safety equipment and boiler suits to protect clothing from getting a bit of driver's grease on them!
After prize giving encourage your family to overcome any fears of heights and challenge them to an exciting experience of shooting down 900 metres of zip wire! The Paul Ricard Circuit is a few miles from the coast and from the zip wire you'll get beautiful views over Provencal countryside towards the deep blue hues of the sea! But you might not get too long to savour these views as you swish down the different zip wires! Together with this experience there is also a 'Free Jump' and 'Quick Jump', the free jump resembles the same equipment film sets use to provide heart stopping free falls of actors, softly landing onto a huge inflatable mattress below. The jump can either be 7 or 10 metres high- not for the faint hearted! The quick jump is a higher jump (14m) yet you're attached so just before you hit the ground a magnetic braking system suspends you above the floor!
After all this activity and adrenaline chasing you and your family might be feeling a little peckish so head over to Grand Prix Burger for a delicious range of burgers, fries, salads, deserts and a kids menu as well. Take time to chat amongst yourselves about the amazing activities you've already achieved, discuss if anyone did something that took them out of their comfort zone and how they felt overcoming their fear. This is a great way to reflect and remember any significant triumphs within your group, making this day at Paul Ricard's Circuit stand out within the holiday.
Whilst you're walking on such hallowed ground for racing and beautiful cars it would seem rude not to test-drive one for yourself! Choose from an amazing selection, whether a Porsche GT3 RS, a Lamborghini Huracan or a Nissan GT R floats your boat, they are all available to trial on the circuit. We recommend pre booking to ensure availability both of the car and the circuit. Select one of three tracks, either a separate track with the Driving Centre, the GT track (2km long) using a portion of the famous Mistral straight line or the Grand Prix track (3.8km) that guarantees speed, challenge and a once in a lifetime experience.
Having taken photos of your loved one in their dream car and enjoyed the amazing array of activities at the Circuit nip over to the 5* Hotel du Castellet for a calm oasis after the busyness of the day! Play a family game of golf on their stunning course, relax by the pool or refresh yourselves with a delicious afternoon tea. As the sun sets and dusk falls in Provence drive down to the medieval village of Le Castellet, enjoying stunning views from the ramparts of the castle, have a crisp glass of wine or sumptuous ice cream in one of the many boutiques nestled amongst the cobbled streets and take in the historical significance of this marvellous village. Finally, before little ones get too hungry again book a table at the Hostellerie Berard & Spa for a fantastic Michelin star rated dinner to round off a truly spectacular day!
Su Stephens is Owner of Olives & Vines.
If you would like to be a guest blogger on A Luxury Travel Blog in order to raise your profile, please contact us.