You might be wondering what is the ultimate child-friendly, round-the-clock snack? It could only be the Parisians favorite pastry… that's right, croissants. Moist, light, caramel-colored, they are the perfect breakfast for the whole family.  Croissants truly are the ultimate snack because they are portable, delicious, and quick. After a long morning of sightseeing, or touring museums, feed your hungry children (and yourself) with one of the best croissants in Paris.
If you have ever bit into a freshly baked buttery, flaky, rich croissant, you can understand why people scour Paris in search of the best one. Thanks to our team, you can put down the Yelp app because we have done all the research for you. Voilà! Our top 9 favorite croissants in the city that will delight the kids and parents alike.
Du Pain et des Idées – delicious croissants and more
Our number one pick on the list, Du Pain et des Idées ("of bread and ideas") has Paris' best croissants. They are perfectly flaky and buttery with just a hint of salt. In the 10th arrondissement, the pastries at Du Pain et des Idées will be worth the wait. The traditional shop will make the whole family feel like true Parisians, just add an expresso and you'll blend right in. Trust us, disappointment is not an option.
Address: 34 rue Yves Toudic, 75010 Paris
Metro: Line 5 – Jacques Bonsergent
Hours: Monday to Friday from 7:00am to 8:00pm. Closed on Saturday and Sunday
Dominique Saibron – a croissant after the Catacombs
Located in the 14th arrondissement, Dominique Saibron is the perfect boulangerie to stop at for a quick bite after your family visits the Catacombs. The boulangerie is a favorite among the locals, and once you bite into their croissants, you'll understand why. Other than their airy croissants, they have a wide selection of sandwiches, quiches and a patio that is perfect for the family.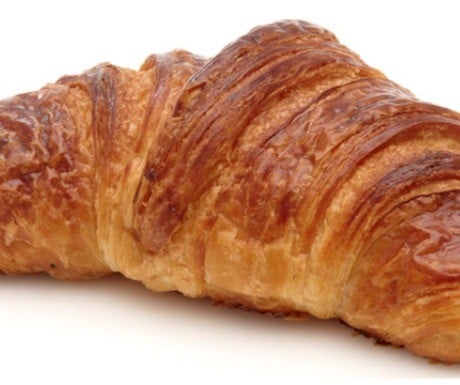 Address: 77 avenue Général Leclerc, 75014 Paris
Metro: Line 4 & 6 – Denfert Rochereau
Hours: Tuesday to Sunday from 7:00am to 8:30pm. Closed on Monday
Liberté – of croissants and pastries
Walk into Liberté and be delighted by the smell of fresh bread in the air.  This atmosphere is unique and feels as though you have stepped back in time, just a little. You and your children will be in awe of the variety. They make our list of the best croissants because they are so delicate and flaky. The patisserie is so charming and make sure to check out the hand-painted ceiling as well.
Address: 39 rue des Vinaigriers, 75010 Paris
Metro: Line 5 – Jacques Bonsergent
Hours: Monday through Saturday from 7:30am to 8:00pm. Closed on Sunday
Stohrer – the oldest croissant shop in Paris
Although the search for the perfect croissant seems endless, Patisserie Stohrer in the 2nd arrondissement might be one of the best. Adored among locals and tourists alike, this patisserie, found on the scenic Rue Montorgueil, is renowned for its décor (the store opened in 1730–the oldest pastry shop in Paris) and, most importantly, its delicious pastries. Regulars recommend the croissant aux amandes (almond croissant).
Address: 51 Rue Montorgueil, 75002
Metro: Line 4 – Les Halles
Hours: Everyday from 7:30am to 8:30pm
Pichard – a tiny gem for croissants
Boulangerie Pichard is a tiny gem in Paris' 15th arrondissement. Among the delicious gâteaux and tarts, you'll find their delicious buttery croissants. If you're in the neighborhood, it's definitely worth a visit to enjoy a traditional French croissant made the right way. Not to mention, Pichard's croissants are award winning!
Address: 88 rue Cambronne, 75015 Paris
Metro: Line 6 – Sevres Lecourbe
Hours: Wednesday to Sunday from 7:00am to 1:30pm and from 4:00pm to 8:00pm. Closed on Monday and Tuesday
Des Gâteaux et du Pain – croissants in a modern pastry shop
Des Gâteaux et du Pain is the modern pastry shop of dreams. The croissants are delicate and exceptional. If you are looking for a designer pastry shop, look no further. Acclaimed pâtissier Claire Damon runs the show at Des Gâteaux et du Pain and she knows her way around a croissant, we placed them on our best croissants in Paris list thanks to her talent. Your whole family will find quality worth the lines and price.
Address: 63 boulevard Pasteur, 75015 Paris
Metro: Line 6 & 12 – Pasteur
Hours: Wednesday to Monday from 8:00am-8:00pm. Closed on Tuesday
Blé Sucré – a family-friendly croissant bakery
The staff at Blé Sucré is extremely helpful and patient with non-French speakers and with  kids. The store is charming and cozy, something the family will love.  It is located across from a park, so you can enjoy a serene view and the children will have fun running around and working up an appetite before their yummy snack. While they made our list for the croissants, their madeleines are also known as some of the best in Paris.
Address: 7 rue Antoine Vollon, 75012 Paris
Metro: Line 8 – Ledru Rollin
Hours: Tuesday to Saturday from 7:00am to 7:30pm. Closes at 1:30pm on Sunday, and closed all day on Monday
Eric Kayser – a croissant for the early birds
If you and your family are going sightseeing early in the morning, you might find that the Parisian way of business is a little lax in terms of operating hours.  But, fear not! Eric Kayser, the head pâtissier at Maison Kayser is up before the birds in the morning to deliver you a perfect croissant.
Address: 8 rue Monge, 75005 Paris
Metro: Line 7 – Place Monge
Hours: Wesdnesday to Monday from 6:45am to 8:30pm. Closed on Tuesday
134 RDT – late night croissants
This old-school boulangerie is the perfect spot for a late night snack or dessert. They have been awarded many times over for Paris' top croissants and baguettes. Located in the upper Marais (3rd arrondissement), your family will not leave wanting more.
Address: 134 rue de Turenne, 75003 Paris
Metro: Line 8 – Filles du Calvaire
Hours: Every day 3:00pm-2:00am
Magali Déchelette is CEO at Family Twist.
If you would like to be a guest blogger on A Luxury Travel Blog in order to raise your profile, please contact us.