Cremona is a small city in northern Italy and is famous as the number one center of violin makers in the world. This art has been handed down through the centuries and lives on to this day. Built on the banks of Italy's most important river, it's relevance in trade and commerce led to it's great significance in the development of the world of art and music.
The Museum of Violins
This modern museum showcases the history of the violin and the intricate art of it's making. Up to date technology and intricate displays, all accompanied by wonderful music, immerse you into this captivating world. The museum houses a large collection of string instruments including some very priceless pieces. A daily concert featuring one of these famous violins being played by a skilled violinist is an important part of the tour.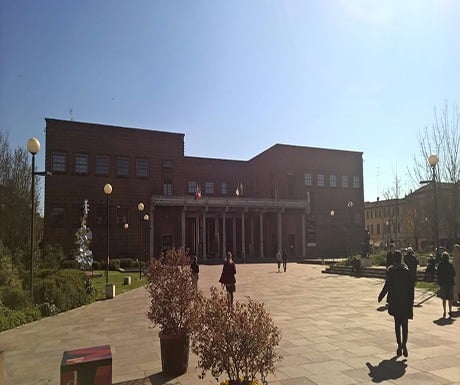 The Violin Academy
This international violin making school was first established in 1938 and now represents this important Italian artisanal craft in the world. In this 16th century Palazzo, the old masters of violin making take it upon themselves to pass on this intricate art to the new generations from all over the world. The courses last four years and every step is done by hand and as close to the traditional procedures as possible. It is wonderful to realize that in this age of technology, we still have young people with such enthusiasm for an ancient craft.
The violin workshops
Getting lost amidst the ancient streets of Cremona will lead you into the daily world of the violin. You may walk down a quite lane and hear the music of the violins around you as they are being tested in one of the many workshops dotted around the city. In these shops the violins are being made or restored, and the sound and scents of their presence are part of the daily life of the city.
The big tower
Il Torrazzo, symbol of Cremona, is the third tallest brickwork bell tower in the world. The large clock is unusually positioned towards the base of the tower and is the largest astronomical clock in the world. Even from it's famous symbol, the city is immersed in the sound of celestial music when the seven bells are rung.
Torrone
During a visit to Cremona one cannot but indulge in tasting their famous "torrone". Originally made in the shape of their famous bell tower, now it is made in all shapes and sizes. This remarkable nougat can be white or chocolate, with roasted nuts kept together by a sweet paste made with honey, sugar and meringue. Passed down through the ages, it is an explosion of pleasure for your taste buds.
Anna Moggia is Owner of Boutique Hotel Zenana.
If you would like to be a guest blogger on A Luxury Travel Blog in order to raise your profile, please contact us.