Andalusia is already enjoying temperatures upwards of 30ºC this Easter weekend, which bodes well for those seeking some spring sunshine ahead of summer. The season from April through June is undoubtedly the best time to visit the region, when the hillsides are positively bursting with spring wild flowers and greenery, and the temperatures are simply ideal.
At this time of year you can expect to surround yourself with charming locals in place of swarming tourists as well, offering a prime opportunity to experience life like a local yourself. And there is no better way to immerse oneself into the culture of Andalusian Spain than by taking part in one of the innumerable local culinary festivals, loaded with tradition and brimming with fine food and wine.
These festivals, or "fiestas," go hand in hand with Flamenco music and dance or traditional "verdiales," laughter with friends and family, cold beer and locally made wine, and most importantly of all – local food. So it comes as no surprise that many of these fiestas find their roots in gastronomy, and no one in Andalusia needs a greater excuse for a party.
The list of fiestas at any time of year is extensive. Here is a sampling of gastronomic festivals only, and only those in the near future leading up to summer. In a testament to the strength and importance of the gastronomic scene in Malaga and its surrounding province, every one of these festivals takes place within Malaga province alone. Rest assured that each of the Andalusian provinces will have their own equally impressive list of gastronomic fairs.
Post-Easter eats
Easter in Andalusia is loaded with a particular set of culinary and cultural traditions, and in reality kicks off the festival season in earnest. Mid-week after Easter, Malaga launches its two-week long festival of gastronomy (http://malagastronomyfestival.com) even before the last Easter eggs have been consumed. This is one of the biggest culinary events in Andalusia, with a line up of the regions top chefs speaking and conducting instructional show cooking sessions. It's a chance for this up and coming gastronomic capital to show off its increasing prestige and serve up a whole lot of delectable dishes to attendees at various locations throughout the city.
Just days later the village of Periana celebrates the "verdial" variety of olive and olive oil expertly produced in mass quantities in this locale. Expect to see the golden nectar dripping down the chins of old and young alike, sopped up with bread or lathered over salads and dishes of cod, or simply sampled with a dip of the pinky-finger.
Soon after, you could make your way to the nearby village of Villanueva de la Concepcion for a sample of their very particular artisanal bread rolls stuffed with egg, the "hornazo."  This festival couples with the other most common reason for a fiesta in the little villages of Andalusia: to celebrate a patron saint; in this case, San Marcos.
20th April – 7th May, Malaga Gastronomy Festival
23rd April, Dia de Aceite Verdial, Periana
25th April, Dia de los Hornazos and St Marcos Day, Villanueva de la Concepcion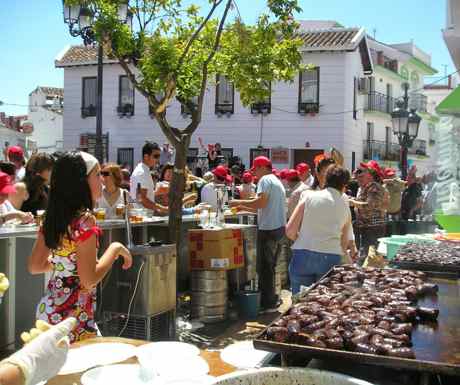 The last Sunday of April
For whatever reason, the final Sunday of April seems to be a very popular day for culinary festivals in Malaga. This year that day falls on the 30th of April, and it may be possible to sample more than one that day, but you're better off picking a favorite and going for the full experience all in one place. What tickles your fancy most? Sugar cane honey (miel de caña), black pudding (morcilla), asparagus (esparragos), or broad beans (habas)… with all of the guaranteed accouterments you can't go wrong.
30th April, Dia de la Morcilla, Canillas de Aceituno
30th April, Fourth Honey Festival, Frigiliana
30th April, Dia de la Haba, Villanueva de la Concepcion
30th April, Dia del Esparrago, Sierra de Yeguas
May days
The good vibes and libations continue right through May with more typical, traditional and local delights, some of which will be unknown to non-native Andalusians, All are a treat to discover.
The scenic hillside village of Sayalonga celebrates the delicious loquat fruit, or "nispero" to those in the know, on 7 May. Meanwhile, the "espeto," bamboo skewered sardines roasted over an open flame, is one of the most ubiquitous dishes all along the coast, and in Torremolinos on 13 May you'll find the beach lined with little hollowed out fishing boats burning open fires for the feast. Here the "espetos" sizzle to dazzle the senses before the surf.
Further inland, Riogordo hosts the annual snail festival on 28 May, and Alhaurin el Grande celebrates their little known specialty, the "cachorreña" along with San Isidro, the patron saint of farm workers. As you might expect, the town folk enjoy the freshest of their seasonal produce in honour of San Isidro, while the little known "cachorreña" is a local specialty akin to a spiced gazpacho.
7th May, Dia del Nispero, Sayalonga
13th May, Dia del Espeto, Torremolinos
14th May, Cachorreña Festival, Alhaurin el Grande
28th May, Snail Festival, Riogordo
With so many culinary festivals within such a short time and within such short proximity in Malaga province, it is entirely feasible to create your own fiesta route within a visit of just a couple of weeks. Pack your sunscreen because the sun is already hot and high; and maybe hit the treadmill beforehand to make some room for all of the fantastic food and drink you are sure to encounter.
Alan Hazel is Owner and Director of Cortijo El Carligto.
If you would like to be a guest blogger on A Luxury Travel Blog in order to raise your profile, please contact us.