I'm really lucky to have visited Namibia many times over while guiding for an overland company. Although I eventually settled down in East Africa, Namibia is where I fell in love with the continent and is still one of my favourite countries in the world. So when I had the opportunity to go there on holiday, I jumped at it! The country doesn't initially appeal to many first-time safari goers, and in a way I get that – although Namibia is home to Etosha National Park, it doesn't offer you the same kind of game experience you will find in the likes of
Tanzania
, Kenya or
Botswana
. What it does provide, however, is a sense of adventure, insanely beautiful landscapes and niche wildlife experiences that are not available in any other country!
The Namib Desert & Sossusvlei
I've honestly lost count of the amount of times I have driven through the Namib-Naukluft National Park, headed for sand dunes at sunrise and cooked breakfast at Sossusvlei. This area never fails to take my breath away! The landscape here is like no other place in the world. Burnt-red sand dunes pitted with bright white 'vleis' stretch over nearly 50,000 square kilometres, creating Africa's largest game park. The sheer vastness is something every visitor to Namibia has to experience! You can explore this region on horseback, in a plane or even on a quad bike, but nothing beats going out here on foot.
Look up!
The landscape in Namibia is often referred to as a 'moon-scape', as it apparently bears a remarkable resemblance to our lunar neighbour. Of course, having never actually set foot on the moon myself I can't say with 100 per cent certainty whether this is true or not, but if pictures are anything to go by then I can definitely see the likeness. It comes as no surprise, then, that here is the closest I've felt to the stars! With many remote pockets of this country being so far from any human centre, the light pollution is non-existent and the night skies are among the darkest on Earth. What's most amazing about a sky so dark is how much light it emits! To say the stars are mind blowing would be an understatement. The international Dark-Sky Association, the go-to authority on light pollution, has certified the Namib Desert as one of its Dark Sky Reserves because of the spectacularly starry night.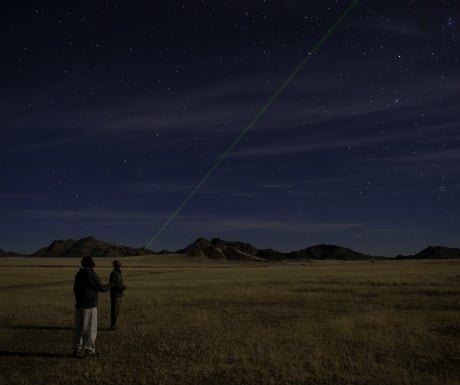 Desert elephants
The nomads of the desert, these elephants have adapted to survive in the harsh climate of Damaraland and Kaokoland with very little water and a far more limited diet than their distant relatives found in other regions and parks across Africa. My group set off with our vehicle and guide after an early breakfast. Even in winter this is an area that gets super-hot during the day, so the earlier you get out the better chance you have of seeing the elephants in action. We followed tracks and poo for about 45 minutes before we found a herd of around 10 ele's! A big perk of leaving so early was that we were the first group at the sighting, so we were able to enjoy an uninterrupted hour with the herd before leaving them to the rest of their day. I think what surprised me the most was just how difficult these enormous creatures were to spot – they seemed to blend in perfectly with the mountainous backdrop!
Hot air ballooning over the Namib Desert
This activity had been at the top of my bucket list for as long as I can remember, and finally I have been able to tick it off. Driving through the dunes is incredible, but floating above them is even better! I arrived at the launch point just before sunset in time to see the process of actually setting up the balloon. With a basket that weighs 750 kilograms, this is no mean feat – I avoided continually asking myself how on earth something so heavy stays aloft with just a canvas and a flame! The experience lasts for about an hour. We went with the wind, gliding silently over enormous herds of oryx, springbok, and even a couple of ostrich with 10 chicks. The game here isn't the main focus, though; it's all about trying to grasp the immensity of the area and enjoying the unique blend of colours only this desert provides. The burnt-red dunes and their black shadows, rolling plains and rocky outcrops meet here in the Namib and create an optical wonderland!
Rhino trekking
Namibia has the highest population of black rhino anywhere in Africa, and with the numbers dwindling at such an alarming rate seeing these beasts at such close quarters really is a genuine once-in-a-lifetime experience. I was staying at the newly opened Huab Under Canvas in Damaraland, a brilliantly rustic, authentic and above anything else adventurous tented camp on the banks of the Huab River in the Huab Conservancy, a core black rhino area. After breakfast we set off accompanied by two Save the Rhino trackers and a member of the Namibian police force who is stationed in the conservancy as part of the country's anti-poaching efforts. Watching the rangers pick up on the slightest dent in the bushes or a faded incomplete footprint was remarkable and almost as impressive as finding the creature in question. Coming across any animal on foot is exhilarating, but one whose very real demise is at the forefront of every safari-goer's mind really is rather awe inspiring.
Julian Carter-Manning is a Co-founder and MD at Yellow Zebra Safaris.
If you would like to be a guest blogger on A Luxury Travel Blog in order to raise your profile, please contact us.
Did you enjoy this article?
Receive similar content direct to your inbox.