Sri Lanka is in the news for all the right reasons and is now top of the list of all South Asian itineraries. For a country that offers a multitude of experiences, flavours and locations, its coastal attractions are proving to be the most popular. Tangalle is a quieter option away from the hustle and bustle with choices of endless untouched, serene beaches and an ideal location to discover other popular, idyllic destinations along the south coast and even deeper into the Southern safari parks and heritage sites.
Tangalle market
The Tangalle market is central to the city, brimming with fresh, local produce and variety of fish from the nearby Indian Ocean. Visit the market as you mingle with the locals and join the rhythm of the community. Finish the experience with a visit to the colourful harbour, a hub of fresh fish distribution to the whole of the island.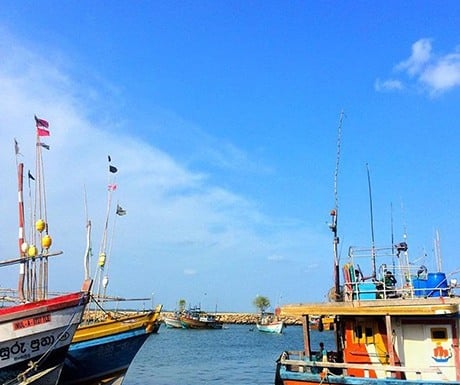 Cooking demonstrations
Sri Lankan cuisine is best known for its refined flavours developed through a complex blend of native spices. Recipes that use fresh ingredients, coconut milk, and homemade curry powders have been handed down for many generations through families. The Last House, a chic seaside escape, runs cooking demonstrations for its guests and you too can get a taste of this tradition, enjoy a stay in luxury and learn to cook traditional curries – the ultimate holiday memento to impress guests back home.
Surf's up
Tangalle offers ideal locations and plenty of opportunity for the surfer in you to show off your latest wave maneuvers. Lessons can be organised to improve your skills as you opt for some laid back surfing fun. What is becoming popular in the area is the beautiful bay of Hiriketiya . Take a break from surfing and enjoy the salty tropics with fresh produce and cleansing juices from the hip bayside cafes of 'Hiri' as it is fondly known.
Mulkirigala Caves
The Mulkirigala Caves boast a remarkable temple and monastery carved out of a large and sheer rock formation. Constructed in the 3rd century by King Saddhatissa, an early morning visit or late afternoon trip is recommended to this temple. The serenity, architecture and intricate, ancient paintings make it a perfect short trip.
Udawalawe Elephant Park
Covering about 30,000 hectares, the Udawalawe National Park, was set up as wildlife preservation plan with the construction of the nearby reservoir. Wild Elephants roam these lands, and you are sure to find yourself in the midst of their magnificence and power. Other animals can be spotted too with sightings of birds, mammals and reptiles making it a memorable day trip.
Bundula Bird Sanctuary
Located only an hour from Tangalle, Bundala bird sanctuary, has been a designated wildlife sanctuary since 1969, it is also the first wetland to be named as a Ramsar site in Sri Lanka. The park is home to over 200 species of birds both indigenous and migratory, with its main attraction being the Greater Flamingo. The terrain here is beautiful making it a must see for all bird enthusiasts.
Dolphin and whale watching at Mirissa
Whale and dolphin watching has become a key part of a visit to the island and Mirissa is an ideal location just 45 minutes away. Sri Lanka is the only country that can boast a non-migratory Blue Whale which promises great odds of spotting one of the these giants on your tour, you will also be enthralled by the spools of friendly dolphin as you make memories of a lifetime.
Galle Fort
Built in 1588 by the Portuguese, then fortified by the English, the Galle Fort exudes old world charm. The rampart enjoyed by both the locals and tourists alike, is home to a multi-ethnic population and is filled with boutiques, hotels, and eateries. The architecture is stunning with many establishments being restored to their colonial glory. One can spend hours walking on the historic, cobbled streets, indulging in a quality bite to eat or a glass of wine and enjoying the many sights and sounds of this vibrant destination. If you can spare a day from the beach this is the perfect day trip.
Harshi Hewage is the Marketing Manager at Manor House Concepts.
If you would like to be a guest blogger on A Luxury Travel Blog in order to raise your profile, please contact us.