By
Paul Johnson
on May 18, 2017 in
Attractions
,
Europe
,
Featured
,
Food and Drink
,
Going Out
,
Leisure Travel
,
Regions
,
Restaurants
,
Road Travel
,
Speciality Travel
,
Travel Miscellany
,
United Kingdom
,
Videos
,
Western Europe
On the third and final day of my road trip around Cumbria, it was time to return my rental car to Hertz, but not before I'd done a little more exploring first. Having driven over Wrynose Pass the previous day, my plan was to take the vehicle over another of the Lake District's famous routes – the Kirkstone Pass – to call in on a couple of places and then re-join the M6 to return the car at the Lancaster depot.
With a summit of just under 1,500 feet, the Kirkstone Pass, which is named after a nearby rock that resembles a church steeple (or 'kirk'), is the highest of the Lake District's passes that is open to motor vehicles. For those driving manual vehicles, a low gear is recommended since the gradient is 1 in 4 in places; since the Volvo XC60 I had from Hertz was an automatic, this wasn't something I had to worry about too much.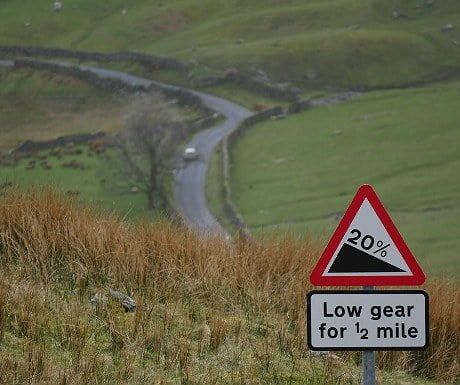 With such a steep ascent, and in times gone by when this road wasn't paved, horses would struggle to pull their carriages up and over the peak, to the point that it would be necessary for passengers to disembark and walk alongside in order to lighten the load for their equine helpers.
They would have found welcome respite at The Kirskstone Pass Inn, a former coaching inn which is today one of the highest pubs in the country, and now more typically enjoying the passing tourist trade.
The views from the entrance to the pub are stunning on a clear day and there are picnic tables outside should the weather be favourable.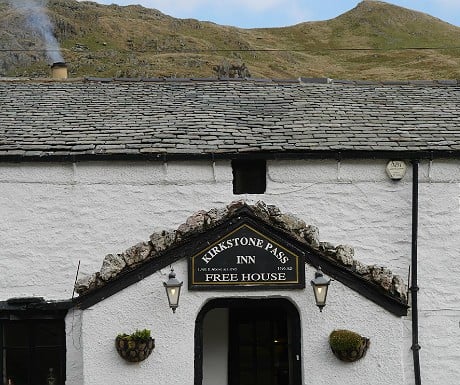 Inside, it's perfectly set for those colder, wetter days of which we tend to get plenty in the Lake District, with a cosy, open fire. The space afforded to the public is quite small but this only serves to provide an intimate ambiance. Expect a traditional pub menu with classics such as Cumberland sausage and mash and steak and ale pie. For those not driving, local beers on draught include Eden Best, Kirkstone Black and Kirkstone Gold, all produced by three different breweries in the county.
After the Kirkstone Pass Inn, the road descends towards the Hartsop Valley and Brothers Water, a lake that adopted this name in the 19th century (it was previously known as Broad Water) when two brothers tragically drowned there. The drive down the valley is dramatic and, with the daffodils in bloom, there was plenty of contrasting colours to capture one or two nice shots of the car. William Wordsworth, a 19th Century poet and – along with Beatrix Potter – one of the most famous names commonly associated with the Lake District, famously wrote about the golden daffodils "fluttering and dancing in the breeze" in his most famous work, a lyrical poem titled 'I Wandered Lonely as a Cloud'.
Continuing further along the road, I took a detour to Martindale – a sparsely populated valley with just 50 or so residents – but one which offers some great driving and an equally dramatic view of Ullswater (see the video below). Keep your eyes peeled as this area is also home to the oldest native red deer herd in England.
From there, I travelled towards Greystoke (known for its fictional links to Tarzan of the Apes) to visit Bunkers Hill Dairy Farm. I'd heard about their novel approach to selling milk and wanted to see it for myself. There is no missing the turn-off for the dairy farm; when exiting a motorway, you will be familiar (but might not know their name) that we have countdown markers with 1, 2 or 3 bars on them, where each bar represents about 100 yards to go before the deceleration lane. Similarly, on the approach to Bunkers Hill, you'll see signs showing three milk bottles, then two and then just one.
Dairy farmer Mike Walsh has capitalised on the high quality of his milk by selling some of it unpasteurised directly to the public. To ensure safety, the milk is tested on a weekly basis by his main buyer in addition to rigorous tests carried out my environmental health officers. Raw milk is said to have a number of health benefits, being richer in vitamins, including more folate than pasteurised milk.
A DF Italia milk vending machine, capable of holding up to 150 litres, has been installed in a converted parlour and guests can help themselves to one- or two-litre containers which they can fill for £1 or £2 respectively. It's not just locals who are lapping up the offering – it's popular with tourists, too, and the farm has enjoyed custom from visitors from Australia, New Zealand and Japan.
Having purchased a couple of litres myself, it was time to conclude my trip and return the car to Hertz in Lancaster – approximately an hour's drive but along probably one of most beautiful scenic stretches of motorway driving to be found in the UK, if not Europe. This section of motorway passes the multi-award winning Westmorland Tebay service station which is worth calling at if you wish to stretch your legs. It's one of the few remaining independent service stations, billed by the likes of Tatler as Britain's 'swankiest service station'. There are service stations on both the north- and south-bound sides here, and they represent two of only seven service stations in the country to be awarded a five-star rating by VisitEngland's Motorway Service Area Quality Scheme. There is a restaurant serving anything from venison to scones, and even a farm shop on site.
By the time I reached Lancaster, my journey was complete. The Hertz depot has recently moved to the Holiday Inn, close to the newly re-vamped motorway junction, and only a couple of miles from the railway station. I hope you enjoy the video from the third and final day:
Disclosure: This post is sponsored by Hertz.