With 2017 already on line to break the world temperature record, the idea of Summertime skiing might seem a bit far-fetched. Nonetheless, escaping the Northern Hemisphere heat is precisely what can be accomplished at one of several ski resorts in the South American nation of Chile.
In fact, from mid-June to early October, Chile is a veritable paradise for snowboarding and skiing thanks to slopes that offer prime powder skiing conditions during the Latin American winter. Here, we introduce you to five of the top-rated ski resorts for such experiences in Chile.
1. Portillo Ski Resort
World renowned Portillo Chile was put on the map when over 50 years ago it became the first South American resort to host the World Skiing Championships. Considered among the top 10 ski resorts in the world, this prestigious ski resorts can be reached after just a two-hour drive northeast of the capital city of Santiago.
Indeed, this spectacular setting is one of the resort's major draws, as it rests high above the picturesque Aconcagua Valley, overlooks the emerald waters of Inca Lake, and is surrounded by steep snow-covered slopes. The resort's 20 excellent ski trails cross 35 slopes to provide optimal conditions for both skiing and snowboarding, which are complemented by 14 lifts, large areas for off-piste skiing, and a ski school staffed by four Olympic medalists.
All of these activities revolve around the iconic bright yellow Hotel Portillo, which is a self-contained village that provides skiers all they need – from comfort-filled guest quarters, upscale bars, equipment rental, a ski school, daycare, a gym, a heated swimming-pool, various shows throughout the week, a disco and more. All guests receive four meals a day (including British-style afternoon tea) served by service-oriented red-jacketed waiters.
2. Valle Nevado
Only 35 miles east of Santiago de Chile, skiing enthusiasts will be delighted to find Valle Nevado – the largest winter resort in the southern hemisphere and considered one of South America's most modern ski centers.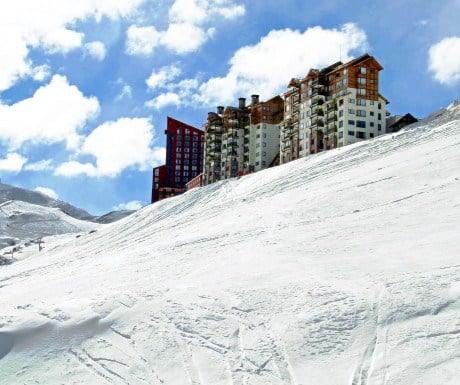 Perched at an altitude of between 9,000 and 12,000 feet above sea level, Valle Nevado offers 13 lifts and close to 40 kilometers of runs, which – while not overwhelming by European standards – is complemented by a good variety of wide-open runs across powder snow and slopes that will take you into scenic Andean valleys.
While the resort is ideal for skiing, heli-skiing, hang-gliding, hiking and off-piste skiing, this is the only ski resort in South America that hosts the FIS World Cup Snowboarding Competition.
In addition, first-class accommodations in the area consist of a handful of hotels just yards from the slopes. In these, fine cuisine is served and shows are organized throughout the entire ski season.
3. Nevados de Chillan
Though another of the legendary and top rated ski resorts of Chile, Nevados de Chillan is more remote, lying 194 kilometers to the east of the city of Concepción or a spectacular six-hour drive south of Santiago past hundreds of miles of vineyards, volcanos and hot springs. In fact, Nevados de Chillan is situated in one of most volcanic regions in Chile. Looming imposingly over the ski slopes here, you can find the Nevados de Chilllan, Chillan Nuevo and Chillan Viejo volcanoes – each reaching altitudes of more than 3,000 meters above sea level.
The Nevados de Chillán Ski Resort itself is situated at an altitude of 1,650 meters, where it spreads out over more than 25,000 acres that are ideal for winter sports. Within this area you can find Las Tres Marías, the longest ski trail in South America, extending just short of eight miles in length.
On top of all this, the resort's sulfur and iron hot springs offer everything for visitors to recover their energy after an intense day of cross-country skiing, ski touring, snowboarding, heli-skiing, horseback riding, hiking, mountaineering or mountain biking.In addition, the resort provides snowmobile and even Alaskan Malamute dog-sled circuits, which almost guarantee that guests will find a way to enjoy snow, no matter which discipline they choose.
The Termas de Chillan Ski & Spa resort is the place to stay here, providing comfortable accommodations and gourmet cuisine at the excellent Montanes restaurant.
4. Corralco Ski Resort
Located 700 km south of Santiago, the Corralco Ski Resort is well off the beaten track, meaning that its lack of crowds ensure that the powder is all yours. Frequented mainly by South American families who enjoy the child-friendly facilities and 28.5 km of gentle slopes, the resort now has two chair lifts and four surface lifts, 25 trails across 500 acres (200 hectares) of skiable terrain, and a vertical drop of 920 meters (1,480 to 2,400 meters elevation).
As the base of Corralco resort lies just above the tree line, the slopes are treeless and open, which are great for beginning skiers and snowboarders. Nearby, though, are a few intermediate groomed trails and a few "advanced" groomed trails whose speedy turns can also be tackled by strong intermediate riders. In addition, there are plenty of off-piste lines and interesting terrain that has resulted from ancient lava flows.
Situated among the unusual and ancient "Monkey puzzle trees" at the base of the mountain, you will find the Valle Corralco Hotel and Spa, the area's new 5-star hotel. Its 54 hotel rooms are supplied with an abundance of amenities that include a day spa, a swimming pool, a gym, a cinema room, a restaurant, a bar, child care and activity services.
5. El Colorado
Due to its proximity to Chile's capital city of Santiago – just 24 miles away – El Colorado ski resort is the country's most popular and probably the oldest winter resort, as well as one of the largest and best ski centers in South America. Reaching a maximum altitude of 3,333 meters MSL and a 903-meter slope, El Colorado can guarantee snow throughout the entire ski season thanks to its being equipped with an artificial snow system. With the resort's 22 trails and 18 lifts, visitors can therefore delight in skiing and snowboarding with high quality snow. In addition, guests can participate in off-piste skiing – which is available for beginners and experts alike.
Nearby, travelers will find interesting accommodations and dining facilities in the quaint village of Farellones or at a modern spot called El Colorado. In both cases, services include comfortable accommodations, restaurants, entertainment, medical assistance, minimarkets, discos, ski schools and equipment rental services.
So, for those wanting relief from the summer heat, now is a good time to begin brushing up on your high school Spanish and to start considering the range of "winter" sports options available in South America's Chile.
Alfonso Tandazo is President and CEO at Surtrek Tour Operator.
If you would like to be a guest blogger on A Luxury Travel Blog in order to raise your profile, please contact us.