Delicious drives in Spain: The Michelin Star Triangle and a special gem
I was delighted to team up with
Hertz
recently to introduce you to some wonderful Delicious Drives in this relatively undiscovered part of
Spain
. Our first route covered Belle Epoque by the beach and the spectacular Desierto de las Palmas. The second route included a fun boat trip, meeting the Mussel Professor, and areas of outstanding natural beauty. Our third route focused on three of Spain's most beautiful towns.
All of our trips brought you some great foodie finds. We also had some fun adventures along the way, like our special police escort through the old quarter of Morella. This next road trip is easy to do and is very close to my heart, as I know how much this area has to offer in terms of gastronomy and nature. I also realise that many others are unaware of this part of Spain.
Spain Michelin Star Triangle
As of November 2016, this small area which flows between Catalonia and the Valencian Community, has three Michelin starred restaurants, located within a 25 mile radius of each other. I have called this the Michelin Triangle.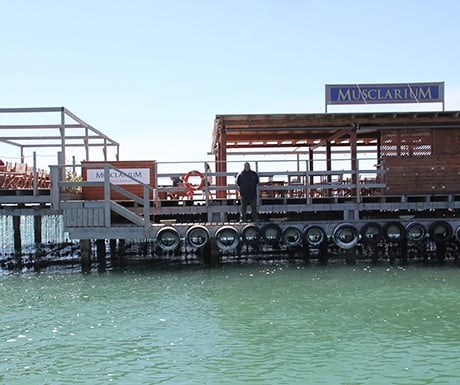 There's also a special gem that deserves to be included in this feature, which is Restaurant Carmen Guillemot. The food in this restaurant is of Michelin star quality without a doubt. However the owners offer a personal, intimate experience and don't wish to expand their infrastructure to the point where they would qualify for a Michelin Star. One common thread between all four restaurants is that they all use the incredible wealth of natural ingredients available in the area.
Restaurante Raul Resin: Chef of the Year Spain 2016 & One Michelin Star
It was a real pleasure to interview Raul Resino, Chef of the Year Spain 2016, in his restaurant close to the beach in Benicarlo. Located on Spain's Orange Blossom Coast, Restaurante Raul Resino was awarded a Spain Michelin Star Triangle-Michelin Star Raul Resino on 23rd November 2016.
Superb imagination
Raul, who started his career aged 16, is a chef with a superb imagination, creating dishes from locally sourced products from the Orange Blossom Coast (Costa Azahar), the region of the Maestrazgo and the Delta de l'Ebre Natural Park. Working with local orchards and providers, Raul has a unique style, which blends cutting edge methods, with traditional cuisine. However the ingredients are always the stars of all his dishes.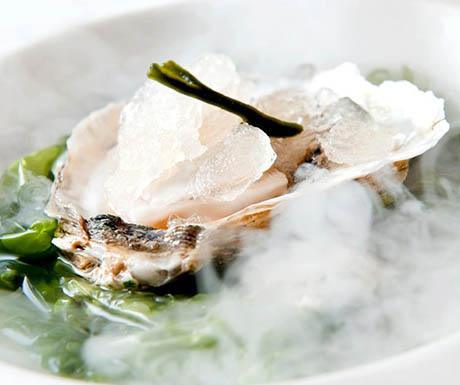 Packed with creative touches
Packed with creative touches, Raul's gastronomic menus frequently change in order to offer only the best seasonal seafood and vegetables of the area. Presentation is absolutely stunning and service is wonderful, equal to a restaurant with even more Michelin stars. His restaurant accepts only 30 people for each meal, and he has a team of 15 highly trained waiters who ensure a seamless experience for patrons, who speak a selection of languages.
Raul has worked his way through both humble and world-famous restaurants, perfecting his art. He worked at the Martín Berasategui restaurant in Lasarte (three Michelin stars), El Celler in Can Roca in Gerona (three Michelin stars), El Raco in Can Fabes (three Michelin stars) and under Japan Prestigious master Yoshikawa Takamasa at the Suzaku Restaurant in Tokyo, among a number of others. He frequently appears in the media, collaborating on television programmes and cookery books.
Vital statistics
Gastronomic tasting dinner menu 19 dishes: €65.00 (Tuesday to Saturday)* 3-course lunch menu: €40.00 (Tuesday to Friday) Address: C/ d'Alacant nº2, Esquina con l'Avinguda Catalunya, Benicarló 12580 Castellón Phone: +34-964 86 55 05 Opening hours: Lunch: 1.30 pm a 3.30pm– Dinner 9pm to 11pm (Closed Sunday night and all of Monday)
L'Antic Molí Restaurant – Chef of the Year for La Vanguardia and Catalonia Gastronomic Forum – One Michelin Star
The name of this restaurant translates into The Old Mill, and as the name suggests
L'Antic Molí
is a beautifully converted old mill, on its own lovely grounds. The restoration work has been carried out seamlessly to blend the old mill's features with a striking, clean modern look.
Third generation chef
Owner Chef Vicent Guimerà started his career, aged 12, making his the third generation in his family to be talented chefs. In fact L'Antic Molí is very much a family affair, with Vicent's wife, Maria Pilar, working alongside him, and the last time we ate there, his aunt served us.
Awards are for all the family
Vicent is a lovely guy, who was aged only 36 when he was awarded his first Michelin Star on 23rd November 2016. He also won the prestigious La Vanguardia (one of Spain's most important newspapers) and Catalonia Gastronomic Forum Chef of the Year Award.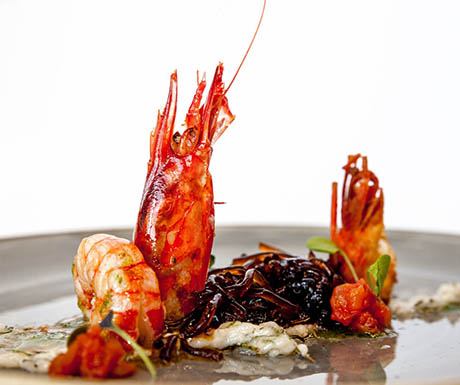 Although these awards are officially received by Vicent, he acknowledges that they are the result of many years of hard work, carried out by him and his super team of chefs and waiters. Some of which are blood family members, but the rest of all part of the L'Antic Molí family. You can feel this is the atmosphere of the restaurant; that perfect balance between the utmost professionalism and friendliness.
Immaculately-presented foodie offerings
Vicent and his team create immaculately presented foodie offerings, designed from locally sourced and organic ingredients. Vicent is a leader in the Slow Food movement here and also fondly known as the Galera Chef. Galera is Spanish for the seafood that is mantis shrimp in English. For around seven years now, Vicent and his team, have been working hard to elevate the status of what was previously considered a second-class crustacean. They are successfully doing this with delicious innovative recipes, which apply the latest culinary techniques.
I have dined a number of times in the L'Antic Molí and each time has been wonderful. As a lover of duck, I often sample duck dishes when out at a restaurant. The best duck at a restaurant that I have had to date was in L'Antic Molí, served with a sumptuous fruit of the forest sauce.
Vital statistics
– El Tour de l'Antic Molí (22 dishes): Tuesday to Sunday €75 – without drinks – Le Petit Tour: (13 dishes) €45 from Tuesday to Sunday – without drinks – Daily menu: appetisers, first course, second course and dessert €13.50 – Tuesday to Friday – Saturdays: three starters, second choice, dessert and drink €20 Address: Carretera Ulldecona- La Sénia, Km. 10, 43550 Ulldecona, Tarragona Phone: +34-977 57 08 93 – +34-663 96 49 83 Opening hours Tuesday to Saturday 1pm to 4pm Friday and Saturday 8.30pm a 11pm Closed Sunday nights and all Monday If you are a group of 8+ people they may be able to facilitate you on a Thursday night, by opening the restaurant specially for you.
Les Moles, Catalan Olive Oil Award, One Repsol Star, One Michelin Star
Open since 1992,
Les Moles
was the first restaurant in this Michelin Triangle to be awarded a Michelin Star. Also in a charming setting, Les Moles is also run by a husband and wife team, Jeroni and Carmen.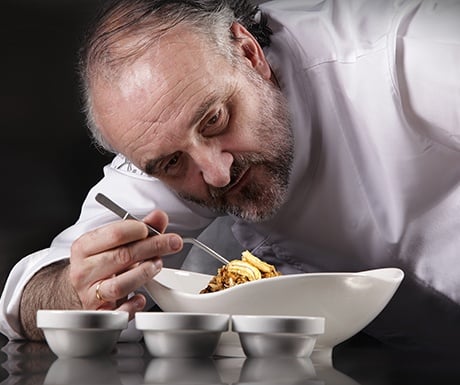 It's all about proximity
One of the restaurant's big themes is what they call Proximity, which is basically locally sourced but even closer to home when possible. The restaurant has its own orchard, makes their own bread and everything else is locally sourced.
Out of the restaurants featured, I can't personally review this one, as we haven't been there for many years, but we will go back soon and then update this article for you.
Vital statistics
Historic tasting menu "El Camino Recorrido" – €75 Gastronomic tasting menu – €72 Les Moles Traditional menu -€32.90 – available Tuesday to Saturday- starters, first course, second course and desert – includes some wine, water and bread Mola menu Gastrobar – €18 – available daytimes Tuesday to Friday – starters, first course, second course and desert – includes some wine, water and bread Address: Ctra. Sénia, Km. 2, 43550 Ulldecona, Tarragona, Spain Phone: +34-977 573 224 Opening hours: Tuesday, Wednesday and Sunday 1–4pm Thursday to Saturday 1–4pm, 8:30–11pm Monday Closed
Special gem: Restaurant Carmen Guillemot – Sunday Times Recommended & Game of Thrones Wrap Dinner
Based in Peñiscola, which was featured in our Delicious Drive Route 3,
Restaurant Carmen Guillemot
is also a family affair. Both Mamen and Philippe are culinary geniuses, but Mamen is responsible for the majority of the food creation. Philippe does a spectacular job at front of house. He is genuinely warm, friendly, charming and efficient.
The Game of Thrones actors and crew chose this restaurant to have their all important wrap dinner – the meal to celebrate the end of filming. In an interview with Mamen and Philippe, they explained to us that they are delighted about the Michelin Star Triangle, which they acknowledge is wonderful for the area. However their establishment is too small and intimate to qualify for some of the aspects of achieving a Michelin Star. We originally discovered the restaurant when it was located in Alcanar. I remember the experience as if it were yesterday. All of us were rather quiet during the meal, purely as we were savouring and contemplating the delicious taste explosions. It was as if an atmosphere of awe had enveloped our table.
Both Mamen and Philippe are also artists: a painter and sculptor. It seems as if their boundless creativity permeates through all areas of their life. It's in the restaurant's decor, ambience, their personalities and of course the foodie offerings. Inventive, perfectly balanced, delicious dishes are presented throughout the meal. One perfect surprise after another. I would highly recommend the tasting menu, but you can also go a la carte if you wish. Mamen makes her own wonderful bread, and all ingredients are organic and locally sourced. Restaurant Carmen Guillemot is an experience to delight all of your senses. You'll find them in a little street in the old town, full of character.
Vital statistics
Gastronomic tasting menu – 7 courses – €42 A la carte menu which changes to incorporate seasonal ingredients each month Address: Juan José Fulladosa, 27, Casco Antiguo, 12598 Peñíscola Phone: +34-964 481 381 Opening hours: Friday to Sunday: 1.30pm to 4.30pm – Friday & Saturday night: 8.30pm to 11pm
Disclosure: This post is sponsored by Hertz.
Did you enjoy this article?
Receive similar content direct to your inbox.