By
Mark Tulloch
on May 22, 2017 in
Accommodation
,
Adventure Travel
,
Asia
,
Attractions
,
Bars
,
Clubs
,
Food and Drink
,
Going Out
,
Hotels
,
Indonesia
,
Regions
,
Restaurants
,
Speciality Travel
,
Travel Miscellany
,
Vacation Rentals
To those well-acquainted with Bali, this award has been a long time coming. In 2016, TripAdvisor named Bali as the 5th Best Island Destination in the World. Then last month Bali was bestowed the title of Top Holiday Destination in the World for 2017. To put this in perspective, London is 2nd, Paris 3rd, Rome 4th, and New York 5th. That's some achievement for an island that doesn't have much in regards to a tourist board or self-marketing strategy. However, the reasons why Bali is so popular aren't too obvious to many. Over the past ten years, Bali has been growing in stature and popularity at an incredible rate but the general, limited expectation of prospective holidaymakers is that of a small paradise island with white sandy beaches and coconut trees in abundance. A more accurate description is that Bali is a highly diverse island popular with both adventurers and those in need of relaxation, with many different regions and villages each of which offer something different to every type of traveller – and it continues to grow, and fast!
"Bali is a living postcard, an Indonesian paradise that feels like a fantasy" – TripAdvisor 2017
Here we give the real reasons why Bali is so popular.
The spirit of Bali
Bali is known as the Island of the Gods, due to the numerous religious idols of Balinese ancient Hinduism which is enshrined in the locals' daily life. Balinese culture focuses on balance and harmony and this is reflected in the numerous rituals, festivals and ceremonies which are endlessly practiced to show gratitude to the Hindu Gods. Indonesia is comprised of over 18,000 islands, yet it is the zen-like culture of Bali which makes it stand out from the rest as a memorable and wonderful holiday destination.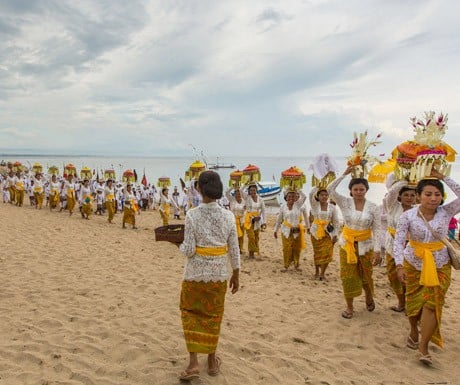 The colourful ceremonies, parades and exhibits are so commonplace it would be unusual for visitors not to witness these during their stay. These offer an interesting insight into a peaceful way of life and invariably a fabulous experience for the tourists as spectators to events where the locals focus on calling on good spirits while pushing the negative evils away. The Balinese live in close knit communities all over the island and, prior to the arrival of the tourism industry, arts and crafts were inherited family traits to support their faith and ceremonies. With over 20,000 temples on the island it's evident to see that spirituality and community is integral to Balinese people; both town dwellers and in remote villages. This beautiful culture is reflected in the welcoming, friendly hospitality of the locals.
Tropical climate
In its equatorial location, Bali's temperature is guaranteed to be hot and humid all year round. There are basically two seasons; dry season and wet season. Dry season lasts from around April until September when the temperature remains steady in the mid-30s, meaning it's an ideal climate for shorts, flip-flops and sassy shades.
The wet season generally runs from around October to March and although this may mean constant downpours for days on end when rainy season reaches its height, most days in the wet season will only experience rain for an hour or so and the cooling, clean air is very much appreciated. There's not really a bad time to visit Bali. Despite rainy season falling over December and January, Christmas and New Year are peak seasons in Bali with most accommodation booked out months in advance.
Beaches
With a seemingly endless coastline stretching hundreds of miles, there are dozens of breath-taking white sandy beaches in Bali to choose from, each holding huge appeal for holidaymakers. Watersports of course are countless with surfboarding taking number one spot – popular with beginners and professional athletes alike who can be found hitting the ocean waves. Padang Padang in Uluwatu hosts annual World Surf Championships and the event attracts world-class surfers from all corners of the world.
While the busier beaches are located in most common tourist areas such as Kuta, Legian, and Seminyak, there are many others which remain untouched with truly idyllic beauty (on a par with some of the most stunning beaches in Thailand). You can find quiet beaches in local fishing villages, beaches that are home to luxury beach clubs and, of course, beaches which are the base for dedicated surfers. Everyone visits the beach whether to swim, surf, or sunbathe. Some head down for an early morning jog or to walk the dog. However, the beaches are busiest at around 6pm when tourists and locals alike gather to watch the glorious, wondrous sunset which falls on Bali every evening.
Diversity
The attraction of Bali is highly diverse in so many respects, and the locals strive to meet the demands of even the most discerning tourist. Firstly, no matter which area you've chosen to stay in Bali, the local community is integrated with the newer establishments. For example, you may sip delicious cocktails at the bar of a high-end luxury resort at prices on a par with the Western world, but then walk across the street to a local eatery for a £2 lunch.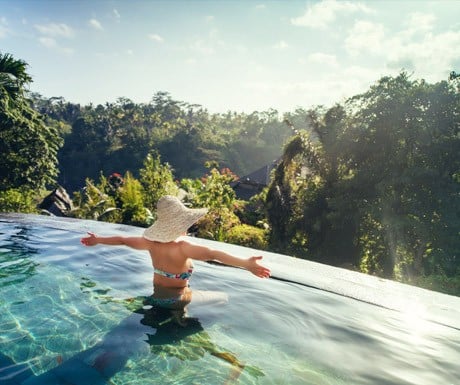 This huge diversity makes Bali popular with every type of traveller. Backpackers stay in hostels and can be sighted partying in cheaper bars and clubs. Families can book suitable, comfortable accommodation and keep the children entertained with fun holiday attractions and activities – amongst the favourites are the Monkey Forest, Bali Safari and Marine Park. For those tourists in need of a relaxing retreat, they may be more comfortable in Bali's quieter environments and enjoy the endless hospitality of welcoming local staff who look after their every need. Bali has also become the dream honeymoon destination for newly-weds with its huge selection of romantic scenic hotels and private villas, world-class restaurants, sunset cruises, and spa treatments galore. Last, but not least, Bali is a great destination for large groups of fun seekers who can enjoy the great thriving nightlife, epic beaches, boutique shops, and sightseeing attractions. There are so many different areas within Bali, some more touristy and crowded than others, but each holding unique appeal. Bali offers something for everyone whether that's shopping, surfing, relaxing, retreating, serenity-seeking, sight-seeing, attractions, exploring, or indulging in the wide options for food and drink.
Attractions & adventures
There are many historical and cultural landmarks in Bali where Bail's rich culture and heritage can be appreciated.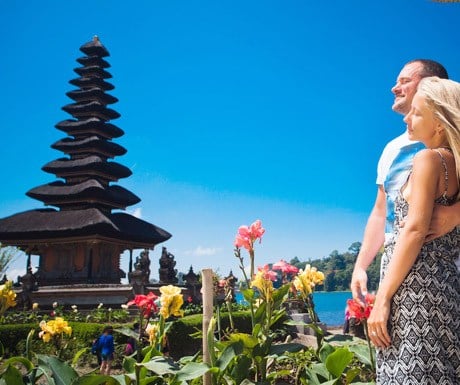 Various colourful festivals and ceremonies are annual events and spectating traditional Balinese dance, music or partaking in local cookery classes are great ways to learn more about the local culture. A visit to the see the natural beauty of sacred temples and landmarks is highly recommended. Alternatively, for the fit and adventurous, there are soaring volcanoes (which allow access to trek down inside), crater lakes, magnificent tropical forests, astounding waterfalls, and white water rafting along one of Bali's famous rivers on offer.
And did we mention the many beaches?
Five star hotels and luxury villas
In years gone by, Bali's tourism has been limited to travelling backpackers, keen surfers and holidaying Australians. Nowadays, Bali is accustomed to catering for luxury seeking holidaymakers and as such a plethora of world-class hotels, luxury private villas, and prestigious beach clubs on the coastline are now in abundance.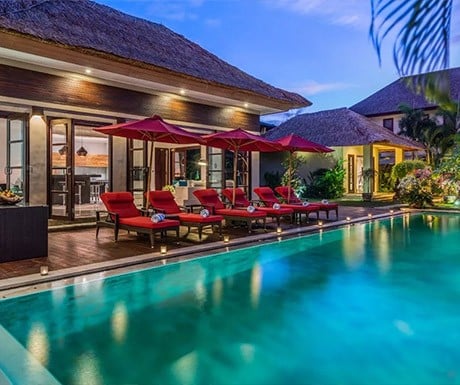 Famous hotel chains such as the Four Seasons, Le Meridian, and Grand Hyatt have opened in stunning locations with beachfront settings and views over the horizon. And despite their popularity, the most accustomed accommodation to book in Bali is a private villa. With an estimated 18,000 private villas across Bali, it's the accommodation type of choice for many as it offers a more luxurious and secluded stay that can house big groups or families. These luxurious villas normally have their own personal staff so guests are well looked after.
Restaurants, bars and clubs
For the hardened fun-loving partygoer, Bali doesn't sleep. Bars and beach club staff are always busy attending to their customers all day long and until the early hours of the morning. The bar and club scene in Bali is widespread and ranges from budget bar shacks on the beach to extravagant clubs for those on a classier night out.
Bali has also become residence to world-renowned chefs who have opened their doors to swanky restaurants and fine dining establishments. Whatever type of restaurant or cuisine whets your appetite, it can be easily found in Bali where International cuisine is aplenty, with dining choices ever widening with every new restaurant opening. Value for money A holiday in Bali is often considered as good value for money with typical spending during the trip being much lower than other holiday destinations. For example, getting around the island whether in a taxi or private hired driver is very cheap, and a 30 minute taxi ride could cost as little as £2.50. This makes exploration of Bali easy and cheap.
All around Bali there is an excellent range of private villas available for rent, all with private pools and personal butlers. These villas are great value for money as you can book them in their entirety to accommodate your holiday group or family. With the first class services offered, staying at a luxury villa in Bali is normally compared to staying at your very own 5 star hotel with personal staff, but at a much less overall cost.
Shopping
As already mentioned, arts and crafts are at the heart of Balinese culture and these make ideal souvenirs. Hand-made Artisan wares, beautifully designed textiles in the form of sarongs and pareos and unusual hand-made knickknacks are widely available on sale in village shops and markets.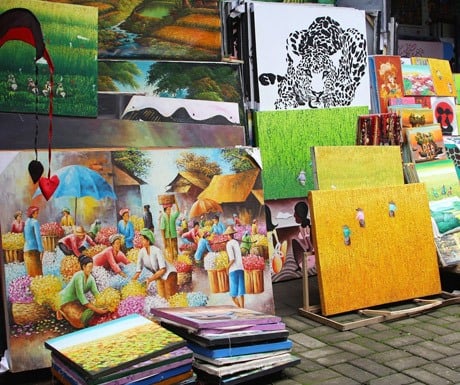 Bali is home to hundreds of independent fashion designers who manufacture their clothing lines locally in Bali and set up boutique stores in the upmarket tourist areas to sell their collections. These stores offer original designer clothing at affordable prices. And some might also be surprised to learn that Bali has quite a few huge shopping centres (malls), some of which are located on the beachfront. The malls have a wide and varied collection of shops where better known Western brands (e.g. Zara, H&M, Topshop) are on show.
Neighbouring islands
Bali is just one of around 18,000 islands in Indonesia making it the world's largest archipelago. From Bali you can take a boat trip to small, nearby islands such as Nusa Lembongan and the Gili Islands. Nusa Penida, Nusa Ceninghan, and Nusa Lembongan are smaller islands that sit to the South East of Bali. They can be reached in a 20 minute boat ride and as they are considered conservation areas they are not equipped with the same tourist infrastructure as Bali.
Lombok, to the East of Bali, is in fact bigger than Bali but its scenery is akin to that of Bali 30 years ago – its small village communities and untouched beaches are enchanting. In Lombok, you can find a collection of smaller islands around its coast such as Gili Air, Gili Meno, and Gili Trawangan and while these have been popular destinations for backpackers for many years, they are increasingly desirable to other holidaymakers. These islands are small and peaceful – with no cars or vehicles on these islands – and surrounded by crystal clear water and white sandy beaches. They are so far removed from modern life, a stay there feels like going back in a time machine. Further East, you can explore more islands, such as Flores; famous for its Comodo dragons. All of these neighbouring islands are popular sites for scuba divers, with beautiful coral reefs and tropical marine life.
Mark Tulloch is Co-Founder at Asia Holiday Retreats.
If you would like to be a guest blogger on A Luxury Travel Blog in order to raise your profile, please contact us.