By
Margherita Ragg
on May 29, 2017 in
Attractions
,
Europe
,
Featured
,
Food and Drink
,
Going Out
,
Italy
,
Regions
,
Road Travel
,
Speciality Travel
,
Travel Miscellany
,
Western Europe
If you've followed us recently, you'll know that we've partnered up with Hertz who provided the wheels (a compact and stylish Fiat 500) to discover the tastiest foodie secrets around the Bergamo province. We've told you all about Moscato di Scanzo, a delicious and very rare 'meditation wine', and about our delicious lunch with Piero at Rifugio Cespedosio. Here we are going to share with you the other shorter stops we made as we traversed the countryside with the help of our reliable Fiat 500, courtesy of Hertz car rental.
A car is essential to follow this foodie itinerary – public transport is pretty much non existent away from Bergamo, and having your own car will also give you the chance to pick up and store delicious souvenirs to take home for your friends and family. Hertz offers rental cars both at Bergamo and Milan Linate airports, allowing you to start your delicious drive in no time.
The Bergamo province is half covered by mountains, half by the plains of the Po valley – the itinerary follows the SS470 road travelling from one side to the other of Val Brembana, one of the mountain valleys stretching north from Bergamo, but includes a couple of stops in the southern section of the province as well.
Latteria Sociale, Valtorta
From Scanzorosciate we drove to Bergamo and then we followed the SS470, running the length of Val Brembana. The very last village before the road ends at the bottom of the valley is Valtorta, famous for being home to delicious cheeses, some of which are only made here. Two Valtorta cheeses have been elected to the rank of presidia by the Slow Food association, referring to unique traditional products at risk of disappearing. One of them is Agrì, cylinder-shaped cheeses handmade individually, with a distinctive sour taste.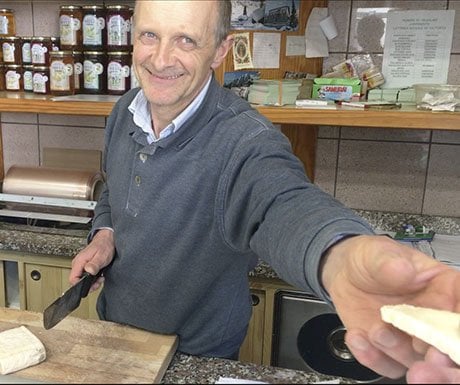 Another unique cheese produced in Valtorta is Stracchino delle Valli Orobiche, made in the region since the Middle Ages. It was traditionally produced while cows where having breaks from their march between the higher and lower pastures – the word stracchino comes from the word stracch in local dialect, meaning tired, as the animals were tired from the journey. Stracchino is soft and creamy, surrounded by a harder crust that releases herb and grass aromas. Nowadays, you'll find industrially made stracchino on all supermarket shelves around Italy, usually a bland and underwhelming cheese. Trust me, drive to Valtorta and taste the real stuff!
Via Priula Birreria & Pasticceria Bigio, San Pellegrino Terme
Driving back down the SS470 heading towards Bergamo, in just over 30 km you'll reach San Pellegrino, home to the world famous mineral water. The town was a popular holiday resort at the turn of the 20th century and still retains some lovely examples of Art Nouveau architecture, such as the thermal baths building, the casino and the Grand Hotel, currently being restored.
San Pellegrino is also home to not one, but two foodie stops! First, we headed to Pasticceria Bigio, a confectioner's that's been open for over 50 years, famous in the region for their moon-shaped frollini (butter biscuits). Ingredients are very simple – milk, sugar, butter, flour and eggs, yet the result is a delicious, multipurpose biscuit, perfect on its own, dunked in tea or coffee or even to accompany Moscato di Scanzo.
Afterwards, we headed just around the corner to Birrificio Via Priula, a brewpub owned by San Pellegrino's pharmacist and serving a selection of homemade brews to accompany beer-inspired specialties such as birramisu, a yeasty version of tiramisu. The beers from Via Priula take their inspiration from local characters, places and events – for instance, their award winning Camoz, a hefty Imperial stout with coffee undertones is named after a popular rock climber from San Pellegrino, while Rosa was created to commemorate the day when Giro d'Italia (Italy's most famous cycling race) passed through the town.
Castel Cerreto – organic pick your own farm
On the way back from the mountains, before dropping off our Hertz car at Linate airport, we decided to stop at Castel Cerreto, an organic farm located not far from Treviglio, south of Bergamo. With strawberries, grapes, and raspberries all growing here,  It's one of the very few pick your own farms in Italy. There is also a small farmers market every Saturday and at the end of the afternoon everyone was offered a glass of Prosecco and a tasting of products made with Castel Cerreto's delicious asparagus.
Another stop that we recommend including in your road trip is Crespi d'Adda, a UNESCO-listed 'company town' a short drive away from Castel Cerreto. The village was built in the late 19th century by Crespi, a local factory owner, to provide accommodation for his workers.
It's a wonderful sunset drive, and a great place to conclude our two day foodie road trip around the Bergamo province. Thanks to our Hertz rental, the trip was a breeze.
Disclosure: This post is sponsored by Hertz.