Venturing into the Democratic Republic of Congo is certainly not what most travelers would add to their bucket list when visiting Africa. Congo offers a modern traveler some of the most phenomena landscapes and breathtaking nature; indeed Africa at its wildest.
My favorite is mount Nyiragongo with its summit at 3,468m (11,380ft), is one of the world's most active volcanoes holding a boiling lava lake in the middle of a deep crater comprising of an average diameter of 1.2 km, considered to be one of the largest in the world.
The opportunity of hiking the gigantic volcanic crater and watching red-hot bubbling lava lake from the edge of its rim is ones of the most stunning, worthwhile & humbling experiences ever! This is an adventure you cannot miss especially when you visit East Africa.
The volcano is situated East of the Democratic Republic of Congo a few minutes from Goma town which borders Gisenyi Rwanda. Nyiragongo just like her sister chain of Virunga mountains of Nyamuragira volcano, mount Karisimbi, mount Muhabura, mount Bisoke, mount Mikeno, mount Muhabura are all linked to the Great rift valley and Nyiragongo is the most active out of them all. Most recently in 2002, mount Nyiragongo erupted with lava flowing towards Goma city and it's outskirts covering a big part of the city going as far as Lake Kivu. More than 500, 000 people were left homeless, about 50 killed and leaving Goma covered in a hard, black volcanic rock. It should be noted that Nyiragongo has erupted over 30 times in the past 100 years, and is considered very active. The eruptions temporarily drained the summit lava lake but has come back over the years.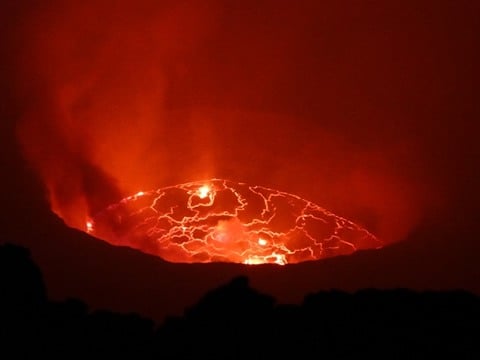 Information to help you prepare for the hike
Climbing Nyiragongo volcano takes about 5 hours to get to the summit, the hike is tough and steep as you step on mainly loose lava rocks and the hikers must be reasonably fit. The chain of Virunga mountains comprises of even higher and much steeper summits, hence Nyiragongo isn't as much challenge for a reasonably healthy, working-out people
The Nyiragongo tour offers a 2 day hike with overnight at the rim of the volcano in the bungalows crater cabanas, with beds, and hikers only have to bring a sleeping bag. A 1 day day hike is also possible and can be arranged on request, but you will miss out on clear lava views. In the night the views are vibrant and bright that the glow can be seen from Goma town and as far as Rwanda.
Its necessary to book in advance. Each day a maximum group of 16 people can take part in the hike. Minimum age for visitors is 12 years
Documentation
Have your passport on you, apply and confirm your Congo visa in advance for all nationalities. Have your yellow fever card on you, otherwise they will charge you $100 to make you one.
Packing checklist
Sturdy hiking shoes, warm clothing – it gets freezing cold all year round, rain jacket – it can rain any day.
Sleeping bag and food usually taken care of by your organizing travel agency
Enough water and any other energy drink
Very advisable to hire a porter
Go with a hiking stick to give you more stability as you go higher
Camera is a must
Kalitta Belinda is the Tours Manager at Wild Rwanda Safaris.
If you would like to be a guest blogger on A Luxury Travel Blog in order to raise your profile, please contact us.