The holy month of Ramadan is one of personal reflection, communal worship and giving to the less fortunate. It's also a time when families come together to break their fast at sunset. Moreover, in the United Arab Emirates, a country where a huge population of expatriates exists, iftar has become a time when they can partake of iftar spreads in many hotels and restaurants, whether it's a lavish buffet spread or a set menu. Here's a round-up of 11 fine dining restaurants in the different emirates of the UAE where you can dine with friends and family, while celebrating the true meaning of belonging and community.
1. At.mosphere, Burj Khalifa, Dubai
Dine up high on level 122 of the tallest building in the world. This Ramadan, the restaurant is offering a four course menu showcasing the best of contemporary cuisine: soups such as wild mushroom veloute to main courses including pan-seared sea bass and lamb rack. Couple this with panoramic views of the city, this is a perfect iftar experience.
Price: AED475 per person
2. The Majlis, Desert Per Aquum, Dubai
Surrounded by endless greenery and polo grounds, The Majlis is an ideal place to dine al fresco during Ramadan. Enjoy a delightful blend of Arabic and international cuisine in a laid-back atmosphere with the family and friends.
Price: AED150 per person for a minimum four people
3. Sofra, Shangri-La Hotel Qaryat Al Beri Abu Dhabi
Sofra bld has created a grand iftar buffet with a souq styled ambiance. The highlight of the buffet is the traditional ouzi station where a rice packed dish of baked lamb has been filled with Arabian spices that second helpings are foreseen.
Price: AED205+++ per person
4. Ewaan Ramadan Tent, Palace Downtown, Dubai
The hotel exudes Arabian hospitality right here in the posh Downtown Dubai area. Enjoy a touch of culture in luxury settings at the Ewaan Ramadan Tent where an iftar buffet awaits.
Price: AED255 per person
5. Canvas, Fairmont Fujairah Beach Resort, Fujairah
Only a 90 minute drive away from Dubai, the hotel is located in the nook of the Al Hajar mountains. A nomadic experience at Canvas promises a taste of true Emirati hospitality. Choose from cold and hot mezze, baby marrow and couscous as well as aromatic dishes that are served up at live cooking stations.
Price: Dhs155 per person
6. Coya, Four Seasons Resort, Dubai
This restaurant is renowned for bringing in authentic Peruvian cuisine to Dubai thanks to Executive Chef Benjamin Wan. Located within reach of Four Seasons Resort on Jumeirah Beach Road, the restaurant is serving a four course menu with a Latin American twist that includes grilled skewers and spicy beef sirloin, while the desserts include the popular camel milk ice cream and sticky date toffee cake.
Price: AED270 per person
7. Amiri Ramadan Tent, Address Montgomerie, Dubai
Close to the lake at Emirates Hills is the Amiri Ramadan Tent at Address Montgomerie. Find a slice of tranquillity with the family away from the city, dine under the star lit skies and close to the lakes. An elaborate Emirati iftar fare awaits you.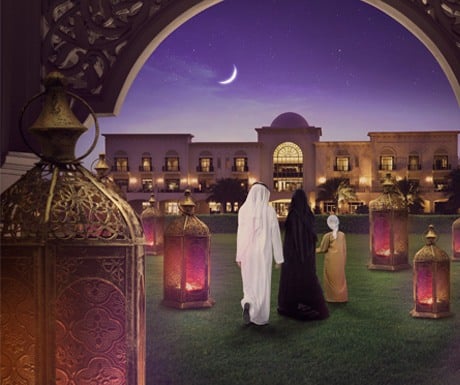 Price: AED200 per person
8. Ingredients, Eastern Mangroves Hotel & Spa by Anantara, Abu Dhabi
The hotel is located along The National Mangrove Park, Salaam Street, and exudes an Arabian charm. During Ramadan, live cooking stations are part of the experience at its restaurant, Ingredients. Choose from a range of Arabian dishes such as samke harra and lamb chops with grape vine leaves or go for the international selection of delicacies.
Price: AED185++ per person
9. Al Marjan Ramadan Tent by RAKTDA, Ras Al Khaimah
Head to Al Marjan Island, Ras Al Khaimah, and enjoy the emirate's rich culture during iftar. Here's an Arabesque fare with a difference, created by Executive Chef Ludovic Garnier. The Al Marjal Ramadan Tent is catered by Al Wadi Desert Ras Al Khaimah which is a Ritz-Carlton partner hotel.
Price: AED150 ++ service charge per person
10. Armani Amal, Armani Hotel Dubai
Spend a quiet evening with the family and friends while taking in the beautiful views of Dubai Fountain. Delicately prepared Indian and Arabic dishes have been packaged as a sumptuous four course menu at this award-winning restaurant.
Price: AED250 per person
11. Feast, Sheraton Grand Hotel, Dubai
Enjoy a buffet-style experience while watching chefs cook whip up a variety of iftar favourites in the open kitchen. The delicious spread of hummus, mezzeh, tabbouleh as well as the desserts to tickle the palate such as the Arabian sweets, rose crème caramel and tiramisu.
Price: AED210 per person