If Tokyo is Japan's business center, Kyoto is Japan's cultural center, and a must for any first time visitor to Japan. It was Japan's ancient capital for over 1000 years, until 1869, and its 2000 temples and shrines attract Japanese pilgrims as well as international visitors. While 4 days or more are ideal for a first visit to Kyoto, if you only have 24 hours, here are my recommendations to make the most of your time.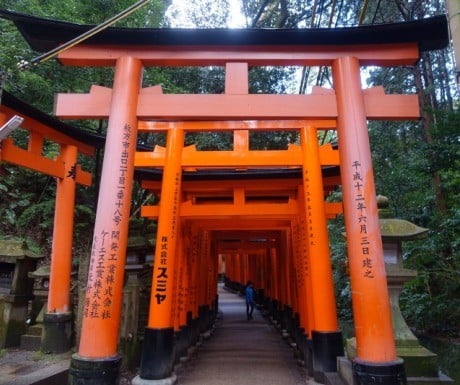 1. Take the Shinkansen to Kyoto
There's no airport in Kyoto (the closest major airport is Osaka), and chances are, if you only have 24 hours in Kyoto, you're flying in and out of Tokyo. Fortunately, thanks to Japan's extensive and highly developed rail network, it's easy to get to Kyoto from Tokyo on the Shinkansen, or bullet train. The fastest Shinkansen, the Nozomi, gets you between the two cities in just over 2 hours, although the Nozomi trains aren't covered by the Japan Rail Pass. Instead, you can take the Hikari Shinkansen, which takes about 2 hours 40 minutes. Use HyperDia to check the train schedules, and remember to get a seat reservation before boarding the train.
2. Stay at the Four Seasons Kyoto
Until recently, Kyoto has lacked true luxury hotels, although that changed in 2014 with the opening of the Ritz-Carlton Kyoto. More recently, in 2016, the Four Seasons Kyoto opened, and is a gorgeous property, with many rooms and suites, some with private balcony, overlooking the 800-year old Shakusuien Pond Garden. After a busy day of sightseeing, the stylish indoor pool and jacuzzis are a welcome way to unwind. We enjoyed our most restful sleep in Japan on the new Four Seasons beds, with mattresses customized to our sleep preference. And the breakfast buffet in the morning featured both Western and Japanese favorites, along with a choice of a specialty egg dish, from the Truffle Onsen Egg with creamy spinach and shaved truffle, to the Baked Scrambled Egg with goat cheese, dried tomatoes and basil.
3. Splurge on sushi at Sushi Wakon
There are of course many great restaurants and dining options in Kyoto, but one of the best places for sushi, particularly if you also want to feel welcome as an international visitor, is Sushi Wakon at The Four Seasons Kyoto. It's created by Michelin-starred Chef Rei Masuda, whose connections to the top seafood suppliers is evident in the quality of the fish served here. Since there are just 10 seats, be sure to reserve ahead of time, and note that children under 12 are not allowed at the sushi bar, but may dine with parents in one of the two private rooms. Dinners are omakase (Chef's choice), and the price at the time of writing is JPY 23,000 (~USD 200 or GBP 160) per person.
4. See Kyoto with a private guide
With just 24 hours, don't try to see everything. Instead, I recommend focusing on three or so places to see on a half day tour with a private guide. We reserved an excellent guide via Tours by Locals, and chose to start our visit at Kiyomizu-dera, one of Kyoto's most popular Buddhist temples. Don't miss Tainai-meguri before entering the main temple complex, and be sure to allow time for a leisurely stroll down Sannenzaka afterwards, and perhaps a walk through Maruyama Park, particularly if it's cherry blossom season. You can then walk to Gion, the traditional entertainment district where, in the early evening, you may even see a geisha or maiko heading to an appointment. Alternatively, if you're more interested in seeing Ginkaku-ji, the Silver Temple, and its lovely gardens, you could combine that with the Philosopher's Path. In either case, I recommend getting an early morning start, as Kyoto's major temples are very popular with tourists, and much better seen early or late in the day to avoid the crowds.
5.  Take a cooking class with a local family
For insight into how locals live, and homestyle cuisine, I recommend Haru Cooking Class, with Taro Saeki, held right in his family's home. Taro is not a professional chef, but he will show you the key ingredients Japanese families use on a daily basis and with his guidance, you'll prepare quintessentially Japanese dishes such as dashi, the broth used in miso soup, tamago (Japanese egg omelet), and vegetable dishes. Plus, for omnivores, there's the chance to try genuine Kobe beef, which is a very special treat and not an everyday food for most Japanese.
Hilary Stockton is the CEO at TravelSort.
If you would like to be a guest blogger on A Luxury Travel Blog in order to raise your profile, please contact us.