Nestled in the heart of French Polynesia, Bora Bora is a stunning tropical island that is often regarded as one of the top vacation destinations on the entire planet. Boasting a warm climate, breathtaking scenery and plenty of recreational opportunities, Bora Bora is a popular spot for those who want to enjoy romance on their honeymoon or anniversary. Since the island is home to some of the world's most luxurious resorts, it is the perfect place to relax, unwind and enjoy upscale cuisine and magnificent pampering. If you are still trying to pick the perfect resort for your upcoming trip to the island of Bora Bora, here are some fabulous suggestions to help your selection.
Conrad Bora Bora Nui Resort and Spa
Fresh from a multi-million dollar renovation, the stunning Conrad Bora Bora Nui Resort and Spa can be found on the lush islet of Motu To'opua. A blend of Polynesian culture with all of the contemporary amenities and services that world travellers have come to expect, this really is South Pacific luxury at it's finest. Since most of the accommodation choices face the ocean, guests will be able to enjoy unparalleled panoramas of pure blue as far as the eye can see. While there are rooms and villas right on the sandy coastline, the highlights for most visitors are overwater bungalows. Accessible by private wooden docks leading from the shoreline to the water, these bungalows offer glass panels that give guests a glimpse of underwater life right from their private living space. Guests can also unwind at the lavish onsite spa, dine on fresh tropical seafood or be amazed at the Polynesian dance performances held twice each week exclusively for resort guests.
Four Seasons Bora Bora
Although there is certainly no shortage of incredible resorts to choose from in Bora Bora, the Four Seasons Resort is one of the most luxurious options for travellers. All of the resort's accommodation options are located on a quiet and tranquil lagoon, which offers a stunning coastline, pure white sand and clear water. The Four Seasons Resort is geared toward romance, and couples will love the chance to dine on the beach by candlelight or enjoy private meals whipped up by the resort's top-notch chefs. However, there are still plenty of fabulous amenities for younger visitors in Bora Bora. A program called Kids for All Seasons provides fun, entertainment and supervised recreation for visitors up to the age of 12, and entire families can enjoy facilities like the volleyball courts and outdoor swimming pool.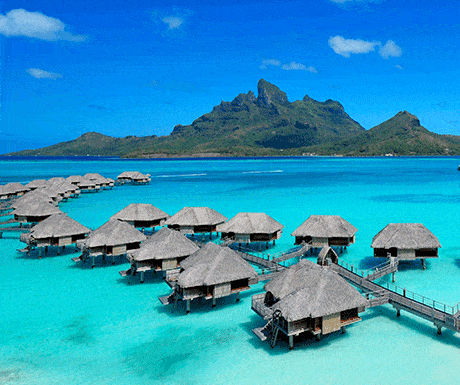 St Regis Bora Bora
In a destination where many of the resorts are at the top end of the luxury scale, the St. Regis Resort Bora Bora is still widely regarded as the preferred accommodation of choice for business executives, celebrities and socialites. What sets this resort from others in the area is the sheer size of the property. In total, there are more than 44 acres reserved exclusively for the use of resort guests. The overwater villas are a delightful place to stay, but the St. Regis works hard to make sure that every accommodation option is extravagant. The beach suites, for example, boast their own private pools so that each guest can enjoy private dips with their friends and family. To top it all off, the St. Regis Bora Bora boasts a 24-hour butler service for all of their guests. Whether you have a craving for a midnight snack or you would like some help arranging a tour, butler services are available around the clock.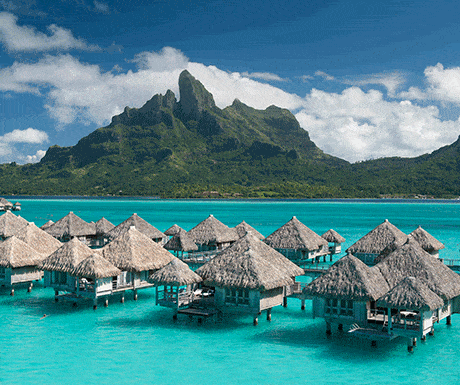 Bora Bora is an incredible destination in French Polynesia. Those lucky enough to visit should make the most of their trips and indulge with a stay at one of the luxury resorts listed above.
James Bell is Managing Director at The Turquoise Holiday Company.
If you would like to be a guest blogger on A Luxury Travel Blog in order to raise your profile, please contact us.