By
Selene Nelson
on Jun 30, 2017 in
Accommodation
,
Asia
,
Attractions
,
Bars
,
Food and Drink
,
Going Out
,
Hotels
,
Regions
,
Resorts
,
Thailand
,
Travel Miscellany
As the biggest travel destination in Thailand, Phuket encapsulates both the good and bad sides of Thai tourism. While overcrowded beaches and rowdy bars are part and parcel of resort towns like Patong, scratch beneath the surface and you'll discover a whole other, unspoiled side to this island. From trying traditional Thai experiences, visiting secret beaches and kicking back at the very best hotels, here are five reasons to visit Phuket.
1. A stay at Sri Panwa
Phuket has no shortage of luxury hotels, but there's one clear standout. Located in the southeast tip of the island, Sri Panwa enjoys the most dramatic setting in the Andaman Sea – it hasn't been voted the 'hotel with the best view in the world' for nothing. Perched precariously above Cape Panwa and surrounded by verdant rainforest, it's impossible to take a bad photo here.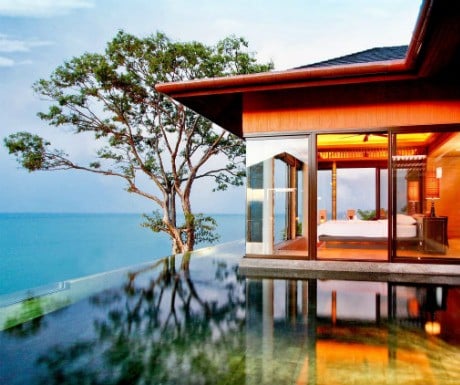 Considered by many to be the best hotel in Thailand, not just Phuket, Sri Panwa has 52 stylish villas and suites that are designed to feel like private luxury homes. With breathtakingly panoramic ocean views, super comfy beds, gourmet mini-bars, private swimming pools and intimate sun decks, it can be a struggle just to leave your accommodation. Make sure you do, however, as the rest of resort is just as spectacular.
There are several different locations for the hotel restaurants, so you can eat breakfast beside a 25-metre infinity pool and then enjoy a cosy dinner while admiring ocean views. Like any luxury retreat worth its salt, Sri Panwa has its own spa where you can indulge in all manner of pampering, from traditional Thai massages to facials, manicures and body wraps, all administrated by expert therapists. There's also a gym, tennis courts, steam rooms and a secluded private beach.
2. Learn Muay Thai at Sumalee Boxing Gym
If you want to immerse yourself in authentic Thai culture, getting to grips with Muay Thai is the most exciting way. Known as the 'art of the eight limbs', Muay Thai is a martial art that combines striking techniques with fists, elbows, knees and shins. It requires enormous physical discipline to be a Muay Thai fighter, and watching skilled fighters go head to head in the ring is a must while in Phuket.
But why not go one better and get stuck into some training yourself? There are many Muay Thai gyms in Phuket, but easily the best is Sumalee Boxing Gym: unlike the other gyms, there's an excellent trainer-to-student ratio and the complex has unrivalled facilities including an air conditioned weights studio, an exceptional restaurant, an outdoor swimming pool and a yoga studio.
The Muay Thai classes are held twice a day, six days a week, and there are also yoga classes if you feel like something more holistic. Located in three acres of beautiful land in the centre of the island, you're a world away from the tawdriness of Patong. Not only will you experience first-hand this traditional part of Thai culture, but you'll notice a difference in your body and stamina after just a week: win-win.
3. Cruise around Phang Nga Bay
One of Thailand's most famous natural attractions is Phang Nga Bay, and for good reason. Phang Nga Bay is made up of dozens of limestone islands that jut dramatically out of the turquoise Andaman Sea, and as such they're a favourite destination for photographers and nature lovers. Phuket is the perfect point to explore this region, with most visitors hopping aboard a boat for a day trip.
These tours take you past Phang Nga Bay's most stunning points, including James Bond Island (made famous from its appearance in The Man With the Golden Gun), the Phi Phi Islands and Koh Panyee, a fishing village built entirely on wooden stilts. Adventure lovers will also be in their element, as you can climb aboard a kayak to manoeuvre your way through thick mangrove forests, past secluded lagoons and into shadowy sea caves. If you're looking for a more leisurely trip, that's fine too: There's plenty of time to snorkel, swim, and soak up the sun on deck.
4. Discover near-secret beaches
Phuket isn't short of beaches. Big, small, busy, quiet, urban, remote… there's a beach for every inclination here, but if you want to explore the secret side to Phuket, Freedom Beach is for you. It's one of the least accessible of all the beaches on the island, but if you want to escape the crowds and experience the natural beauty of Phuket, it's definitely worth the trek.
There are two ways to get there: by boat, or by trekking through dense jungle for about half an hour. Whichever way you choose, on arrival you'll be greeted by a vision of island paradise. Hidden in a private bay, the beach is a beautiful stretch of pristine and powdery white sand, with a backdrop of lush jungle behind it. Unlike other beaches, there are no jet skis or banana boats here, so the atmosphere is always blissfully serene. Grab a sun lounger, buy a drink and kick back under the shade of a palm. The people who say Phuket is too touristy just haven't discovered Freedom Beach yet.
5. Sip cocktails at the world's most stylish rooftop bar
Sipping cocktails while admiring the sunset is on most people's 'To Do' list when visiting a tropical island, and luckily Phuket delivers on this front too. There are several spots where you can enjoy a cocktail in dazzling surroundings, but easily the most celebrated is Baba Nest Rooftop, located on Phuket's South-eastern peninsula.
Dubbed 'the world's most stylish and exclusive rooftop bar', these aren't empty words: Baba Nest has been voted one of the world's best beach bars several times. It's hard to imagine a more glamorous setting for a drink – the rooftop deck is surrounded by a wrap-around infinity pool and provides unparalleled 360 degree panoramic views of the surrounding islands and Andaman Sea.
The ambiance is sophisticated tropical cool: with a wide array of high-end cocktails, fine wines and champagne and chilled sunset sessions from the resident DJ, this is the perfect way to begin or end a trip to Phuket. Reserve in advance if you want a table… and make sure you bring a camera!