The boutique hotel group who won the travel industry's equivalent of the Oscars in May 2017 will open a spectacular luxury hotel in a restored sugar mill. Alila Hotels and Resorts will debut the Alila Yangshuo in Guilin, China in July 2017. The former working sugar mill is set against a backdrop of stunning landscapes, nestled against the dramatic karst mountains of the region. Surrounded by picturesque Guilin temples and lush countryside, the 117-room hotel will bring a touch of luxury to a pastoral setting. The spectacular property is complemented perfectly by the meandering rivers and rolling green hills nearby.
A striking retro-style sugar mill
The former 1960s-era sugar mill has been transformed into a striking modern retro resort. Designed by Ju Bin of Horizontal Space Design and Dong Gong of Vector Architects, the Alila Yangshuo seamlessly blends the original retro-architecture with modern luxury and contemporary touches.
The project carefully preserved many of the mill's original features and buildings. The original refining room has been cleverly designed into a beautiful 1969 Bar, which specialises in sweet cocktails which feature the house-distilled rum. The pressing room has been elegantly transformed into the Sugar House Restaurant, an airy space which features an eclectic offering of Western and Chinese cuisine, with seasonal farm-to-table produce. A real foodies treat.
A subterranean spa and spectacular swimming pool
In such a beautiful resort, it's hard to say which feature is its main highlight, but certainly the swimming pool is a main contender. It has been set on the sugarcane dock site, with the dock's dramatic steel columns framing the expansive outdoor pool.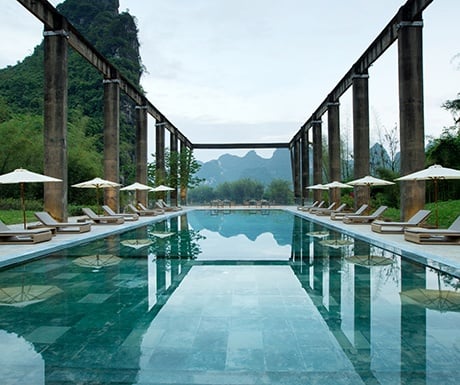 Alila also boasts a wonderful subterranean spa, which has been fashioned from volcanic rocks with a contemporary spiral staircase at its entrance. Balinese-style treatments are offered in a soothing space that includes five treatment rooms. Black sugar still which is still produced in the area is utilised in some treatments.
Along with the spectacular swimming pool and spa, other facilities include a library, creative design spaces, the Alila Living boutiques and a private pier for dining. The hotel also has a kid's club, with a great selection of toys and games, along with a fully equipped gym.
Set in an awesome location
The landscape of Guilin is one of the most awesome in the world. The county is considered to be one of China's most beautiful. The hotel is located a little over one hour drive from Guilin Liangjiang Airport and around half-an-hour drive from the Yangshuo railway station. The region is full of natural wonders making it perfect for outdoor activities, such as river cruises, exploring the river on traditional bamboo rafts, hiking and rock climbing.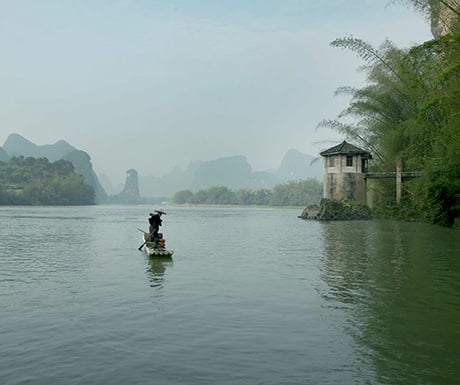 An enhanced guest-focused experience
At the heart of all Alila hotels is an enhanced guest-focused experience. The culture, indigenous nature and local people of the area also help guests to enjoy a meaningful, authentic holiday experience. The resort has devised bespoke activities which are focused around five themes: Conscious Living, Cultural Learning, Culinary Arts, Active Spirits, and Couple Celebration.
Rates at the Alila Yangshuo start from around £154 per room per night based on two people sharing.