By
Benedikt Lüchinger
on Jul 14, 2017 in
Austria
,
Europe
,
Food and Drink
,
Germany
,
Going Out
,
Regions
,
Restaurants
,
Switzerland
,
Travel Miscellany
,
Western Europe
Summer season is perfect to explore the Alps: Whether you like hiking, biking, sightseeing or relaxing, there's something for everyone. All activities have one thing in common: you will eventually get hungry. Now, a considerable part of restaurants in the Alps have an unexciting and monotonous menu that is not really worth the stay. To show you that restaurants in the alps can be culinary dreams as well, I'm giving away my tips for the best top gourmet restaurants in the alps!
Restaurant Stuvas, Celerina near St. Moritz
The Restaurant Stuvas belongs to the Hotel Chesa Rosatsch north of St. Moritz. Starting about two and a half years ago, the nationwide first kitchen exclusively preparing Slow Food is managed there. Tasteful, conscious and regional food is the main focus. By now, 99% of the resources being used in the Restaurant Stuvas stem from the Engadin, from the canton of Grisons and other regions of Switzerland. Sustainable products of highest quality leave their marks on a creative menu. This winter, fish and meat awaits you, complemented with preserved local vegetables imported fresh vegetables from abroad wouldn't fit into the slow food concept. Take your time and enjoy this exclusive experience!
Restaurant La Marmite, Corviglia near St. Moritz
The restaurants at the skiing slopes mentioned in the introduction traditionally feature an essential benefit they are located at airy altitudes right beside the pistes. Then again, the quality of foods often suffers. This is not the case in La Marmite. At an altitude of 2486 meters over sea, top-class gourmet food is being served under the direction of Reto Mathis. Truffle and caviar dishes as well as meat dishes prepared as a whole provide for classy culinary art and relaxation besides the ski slopes with a breathtaking view.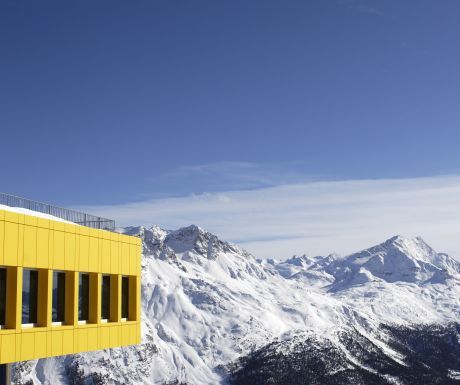 Restaurant Chez Vrony, Zermatt
In the Restaurant Chez Vrony, tradition is the main focus of attention. This family business located about 2100 meters over sea exists for over 100 years and spoils their guests with sophisticated Swiss dishes, sometimes refined with an international touch. An example for pure Swiss made perfection would be the mountain-goat cheese ravioli in thyme-browned nut butter and caramelized Valais pear. Swiss cuisine is absolutely capable of inspiring gourmets and the Chez Vrony is a perfect example. Assure yourself of the authentic charm of the Chez Vrony.
Restaurant Zum See, near Zermatt
The Restaurant Zum See is located a bit above Zermatt in the hamlet of the same name. Here, traditional cuisine is combined with Mediterranean influences. Typical Swiss dishes like slices with baked cheese topping or Rosti, the famous fried shredded potatoes, alternate with Provencal lamb or king prawns in highest quality of course. A bit outside of the wild center of Zermatt is the ideal place to relax: in the Restaurant Zum See.
Restaurant Das Sonnbichl, St. Anton am Arlberg
This small but nice restaurant at the edge of St. Anton was single-handedly established by the senior chef Roswitha Kometer. With lots of love and commitment, a place for Tyrolean specialties developed, now inviting guests to pause and enjoy after an exhausting day on the ski slopes. The Restaurant Sonnbichl exerts itself for regional cuisine. Therefore, regional suppliers are preferred to be able to cook the Austrian dishes with international influences as conscious and sustainable as possible. Don't miss out on this experience!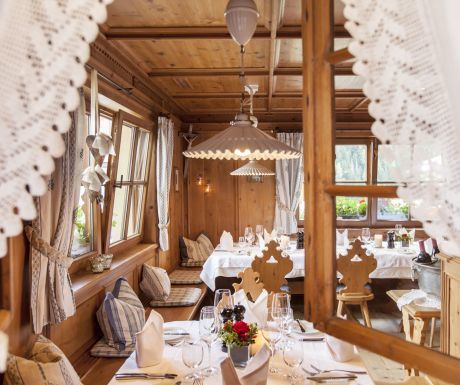 Country Club Kitzbuhel
Classy residence in Kitzbuhel combined with culinary highlights? No problem, the Country Club Kitzbuhel knows how to cosset connoisseurs. A good kitchen is the fundament of all joy, that's the slogan of the head chef. According to this principle, the club members enjoy seasonal delicacies and international highlights. For example, dishes like wild hare-potato dumplings on red onion-jam and bolete foam. A textbook example of a gourmet's dream.
Reindls Partenkirchner Hof, Garmisch-Partenkirchen
In Germany, gourmets and bonvivants are not neglected either. The Reindls Partenkirchner Hof in the heart of ski resort Garmisch-Partenkirchen invites for a relaxed stay. Exalted Bavarian tradition is visible on the fade, the dining area and the kitchen. Especially for Christmas and New Year's Eve, culinary art at its best will be offered: regional veal coated in herbs alternate with carefully prepared tuna… There's something for everyone.
Restaurant Husar, Garmisch Partenkirchen
The Husar stands for alpine German cuisine with international influences. Classics like fish soup, pink saddle of venison or fine chocolate mousse are featured on the menu as well as exciting new taste combinations like beetroot carpaccio with quail. It won't get boring for sure at the Restaurant Husar.
Benedikt Lchinger is CFO at Edel & Stark Group.
If you would like to be a guest blogger on A Luxury Travel Blog in order to raise your profile, please contact us.