The most luxurious outdoor activities in the Canadian Rockies
Looking for an adventure in Canada's wilderness? Then why not explore the breathtaking Rockies with a number of luxurious outdoor activities on offer all year round? With world renowned sights of ice-capped mountains to flower-filled fields and valleys, there are many ideal ways to experience the Rockies in comfort and style. Whether you're looking to refine your skills at skiing, sledging, snowboarding, hiking, trekking or camping, or looking to experiment with white water rafting, cave exploring and a helicopter tour, the Rockies sure has it all. Sound enticing? Read on to find out more!
White water rafting and cave exploring in Canmore
What to do
Did you know that Kootenay River Runners offers the best white water rafting and cave exploration? Well now you do! Perfect for both you and your adventurous family, this activity is reserved for the brave as the unpredictable rapids can make for some tense but exhilarating moments. Challenge yourself to either a full or half day. If that's not enough, the Canadian Rockies Adventure Centre will give you the option to abseil and hike through a huge cave back to base camp. Challenge accepted.
Where to stay
The Grande Rockies Resort offers condos, suites and two storey penthouses, and is situated in the Bow Valley region of the Canadian Rockies, in the alpine village of Canmore. Take your time to chill out after your adrenaline-pumping day as the resort comes complete with a hot tub and heated indoor swimming pool, as well as an amazing three-storey water slide. Give it a go, it's utterly awesome!
Where to eat
Begin your day in true Canadian style by dining at the Habitat: the resorts best in-house breakfast spot. With a menu serving Canadas most beloved dishes, from apple caramel French toast to breakfast burgers, you'll be feeling well rested and ready for your busy day ahead. For couples, or dedicated parents who are looking to enjoy an evening out, go to Trough Dining Co. as it offers an extensive collection of fine wines in an intimate ambiance and cosy interior.
The Fairmont Banff Springs
What to do and where to stay
Enjoy a warm welcome as you visit the legendary Fairmont Banff Springs hotel, located in the heart of Banff National Park in Alberta. Known as the Castle of the Rockies, this luxury resort offers everything from hot springs and stunning vistas to exceptional regional cuisine and impeccable service. This unforgettable retreat also offers boundless activities for you and your kids.
Feel safe leaving your kids at the youth programme, Kids @ The Castle, for fun excursions for the little ones exploring Banff National Park. The resort offers scenic horseback trails and is complete with luxury facilities such as the hot pool and Willow Stream Spa where deep-tissue massages are available. You can indulge in a wealth of exciting activities no matter the season. Try out hiking, a 27-hole championship golf course, fishing, river rafting, horseback riding, downhill and cross-country skiing, dog sledding, snowshoeing, skating and a rangeof other exciting activities; the options are endless!
Where to eat
Feeling peckish? Well, listen up! The resort has over fifteen in-house dining options, from seasonally inspired menus to luxury dining experiences. Any craving will be fully satisfied, especially as you can watch what their top chefs are preparing, just for you! Catering for all your needs, there is no culinary whim or desire that will not be met. As an added bonus, all guests aged five and under eat for free from the kids menu. Children aged 6 12 can order child-sized portions at 50% off.
Helicopter flightseeing tour
What to do
Last, but certainly not least, book yourself onto a helicopter tour. This is one of our favourite (and most exciting) outdoor activities you can do in the Rockies. Choosing from a range of tours which allow you to explore the Rockies lakes and mountains from above, these flightseeing excursions are extremely popular with all the family and especially those romantic excursions. No matter which company you go with, you will be promised the most spectacular sightseeing tour of the Rocky Mountains; it is certainly a once in a lifetime experience. Create those unforgettable memories, and don't forget to bring your camera!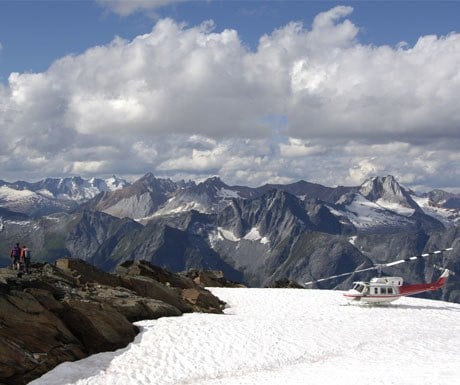 Where to stay
As one of the most luxurious hotels in the heart of the Canadian Rockies, The Rimrock Hotel in Banff is certainly one to try out. Greeted with great comforts and an unparalleled ambiance, you wont ever want to leave the hotel. It has all the amazing dining experiences and relaxing accommodation you would expect, as well as a spa. However, what makes this hotel so special, is its location. Located near the hot springs in the area, you can simply relax and recoup as you are surrounded by nature. So, soak up the exceptional setting and enjoy relaxing in the spa – it's time to indulge in the natural surroundings as you experience your trip of a lifetime.
Where to eat
The Rimrock Hotel also has many dining options, from a formal experience to a more relaxed approach, dependent on your mood. The hotel also offers a lounge, a dining room, a cocktail bar and a cafe, suiting all your needs. Its stylish restaurant offers absolutely jaw-dropping views, complementing the delectable food.
With the Rockies offering a multitude of opportunities, no matter the season, you can combine your luxury appetite with a multi-sensory experience in the outdoors. It is both unconventional and welcoming, creating an amazing, luxurious adventure that you will remember for the rest of your years.
Kathryn Munro is Managing Director at Canadian Affair.
If you would like to be a guest blogger on A Luxury Travel Blog in order to raise your profile, please contact us.
Did you enjoy this article?
Receive similar content direct to your inbox.