What is a ryokan? Perhaps you've heard the term ryokan bandied around when planning a trip to Japan, but what exactly are they? In ancient times ryokans provided lodging for passing travellers, so the closest comparison would be an old fashioned inn.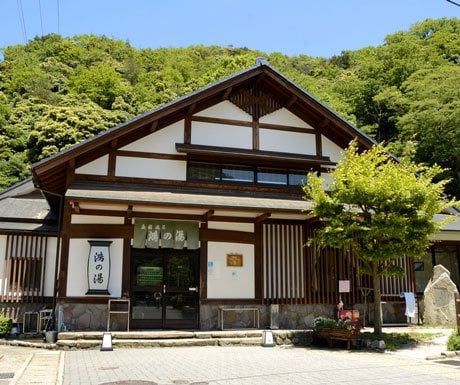 These days they provide so much more than a bed for the night and are considered a uniquely Japanese (and unmissable) experience. Just like hotels, there are a range of high-end luxury and more modest options, but unlike hotels, each have personality and a charm of their own.
No doubt your checklist of must-dos in Japan is pretty long, so what makes a ryokan worth slotting into your busy itinerary?
1. Kind hospitality
Good hotels should have hospitable hosts as a given, but at a ryokan it's personal. Staff occasionally don't speak any English but attentive hospitality, omotenashi, is practiced with fervour.
Firstly, unlike a hotel, when stepping through the doors of a ryokan there won't be a standard reception desk and staff lined up in matching two-pieces. Your host will welcome you brandishing slippers – take your shoes off and make yourself at home. They will help you take your luggage to your room and offer a yukata, cotton kimono, to wear around the ryokan. While you may not slink around a hotel in your gown, making yourself relaxed in your yukata here is encouraged.
2. Authentic interiors
Hotels in Japan, like many places in the world, can be a little nondescript. The rooms in some hotels, particularly corporate chains, may have identical interiors in every country. While comforting sometimes when you're unsure what to expect, a night with a little culture might feel very welcome.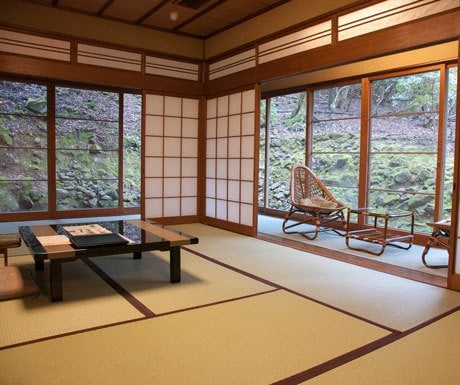 Ryokans have wooden structures with tatami mat flooring and sliding paper doors – a real sense of "old Japan". This is not to say that they're fancy, in fact the bedrooms can feel quite sparse. The floor will be bare (take off your slippers) save for a low table with even lower chairs or cushions, and perhaps a pot of tea or a minimal flower arrangement.
Heading outside some, especially in rural areas, are built around or within tranquil Japanese gardens. Stroll around the surroundings in your yukata and turn your phone off; the perfect antidote for a fast-paced digital world.
Tip: It's best to use a luggage forwarding service before travelling to your ryokan. They aren't set up for large suitcases, and you will spend most of your time in a yukata anyway. Pack a small night bag.
3. Kaiseki: the best food in Japan
Don't expect a menu, a waitress or twiddling your thumbs while you wait for your food. Take a seat in the dining room (still donning that yukata) and admire a tray waiting for you with lots of small delicate dishes. Kaiseki meals are like works of art with a colourful choice of fish, tempura, fresh vegetables, soup, dips and tofu with lots of different textures and carefully balanced flavours.
Well thought through, that omotenashi in action, the plates are planned in advance using the best seasonal produce. Without a traditional menu, it's a good option for people with specific dietary requirements, but any requests should be made well in advance. They will always try to accommodate but it's difficult to arrange a last-minute change.
4. Relaxing onsen (hot spring baths)
A Japanese institution! Don't leave Japan without dipping a toe into a hot spring bath, onsen, to rest travel-weary legs. All ryokans have separate onsen for men and women, but some also have a mixture of indoor and outdoor options as well as one for families or mixed gender. If you really want to splash out, it is possible to request a room with your very own open-air bath at a high-end ryokan.
A few standard rules need to be observed regardless of where you're staying. Make sure you're clean; there are a row of stools next to showers to use before getting in, wash well and be sure to rinse off any suds. It's also standard to soak in the onsen naked, no exceptions. This might seem a bit daunting, but don't let it put you off! Brief awkwardness is worth it for the experience.
5. The best night's sleep
As mentioned, the rooms are rather empty – there won't actually even be a bed when you arrive (and the tatami mat flooring does not look that comfortable for a kip). But while you're trying to decide which kaiseki dish you like best, a host will nip into your room and lay out a futon bed.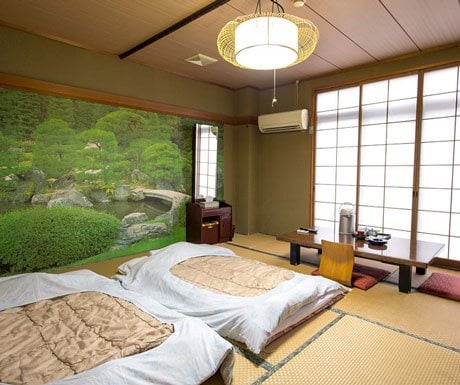 Futons have got a bad rep in the west, but in Japan you may just have the best night's sleep of your life. Or at least your holiday. They're plump and topped with a cosy duvet and fluffy pillows making bed frames at home seem a bit surplus. Single beds are also the norm across Japan – more room to stretch your legs! If sleeping on a futon isn't appropriate for you, there are ryokans that can arrange western style beds.
So that's a ryokan, lovely food, friendly hosts, relaxing settings, the best night's sleep and an authentic experience that you won't be able to have anywhere else in the world. Surely you can spare at least one night of your holiday…
Alastair Donnelly is Director at InsideAsia Tours.
If you would like to be a guest blogger on A Luxury Travel Blog in order to raise your profile, please contact us.