The Andaman Islands are wrapped in an exotic appeal and blessed with nature's bounties; this picture-postcard perfect location in the Indian Ocean is one of the best beach destinations in the world. With such a description, most people assume that all you can do in Andaman is bask in the sunshine as you relax by the beach. But, in reality, there are adventures strewn throughout the islands and discovering them is a joyful experience. Here are five of the best activities in the Andaman Islands.
Water-based activities
Words escape you when you try to describe the shades of blue in the Andaman waters. The stretch of white sandy beaches, breathtaking sunsets and mesmerizing underwater sights of fishes and corals makes Andaman a great place for water activities. The islands offer an array of them from sea walk to scuba diving to snorkelling to semi-submarine rides and glass-bottom boat rides.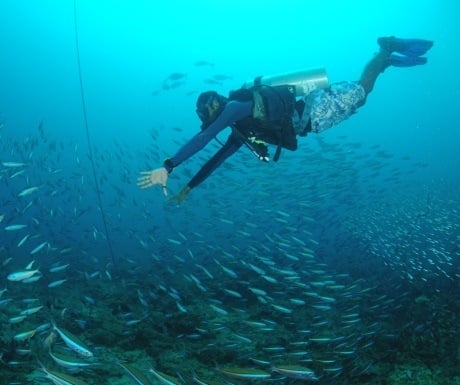 All the tourist-friendly beaches offer this. But if you want a more undisturbed patch, you can opt to sail to some of the exclusive dive spots on the islands too. You also have standard diving courses from SSI and PADI available here.
2. Treks
Though Andaman isn't exactly a favourite with trekkers, it does offer some interesting trekking options when you want to get to tourist attraction. These treks are short and can be done if you have an average fitness level.
The best part is that these don't exhaust you much so you have ample energy to enjoy afterwards. Some of the interesting treks you can take up are the trek to Munda Pahad, trek to the top of Mount Harriet, trek to the waterfalls at Hut Bay and trek to the limestone caves. The treks become slightly slippery albeit even more amazing during the monsoon.
3. Birding
It is rightly said that bird watching is your ticket to observe the silent drama unfold in the theatre of nature. In Andaman, youll have plenty to watch. There are around 270 species of birds in Andaman of which 14 are endemic. Some of the birds you may see are Common Moorhen, Purple Moorhen, Lesser Whistling Teal, Andaman Teal, Cotton Teal, Large Egrets, Medium Egrets, Small Egrets, White bellied Sea Eagle, White breasted Kingfisher, Andaman Green Pigeon Andaman treepie, Andaman drango, Racket-tailed drango, blacked napped oriole, Scarlet Minivets, Green Imperial Pigeon, Glossy staling, Andaman cuckoo, Sun birds, Andaman bulbuls, and spotted woodpeckers.
Chidiyatapu, which roughly translates to the Island of Birds is one of the favourite bird watching spots. You can also visit the legendary Parrot Island inhabited by thousands of parrots. Local legends say that every evening a particular spot is first visited and inspected by five parrots and once they give a green signal, the spot is flocked by thousands of parrots.
4. Sailing
The well-charted Andaman sea offers superb sailing opportunities to yachties. Island hopping during sails, anchoring in beautiful blue waters and game fishing in select areas allow you to rejuvenate yourself while you are at an adventure.
Select local tour operators make it smooth for you to connect with authorities and receive relevant clearances to make your stay smooth and enjoyable. While sailing, youll be able to explore more parts of the islands than regular tourists and also get access to pristine diving spots.
5. Turtle nesting
Karmatang beach in Andaman is known as the turtle paradise of India. The nesting period is at its prime during the months of December and January where along with Karmatang, Kalipur beach and Ramnagar beach too host turtles. Youll find Leatherback turtle, Olive Ridley, Green Turtles and HawksBill nesting here. Once the turtles lay eggs, the local authorities ensure the protection of the eggs for 45 days until the babies hatch. After this, they ensure that the babies have a safe passage to the sea.
Rathnam Rathnasamy is the Founder of Andaman Holidays.
If you would like to be a guest blogger on A Luxury Travel Blog in order to raise your profile, please contact us.