Denver International Airport is a gateway hub and destination airport as it is now the 7th busiest airport in the U.S. With that increase in business comes the explosion of dining options. Maybe it traces back to the cowpoke days, but breakfast and an early start are pretty synonymous with the region. And if you are lucky enough to have a stopover or it's your destination, the Saturday/Sunday brunch options in Denver are where the chefs roll out exciting and savory dishes all over town.
Old Major
Old Major was the "purebred" of pigs and a philosopher in Animal Farm, and think he did about the menu at his namesake in the Highlands neighborhood. Here they butcher and cure their meats, and make their pastries, so expect creations with a little more flavor. You can oink it up with the pork breakfast burger, or swim a little with the blue crab shrimp omelet. "Farm-inspired American cuisine" gives you a taste of a rustic, culinary excellence in a former roller rink.
ViewHouse
If your travels take you to the south part of the area, then ViewHouse in Centennial is the best choice. Order off the menu, or indulge in the extensive buffet selections featuring a lobster and sushi station. There is always a beef carving station and a bevy of salads. With upstairs, downstairs, sports bar and outdoor activity areas, there is a seating arrangement that fits any dining mood.
DelFrisco
DelFrisco's in Cherry Creek is the classic steakhouse, so expect brunch to have an emphasis on beef and creative meat dishes. The open ambiance with indirect lighting and rooftop patio make for great seating. Start with the cheesesteak eggrolls, which deliver the unique blend to perfection. Both the crab cake and steak eggs benedict zip it up a notch, while the visually stunning lollipop chicken wings give you one more meat option.
Punch Bowl Social
Sometimes you have to eat, and you need a little entertainment, so Punch Bowl Social makes it "eatertainment." Three bar areas plus games like shuffleboard and bowling, and there is ample pre- and post-eating fun. Don't let the fun environment fool you; this is casual cuisine that is gourmet in preparation, with almost everything made from scratch in their kitchen. Try their new Chicken Biscuit sandwich, or the PBS Malted waffle, with pears, dried blueberries, and vegan sausage.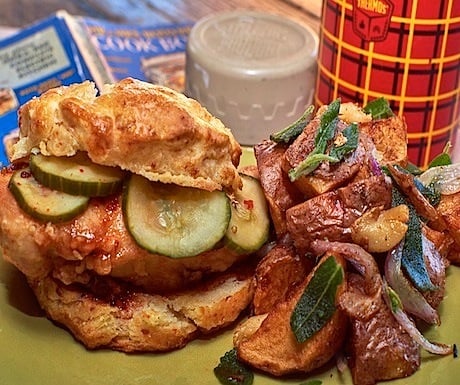 Zengo
Zengo is the Asian creation of top chef Richard Sandoval, so expect some unique takes on brunch with a far-east flair. You can order off the menu, yet the best bet is the bottomless food and drink option where the server brings small plates made to order from the extensive menu. You can try something, and then get another if you like it, or move along to the next choice. The two must-try dishes are the short rib hash and the angry zengo roll. Vegetarians get ample selections here with the veggie Poke and the veggie dumplings.
Ellyngton's
Go upscale and get historical with Ellyngton's at the Brown Palace, known for the unsinkable Molly Brown in downtown. This Sunday brunch has been floating high since inception due to their culinary passion for making as many things on the premises. The eggs benedict use their Canadian bacon, and they make just about everything else from corned beef to muffins. The artistic quality is apparent with a cognac sauce at the great seafood station. No matter what the palate, Ellyngton's is a taste bud hit for any special occasion.