Specialist holidays with Authentic Adventures
There appears to be a growing trend for travellers to look for holidays that match either their existing interests or hobbies or take up new challenges. I have just returned from one such holiday organised by Authentic Adventures who specialise in walking, singing and painting tours with specialist tutors in those fields.
I travelled to Umbria to take up water colour painting and this was run alongside a walking group so that couples could have the option of opting for one or other of the interests as we all met together in the evening. It was a two centre holiday and both hotels were good but the second, Fattoria di Titignano was exceptional for its excellent food and wine. Both hotels were in beautiful old buildings typical of the area surrounded by spectacular scenery – a bonus for aspiring artists. The first hotel was Relais Il Canalicchio and, like the second, had fantastic views making them ideal for a painting group with plenty of space for workshops.
As far as the special interest, I can only refer to the painting, although it was obvious that the walkers were happy, albeit it that some found the heat and the going tough and were brought back to the hotel early sometimes.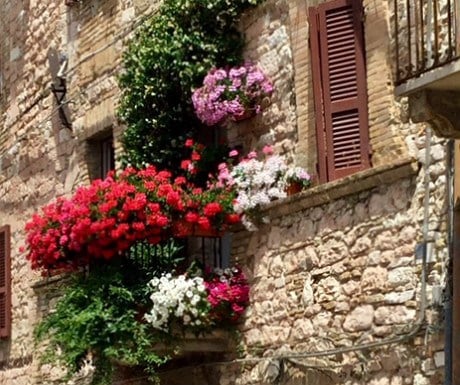 Our painting tutor, Susanna Bailey, was wonderful. Her patience, particularly sometimes handling some very difficult and demanding fellow travellers, was legendary. Her skills in bringing out some amazing work was incredible but above all, to my mind, was her encouragement. I went as a beginner and have come home with ideas, notes and practical examples which she generously shared and I can't wait to set myself up to paint at home. I feel greatly encouraged to join another holiday where she is the tutor.
Holidays such as this rely quite heavily on organisation and transport. As far as I could see transport was no problem and we went to and from different places with careful drivers on difficult roads. I would not like to have been driving myself and it was obvious that the organisers knew the conditions well.
Organisation was a little different. Cristiano, the tour manager, was prone to say one thing, alter it and then wonder why some people were confused. His girlfriend helped out but Filipo the assistant tour manager was kindness and helpfulness personified. Nothing was too much bother for him. The tour did not keep to the itinerary advertised in the brochure or the one we were sent by post just before we left the
UK
. I am sure however that the places we eventually visited were a good substitute although there might have been a better choice of destination than Todi, advertised in the brochure as "fast becoming a centre for arts in Umbria" which was hosting a football tournament that occupied the whole of the Piazza del Popolo and prevented us from painting.
Having said all that, I would certainly holiday with Authentic Adventures again but would make sure that the organisation at the destination was better than I experienced this time. Umbria is beautiful and I travelled at the beginning of June when it was very hot but there were few tourists – even in Assisi which I would recommend to anyone to experience especially to see the amazing frescoes attributed to Giotto and painted in the late 13th century in the Basilica.
Did you enjoy this article?
Receive similar content direct to your inbox.