Top 5 ways to experience the true heart of Perugia, Italy
Located in the central Italian region of Umbria, the small city of Perugia remains somewhat under the radar for many international travelers to Italy. We frequently send Italy Beyond the Obvious travelers to Perugia for history and culture, and because its a perfect city to explore on foot. Spend a day or so in Perugia and connect with the local culture using our top 5 recommendations.
Start in the main square
Piazza IV Novembre (4th November) is considered to be one of Italy's prettiest squares. Admire the Fontana Maggiore, the large fountain in the center of the square, built in the 13th century. The fountain was designed to receive water from the local aqueduct and is also an important work of art, made of pink and white stone, covered in important carvings, and topped with a bronze fountain.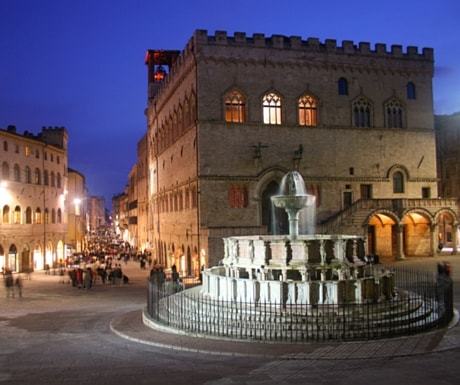 Perugia's Cathedral of San Lorenzo faces the square, and while both the main facade and side outer wall remain unfinished, the inside of the church is magnificent, and houses significant works of art.
Also facing the main square is the Palazzo dei Priori, which houses the National Gallery of Umbria, an art museum well worth visiting for any art-lover. The gallery's artworks include Umbrian masterpieces from the 13th to 15th centuries, including works by Piero della Francesca and Perugino, among others.
Explore Perugia's old town and medieval streets around the Rocca Paolina
Perugia has a long history, and a satisfying old town with lots of narrow atmospheric streets to discover. Don't miss the Rocca Paolina, an archaeological excavation in the heart of the city where visitors can walk through a warren of underground paths, experiencing the city as it was in medieval times.
The Rocca Paolina is free to visit, with information placards helpfully displayed in both Italian and English. Well-restored and well-lit, this is a perfect activity for a hot summer's day.
Visit the San Bernardino Oratory
Under a 10-minute walk from the main square, this beautiful oratory is considered to be the city's Renaissance masterpiece. Both the colorful outside facade and the exquisite inside are worth visiting.
This area of town is close to Perugia's University, and has a wonderful student vibe. The University is one of Italy's best, and is known for its International Student Program. On our last visit, we bought a picnic and sat on the lawn in front of the oratory, enjoying an hour of people-watching before going inside.
Chocolate factory tour
Italy's famous chocolates, Baci di Perugina (or Baci for short), containing a whole hazelnut in the center and wrapped with a printed saying in three languages, are from Perugia. In October, visitors can participate in the Eurochocolate festival, but at other times of the year, chocoholics should not miss a tour of the Perugina chocolate factory in nearby San Sisto.
Book an English guided tour that includes an explanation of the process, a visit to the factory floor, a visit to the museum, and of course time in the shop at the end. Tours run year round, daily except Sundays on most weeks, and can be booked online.
Try local foods (in addition to chocolate)
Umbria is a food-lover's paradise and at Italy Beyond the Obvious, it is one of the first regions we recommend to foodie travelers. Known for pork, truffles, wine, and much more, the region has excellent restaurants and is also the ideal place to try local and seasonal foods. Even though Umbria is land-locked, because of its huge Lake Trasimeno, local dishes even include some fish.
We think that a freshly baked roll eaten with a hunk of cheese, some local olives, and some fruit – while sitting on a bench outdoors – is a perfect Italian lunch. Now is a perfect time to visit Perugia – and the region of Umbria in general – as tourists have been scared off after the 2016 earthquake, but for no good reason. Perugia lies 2.5 hours from the earthquake epicenter, and while shakes were felt in the city, no damage was sustained. Until tourism ramps up again – which it certainly will – visitors to Umbria can temporarily enjoy fewer visitors and quieter towns with a more local feel.
Madeline Jhawar is Owner of Italy Beyond the Obvious.
If you would like to be a guest blogger on A Luxury Travel Blog in order to raise your profile, please contact us.
Did you enjoy this article?
Receive similar content direct to your inbox.