Ahhhh… Provence in September… is there a better month to be had in this stunning region of Southern France? I am probably the tiniest bit biased but there are so many reasons why I look forward to this time of year.
Reliable sunshine is just one factor that makes Provence such a great destination. Even through the winter months you can be assured of lots of bright days where the sky is filled with nothing but blue as far as the eye can see. For heat lovers, things really get going from May onwards when temperatures climb to peak at 25C or warmer during July. As wonderful as this is, the temperatures (and weather in general) achieve a heady balance that is hard to beat in September. Strolling around markets, a gentle breeze playing through the air, with the temperature truly comfortable in the low 20's is bliss.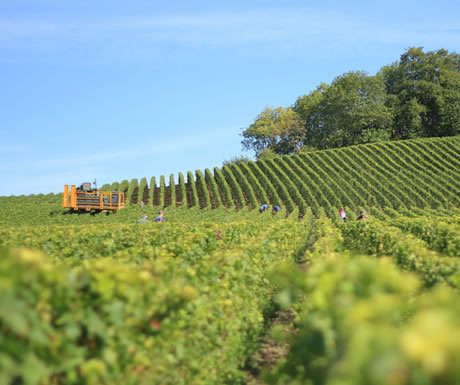 I'm not the only one who must appreciate the climate at this time of year – with the grape harvest in full swing you'll be hard pressed to pass a vineyard without seeing people hard at work carefully collecting in the harvest, on occasion working well into the night. The timing of the harvest for each vineyard is a closely guarded secret and the winemaker will have gone to great lengths to select the perfect time when the grapes are at their absolute peak depending on how much sun and rain they have experienced over the summer. If you're a hands on individual then it won't be too hard to find a vineyard that'll be happy for you to pitch in and help with the harvest for a day. It's great to see the beginning of the journey, from vine to bottle, but definitely hard work! Sunscreen and a sense of humour are a must for this job!
The French are without doubt masters of local festivals and the harvest gives fresh impetus to these community events. Locals and visitors alike are encouraged to mingle – if you're in Provence and can attend a local fete it's well worth going! You'll enjoy great food and of course plenty of wine. Live music is often laid on, the local patisserie may setup a stall and sell amazing crepes and the party will continue into the small hours. Amazing fun!
September also sees plenty of other festivals and events that figure prominently on the calendar at this time of year. The Marseille Wind Festival is held annually in September (and this year is on the 16th and 17th September) and sees nearly 100,000 visitors descend on the city beaches of Prado for this now internationally recognised event. Offering an unforgettable spectacle this really is a festival not to be missed! A wind village will play host to wind farms, demonstrations, free kite making workshops, sport kite competitions and much more all with a background of live music. And, to mark the 32nd year of the event there are some major international kite flying champions participating in many of the competitions including the Aerobatic Kite World Champion John Barresi. As a bonus, the entire event is free of charge making it an exciting and affordable day out!
The other event worth noting is 'Septembre en Mer' or 'September at Sea'. A month-long programme of 200 events and activities celebrate the importance of the sea to this region with lots to see and do along the Mediterranean coast including concerts, exhibitions, food and drink tastings, walks, kayaking excursions and much more. Full details are available at http://www.septembreenmer.com but you'll need to hit your browser 'Translate' button if you can't read French. Worth a look at the events calendar and keep an eye out for posters detailing local events in your area!
For foodies then the last two weeks of September are an absolute must!! Tous au Restaurant is an annual event where participating restaurants lay on a special menu that showcases their food. During this 15 day period the promise is 'Your guest is our guest' which means of the two of you dining only one of you pays. This effectively means you have the opportunity to enjoy some incredible meals at some top bistros and even Michelin Starred restaurants for half price when two of you visit.
September is also a great month for getting out and about across Provence and exploring some of the natural wonders of this beautiful region. With the main bulk of tourists having departed you'll have some landmark hotspots almost to yourself which can be a real treat. A trip to the Gorges du Verdon is spectacular at this time of year. The temperature is absolutely perfect for exploring what is described as one of the most beautiful river valleys in France. Otherwise known as the 'Grand Canyon' of France, the Gorges du Verdon date back 250 million years ago when they began to form. Today, the river Verdon (from which the Gorges derive their name) winds its way in a leisurely fashion between the two départements of the Var and the Alpes de Haute Provence. The river is surprisingly green in colour and is certainly striking! Head to the most stunning part if you only have a short time to explore which has to be the canyon between Castellane and Moustiers Sainte Marie where the valley is 2,300 feet deep offering incredible (if dizzying!) vistas across the valley.
With enough time to book a good value flight, why don't you make the most of what is left of the summer in the Northern Hemisphere and head to Provence for a couple of weeks well deserved holiday. Is September the best kept secret in Provence? Well, not any longer!
Su Stephens is Owner of Olives & Vines.
If you would like to be a guest blogger on A Luxury Travel Blog in order to raise your profile, please contact us.