By
Paola Fiocchi Van den Brande
on Aug 18, 2017 in
Business Travel
,
Europe
,
Food and Drink
,
Going Out
,
Regions
,
Restaurants
,
Speciality Travel
,
Travel Miscellany
,
United Kingdom
,
Western Europe
Who would have thought? When I first moved to Canary Wharf in the late 1999, there was literally nothing. One Tesco Metro and a handful of shops and restaurants which were closing on Friday night to reopen on Monday. British friends and colleagues stared at me puzzled and slightly snobbish from their West London postcodes pedestal when I told them I was living in Canary Wharf. Really? But there is nothing there…
Well, fast-forward the clock 17 years, et voilà, the place is unrecognisable now. From small boutiques to designer labels, spanning beauty, fashion, fitness, homeware and more, there are now over 120 shops across 5 malls plus a vast selection of coffee shops, bars and restaurants to cover over 10 different nationalities. You can eat Chinese, Thai, Italian, Mexican, Asian Fusion, British, French, Spanish…
In absolutely no particular order, here are my top 5 restaurants in Canary Wharf.
Franco Manca – Pizzeria
As an Italian native, I am always on the lookout for the perfect pizzeria. Well, I found it. Its sourdough bases take at least 20 hours to rise! Twenty hours! Expect the freshest toppings including homemade mozzarella, organic tomato and cured organic chorizo. Faultless, just like in Naples! (Or nearly!).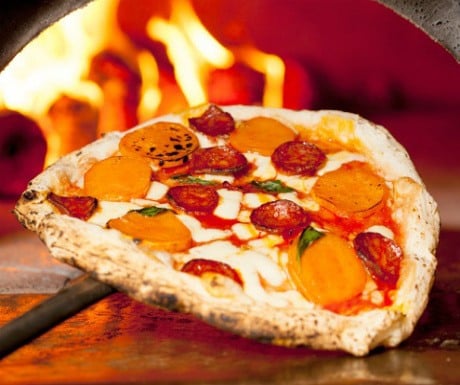 Roka – Japanese
This is not a sponsored ad! So I apologize now to readers if my comments sound over ecstatic and over enthusiastic. It is genuinely my opinion! I have been dining at Roka since it first opened its doors back in 2009. It never disappoints me. Quality of food and service have always been impeccable and to high standards. It's a great place to meet up with friends or colleagues. Whereas on weekdays the restaurant is packed with office workers in suits, during the weekends it attracts local families with kids enjoying Roka's signature brunch.
The principle cuisine bases itself on the Robata grill, which originates from the fishermen of the Northern coastal waters in Japan. They would cook the fish on the boats with different charcoals and share the bounty with one another using their oars.
There isn't a dish I would not recommend. What I would recommend, though, is the Dessert Platter Moriawase. It doesn't come cheap at £ 56.00, however it is well worth it. I won't spoil it for you. Just order it next time you dine there and be amazed.
Frequent eaters can purchase their very own Sake bottle, which is then marked with your name and stored on a display in the bar. Every time you dine there, you can access your bottle and share it with friends.
As the restaurant's acoustic is not great and it can become very loud in there, I often ask, where possible, to dine at the bar.
Boisdale of Canary Wharf – British
Music lovers will be attracted by Boisdale, a two-floor venue overlooking Cabot Square which includes a restaurant, four private dining rooms, Oyster Bar & Grill with an awning-covered heated terrace complete with members-only area, whisky bar with over 1000 bottles of malt whisky, Cuban Cigar Library & shop and live music venue.
The restaurant's varied music programme has been designed by no less than Jools Holland and is packed with the best in jazz, blues and soul. This is not the best place to catch up with friends whom you have not seen for a very long time as, during performances, music is understandably loud and therefore  hard to have a proper conversation. It is indeed a fabulous venue for a great night out of good food and superior music.  Its decor is very different from the rest of contemporary Canary Wharf. When you step inside you instantly recognise Boisdale signature look of lacquer red and dark green walls hung with eclectic and original artwork. A very cosy atmosphere in contrast with the glass skyscrapers which surround it.
Plateau – French
Fine dining can be enjoyed at modern French restaurant, Plateau. Classic French dishes are prepared with the freshest ingredients and interpreted with a modern touch. Very popular is the tasting menu with paired wines.
The stylish and contemporary restaurant located in Canada Square, at the heart of Canary Wharf, offers dramatic views of the surrounding skyscrapers, especially at night, from its tall glass windows. Plateau offers two dining areas – the main restaurant and a more informal Bar & Grill. There are also two Private Dining Rooms and two outdoor terraces.
Royal China – Chinese
Royal China has been at the centre of Canary Wharf gourmet scene since…ever. It is an incredibly popular restaurant, fully booked 7 days a week for both lunch and dinner. In summer it is fabulous to dine al-fresco under the trees on their terrace overlooking the Thames. It very much feels like being on holidays.
Their dim sum menu served at lunchtime until 5.00pm is very much in demand and includes Steamed Seafood Dumplings with Spicy Sauce, Pan-fried Fillet of Duck Breast Rolls. The restaurant offers a vast selection of Hong Kong Chinese meals including the Chef's signature dishes as well as seasonal dishes which change frequently.
Tip: if you fancy the Mango Pudding, better pre-order it together with your main meals. It is so delicious, it runs out fast!
Reservation is highly recommended for all 5 restaurants.
Paola Fiocchi Van den Brande is Director of Passepartout Homes Ltd.
If you would like to be a guest blogger on A Luxury Travel Blog in order to raise your profile, please contact us.