5 special events to celebrate on a superyacht
Everyone's looking for a way to make their special occasion
that little bit more
special. After all, while weddings in vineyards and honeymoons in a
Maldives
bungalow are undeniably gorgeous, they have been done rather a lot. You want something different. We get it. Whether you're planning a wedding or a honeymoon, a loved one's birthday party or a milestone anniversary, you're looking for an experience that is entirely unlike any other special event you've been a part of—one that you'll remember with a thrill for the rest of your life.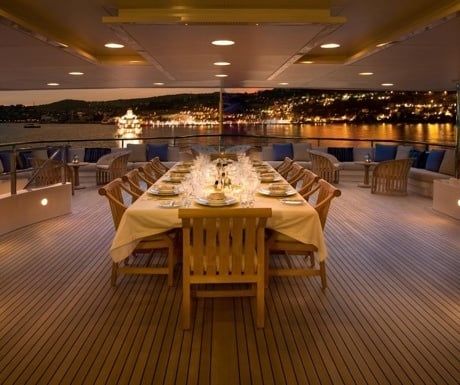 In order to create an extraordinary special event, there are seven golden rules to finding the perfect venue.
An event venue that's staggeringly gorgeous, and wildly out of the ordinary.
Superb staff ensuring every last detail is perfect.
Gourmet cuisine prepared by a private, highly-trained chef
A location backdrop that inspires wonder…and exceptional event photography.
Indoor and outdoor space.
Luxurious accommodation onsite.
Above all, the greatest events offer privacy and exclusivity to the group—a sense that what you're doing is somehow separate from the world, a day almost outside real life.
Which is why
superyachts
are the ultimate event venue for special occasions. Here are five lifetime events that are perfect to host on a
luxury yacht charter
, with some practical information to assist in your decision-making.
1. White wedding, blue sea
'I got married on a superyacht'. Now that's something you don't hear every day. And now it's in your head, don't you want to be the one to say it? There are so many good reasons to marry on a yacht, beginning with the spectacular venue, with glamorous deck spaces for the ceremony, or an opulent interior if you'd prefer to say your vows surrounded by a décor of marble and gold. When it comes time to party, the reception can spill over the decks, with music playing, guests dancing in the moonlight, and (no doubt) a few guests jumping in the sundeck Jacuzzi as the night wears on!
The yacht's luxurious staterooms provide for up to 12 people, meaning your bridal party and loved ones have stunning accommodations right onsite. As for the backdrop, you're only limited by your imagination. Imagine getting married on the Amalfi Coast or the in tropical islands of the Caribbean, where the incredible views of yacht and sky and sea make for truly breathtaking wedding photography. The imagery of a white wedding dress against blue sea is a visual match made in heaven, and the yacht provides the perfect location shoot for unforgettable images—from the bridal party posing on the foredeck to the happy couple jumping on the bed in the master suite. The yacht's professional crew are another superb reason to get married onboard a yacht. Superyacht crew aren't the typical hotel or venue staff, who are often transient or temp staff, and are sometimes uninterested or poorly trained. Instead, crew have spent their yachting careers looking after ultra-high net worth individuals, from celebrities and princes to oil magnates and Swiss bankers. They're also accustomed to entertaining onboard, with event charters during high-profile events like the Cannes Film Festival and the Monaco Grand Prix. In short, it's not their first rodeo, and yacht crew will handle your special day with consummate style and professionalism, and liaise carefully with any florists, celebrants, wedding planners etc.
As for the chef, they've been cooking for these same elite guests, and are accustomed to preparing fine dining cuisine across many cuisines and dietary requirements. You'll have control over the menu, and if your wedding is large and requires outside catering, the chef is on hand to assist. Even more blissful, when it's time for the honeymoon, the guests just depart and you float away…
The logistics
Most (but by no means all) charter yachts have passenger licenses of 12 guests if the yacht leaves the dock and heads out to sea. This means you can either have an intimate wedding at anchor and return to port for the party, or alternatively you may wish to host your wedding ceremony in a glamorous marina, such as Monte Carlo so that more people can attend the ceremony. There are some yachts the are classified as passenger vessels and do not have the 12 guest limit, which are very in demand. Also look into the legal regulations in the country you're marrying in: for instance, if you'd like to get married on a yacht in romantic
Santorini
, you'll need to arrive in Greece a week before. A reputable yacht broker will have experience planning events, so rely on their expertise.
2. Enter honeymoon heaven
Can you imagine a better way to start married life than drifting through paradise on a superyacht? Watch land fall out of sight and enter your own private bliss of swimming off the yacht and dining by candlelight, having luxury beach picnics on coral atolls and spending happy afternoons strolling through exotic ports. Each meal cooked by the yacht's private chef, each morning waking to a perfect new view out the large windows of the master suite, each night relaxing in the Jacuzzi with a glass of champagne, looking up at the stars.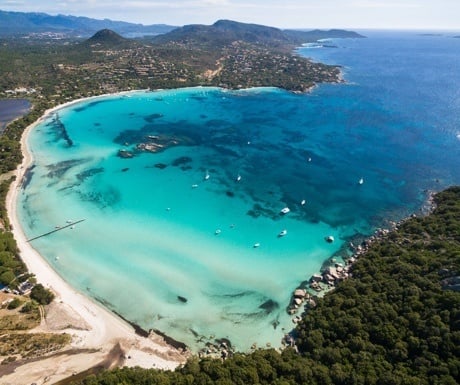 Your captain and crew will always be on hand to wait on your hand and foot, but also give you the privacy you want on your honeymoon- to laugh and play and plan your lives together. Unlike spending your honeymoon in hotels or villas, you won't have to spend time in traffic or changing hotels to move around from one gorgeous beach or island to another- the yacht takes you where you want to go.
The logistics
Logistics? There simply aren't any. You just arrive, the crew unpack your luggage, and you don't have to lift a finger for the entire time. But unlike a cruise ship, you have total control over what you do, and eat, and see. If you crave adventure, the captain will organise night dives and jungle trips and white water rafting. If you just want to relax, the captain will organise masseuses to the yacht and a succession of secluded anchorages, each more beautiful than the last. One useful tip though is to fill out the preference sheet from your broker, so that the crew have an idea ahead of time what you like to eat and drink and do, as well as little details like what kind of music you like so they can create the perfect yacht playlist.
3. Babymoon bliss
The babymoon concept has become wildly popular in recent years, and little wonder: this is the last time a couple gets to relax and be pampered as a couple without children. No matter how excited you are about the arrival of your new baby, a trip for the two of you on a yacht is a heavenly moment captured in time that you'll look back on for many years to come. (Particularly when you're up all night with a screaming baby and remember how soft the bed on the yacht was…)
Spend a week having long lie-ins, exploring exotic places, snorkelling crystal clear waters, and reading books on a deckchair, surrounded by the sparkling sea. And while you probably won't want to leave, another great thing about having a babymoon onboard is that you'll realise just how perfect luxury yacht charters are for family vacations, so you can return when you have children.
The logistics
Just like any babymoon planning, you'll want to choose a destination where you'll be doing your cruising close to land, ensure there's a good hospital nearby, and get good insurance. Some tropical yachting destinations currently have the Zika virus, so talk to your yacht broker about popular alternative babymoon destinations such as the Seychelles, the Amalfi Coast, the French Riviera, Sardinia, or
Croatia
.
4. Milestone anniversary, making new memories
A yacht charter for a wedding anniversary is an idyllic way to reconnect and create new memories. The two of you might want a relaxing holiday away from the cares of normal life, or perhaps you want to explore your shared interests, maybe with an art-lover's yacht charter down the French Riviera or a gourmet food and wine charter along Italy's Cinque Terre to Tuscany.
If you're a lover of grand romantic gestures, the yacht can easily organise your stateroom to be filled with roses, a romantic picnic on a sandbank in the middle of the sea, or even a ceremony to renew your vows. Whether you want it to be just the two of you or bring the children for a special family event, it's hard to beat a yachting holiday as a way to mark your time together.
The logistics
Again, there really aren't any. Just remember, the more information you give your broker, the more prepared the yacht's crew will be to deliver an anniversary that the two of you will treasure forever.
5. A party to remember
Whether it's your husband's 50
th
birthday party in Monte Carlo or your 8 year old's pirate-themed party in the BVIs, a luxury charter yacht makes an incredible venue for a celebration. It will certainly not be one they forget, as friends and family drink cocktails on the sundeck, or you watch your kids chase the crew around the yacht on a Caribbean treasure hunt and dive-bombing into the water.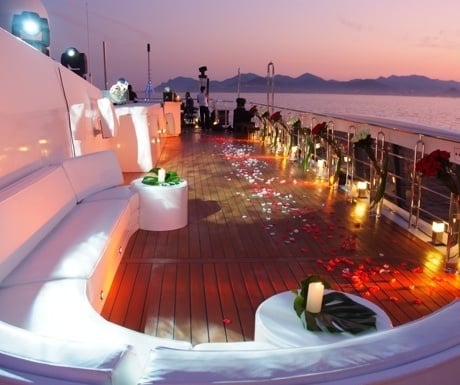 Your yacht crew will have experience throwing glittering parties on the yacht, so just talk to your broker and to the crew about what you want, and they'll co-ordinate with any organisers, decorators, or caterers to ensure the event exceeds your expectations.
The logistics
As we explained in the wedding section above, most superyachts have passenger restrictions of only 12 guests, but these only apply when the yacht has left the dock, so most big yacht parties tend to happen in famous marinas, such as Cannes or Saint Tropez. Having the party in port (as happens during the Cannes Film Festival for example) means that you can have a much bigger guest list, so speak to your broker about numbers and planning. Of course, if you're hosting a child's party or more intimate celebration, a 12 person limit for cruising offshore may be perfect for your needs.
Alexander Coles is Co-Founder at Bespoke Yacht Charter.
If you would like to be a guest blogger on A Luxury Travel Blog in order to raise your profile, please contact us.
Did you enjoy this article?
Receive similar content direct to your inbox.