Why would anyone want to visit a landlocked country in the middle of the Central Asian desert? Uzbekistan answers this question many times over; against a backdrop of piercing blue skies its stunning architecture will amaze, fabulous shopping and cultural opportunities will excite and your hosts will be some of the most welcoming people you have met in all your travels.
Sample the Silk Road
Many people may not have heard of Uzbekistan, but will recognise the evocative names of Bukhara, Samarkand and Khiva which were key cities on the trading route from China to Western Europe famously known as the Silk Road. These small independent (and competing) Central Asian Khanates and Emirates were joined together and became Uzbekistan in 1924 as part of the Soviet Empire.
Fabulous shopping
Uzbekistan is a wonderful place to buy completely original gifts and works of art for yourself or for the home. There are artisan master-crafts men and women that make a myriad of desirable items. Intricate hand-sewn silk and cotton Suzani cushion covers and throws; hand dyed and knotted silk carpets; lengths of brightly coloured ikat silk; unique ceramics; hand-painted miniatures on silk in and antique Sufi prayer hats.
From the original trading domes in Bukhara to the traders tucked into the Registan ensemble, buying and selling of goods is in the blood here!  Each city has a bustling bazaar where you can buy dried fruits, nuts and mountains of brightly coloured spices and also sample delicious street food such as Samsa, the Uzbek version of a Samosa.
Local engagement
Uzbekistan has never featured on a list of friendliest countries in the world, but that is probably because the country is still mercifully unspoiled by mass tourism. Uzbeks are warm and welcoming and the further you get from Tashkent they are extremely curious about visitors, just as much as we are curious about them. If you want it to, this can result in great natural engagement with a wide variety of people, enriching your travel experience.
Arts and culture
In the capital, Tashkent, visit the Navoi Theatre for excellent ballet and opera starting from $15.00! The building has architectural influences from all the regions of Uzbekistan and was recently restored after being closed for several years.
Almost 700 miles away in Nukus is the Sakvitsky Art Museum which houses an astonishing collection of priceless avant-garde Soviet art. The museum is the creation of a man named Igor Savitsky (born in 1915) who spent his life collecting (at great personal risk) thousands of banned Russian art objects from the 1920s and 1930s, which he somehow managed to transport to this remote place without interference from either Moscow or the KGB.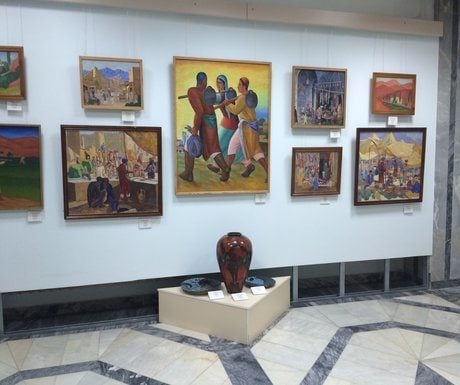 In Samarkand, a visit to the Ulug Beg Observatory is a must. Ulug Beg was the astronomer king of the 15th Century. He studied the stars before the invention of the telescope and discovered over 200 unknown stars, traced equinoxes and eclipses, worked out the exact tilt of the earth's axis, and calculated the year to within a few seconds of that computed with modern electronics today.
Stunning architecture  
Parts of the old town walls of Khiva (Ichan Kala) date back to the 5th century, and most is from the 1600s. Today you can walk the wall of Khiva and, if you can ignore the satellite dishes and squint your eyes it's not too hard to imagine you had been transported back in time looking down into a town of winding streets, domes and minarets.
The Ark Fortress in Bukhara, the royal residence of the Emir is now an open-air history museum.  The place that is world famous and that everyone comes to visit is of course Registan Square. With its mosaic tiles of turquoise, blue, green and yellow the grandeur and scale is overwhelming close-up. It is actually very hard to photograph well in its entirety, and the camera never does it justice. In Samarkand my favourite site is the stunning Gue E Amir Mausoleum, resting place of rulers, and the template for future Mausoleums, including the Taj Mahal.
Blue skies – guaranteed 
Uzbekistan has a harsh, dry desert climate. Freezing in the winter and extremely hot in the summer. The ideal times to visit are April and May and September and October. Warm fine weather and cloudless blue skies are virtually guaranteed. The perfect backdrop to the amazing architecture and warm smiles.
Stay in great character hotels
Uzbekistan has some interesting hotels full of character, that are privately owned and not part of international or local chains. In Bukhara, just moments from Lyab-I Hauz (the main square) is the  Amelia Boutique Hotel. The hotel is housed in a former Jewish merchant's home with 10 rooms, all entirely different and oozing charm. In Samarkand, the relatively new L'Argamak Hotel has beautiful Suzani and Ikat bedspreads and is owned and managed by a French-Uzbek couple.  In Tashkent there is now a luxurious Hyatt Regency that caters to all home comforts.
Be an Instagram hit
Uzbekistan is very Instagrammable. Smiling people, exotic locations, you will certainly have bragging rights after being on a trip here! As the Telegraph says, 'Uzbekistan: the most fascinating country you've never been to'.
Ala Osmond is Director at Exeter International.
If you would like to be a guest blogger on A Luxury Travel Blog in order to raise your profile, pleasecontact us.