Top 8 destinations to visit in Colombia
If you are looking for a holiday destination which delivers cultured cities, friendly people, unique wildlife and beautiful landscapes, Colombia needs to be on your travel bucket list. This country has moved away from its troubled past to become a stunning part of the world which is unspoilt and unique. Here we take a look at 8 of the best places to visit in Colombia…
Bogota
The capital city of Colombia is a fabulous mix of modern amenities and old-world colonial architecture. The old town, or 'La Candelaria', is a historic downtown neighbourhood full of shops, bars and restaurants. Visitors can enjoy wandering the busy streets and visiting excellent museums such as the Museo del Oro which houses more than 50,000 pieces of pre-Hispanic gold. Further afield, there is a cable car which will take you to Mount Montserrate, where a fabulous view over the whole city can be enjoyed.
Recommended hotel: The Orchids. A stunning property in the heart of La Candelaria which encapsulates the charm of this underrated city.
Cartagena
A popular stop-point for Caribbean cruises, this beautiful city is a colourful and friendly introduction not just to Colombia, but all of Latin America. The walled city is an ancient and vibrantly painted maze of streets which boast an endless supply of photogenic buildings. There are woman in traditional dress selling fruit of every size and shape, and restaurants with tempting menus lining the cobble-stoned alleys. With a warm and balmy climate throughout the year, Cartagena deserves to be on your list when visiting Colombia.
Recommended hotel: Casablanca B&B. A charming property which dates back to the 19th century with white washed walls and stunning decor.
Medallin
The city which has risen spectacularly from the flames of its turbulent past, and become a forerunner in technology and urban development. After a cultural makeover, Medellin today is a pleasant place to visit, with many museums and a temperate climate year round – earning it the nickname 'the City of Eternal Spring'. This bustling city is home to one of the biggest flower festivals in the world, the Plaza Botero and its artistic sculptures, an impressive metro cable and plenty of shops and restaurants to entertain locals and tourists alike.
Recommended hotel: Patio del Mundo. A serene hotel which is immaculately styled and in an excellent location.
The Coffee Zone
If you decide to visit Colombia, you simply must spend 2 or 3 nights in the famous coffee region.  Aside from the fact that there are picturesque farms – known locally as 'haciendas' – dotted within the verdant hills, there is an overwhelming abundance of bird life. Colombia is widely known for having the most bird species of any country worldwide, and many of these can be found here. In addition, the region is home to the stunning Cocora Valley and traditional towns such as Salento and Filandia.
Recommended hotel: Hacienda Bambusa. A traditional hacienda which is located within its own coffee farm and provides guests with a luxurious and authentic experience.
Tayrona National Park
With stunning turquoise waters, thick jungle and excellent hiking trails, the Tayrona National Park is an exciting slice of paradise waiting to be discovered. Located on the Caribbean coastline, this large area of protected habitat is home to turtles, hummingbirds and monkeys. There are challenging treks which lead to ancient tribal villages and white sandy beaches to relax on afterwards. Access to the main areas of the park is by foot, and there are only campsites for accommodation within the park itself, but nearby there are some remarkable properties to stay in.
Recommended hotel: Tayrona Eco-Habs. Romantic and secluded, these thatched cottages are within a short distance of the National Park and boast stunning views over the coastline.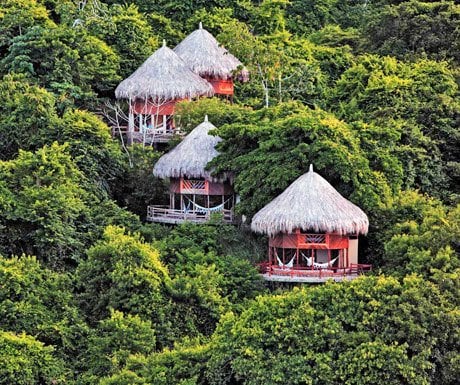 Villa de Leyva
A four-hour journey north east of the capital Bogota will take you to into a semi-arid zone and a pretty town called Villa de Leyva. It is one of the few areas in Latin America which has preserved its original colonial style, and little has changed over the last 400 years. It has an impressive town square – the largest cobbled square in Latin America – and a museum housing some ancient palaeontological fossils. The laid-back atmosphere and white washed buildings make this a very idyllic place to stay for a night or two.
Recommended hotel: Hotel Posada de San Antonio. Set in a traditional colonial-style house only 100 yards from the Villa de Leyva historical quarter, this is a hotel full of character.
The Caribbean Islands
Colombia has many paradise-like islands dotted throughout the Caribbean, but the most accessible and well-facilitated are the Rosario Islands and Providencia, which are just a short journey from Cartagena. The islands are everything you would expect from the Caribbean; relaxed, with white sandy beaches and crystal clear waters. The area has been declared a national park due to its biologically rich coral reef and is therefore excellent for snorkelling and
scuba diving
.
Recommended hotel: Deep Blue. Swim in the crystal clear Caribbean sea and relax with a fresh cocktail at this charming island hotel.
Tatacoa Desert
The Tatacoa Desert in the south is a fascinating arid forest habitat for anteaters, giant cacti and a variety of birds. Canyons are carved into the multi-coloured rocks and it is a bizarre landscape to behold. It's isolation means that it is also a fantastic location for star gazing and every July the region celebrates this with a festival dedicated to the stars. This is a relatively unknown area of Colombia, making it a real adventure and intriguing place to visit.
Recommended hotel: Bethel Bio Luxury Hotel. Built from recycles materials over the last 100 years, this is a wonderful place to stay just a few minutes from the Tatacoa Observatory.
Simon Williams is Director of Humboldt Travel. Humboldt Travel is a luxury travel company specialising in tailor made holidays to Latin America.
If you would like to be a guest blogger on A Luxury Travel Blog in order to raise your profile, please contact us.
Did you enjoy this article?
Receive similar content direct to your inbox.