By
Leah DeAngelis
on Sep 12, 2017 in
Accommodation
,
Attractions
,
Colorado
,
Food and Drink
,
Going Out
,
Hotels
,
North America
,
Regions
,
Resorts
,
Restaurants
,
Road Travel
,
Speciality Travel
,
Travel Miscellany
,
USA
Famous for Pikes Peak, Garden of the Gods, and Air Force Academy, Colorado Springs offers pleasing and plentiful attractions for all ages. With an elevation of about 6,000 ft (Pikes Peak is over 14,000), the city rests in the eastern foothills of the Rocky Mountains.
Founded in 1870, Colorado Springs became a hot tourist destination famed for what was thought to be healing natural springs. During 1859-61, the city boomed with about 100,000 people taking part in the Colorado Gold Rush aka Pikes Peak Gold Rush.
Today, the city is home to an Olympic Training Center, highly secured military sites including NORAD, a rodeo, and a thriving performing arts scene. Nature is a huge draw, and you can reliably enjoy outdoor recreation year round. Or you can opt for a more urban experience downtown, or check out Old Colorado City and Manitou Springs. Here are five wonderful and luxurious experiences to help you embrace the spirit of the location.
Garden of the Gods Club & Resort
Garden of the Gods Club & Resort is situated across from the iconic landmarks Pikes Peak and Garden of the Gods Park providing front row seats to magnificent views. This is a place to completely unwind and replenish while basking in the natural beauty of the surroundings. The ambiance of this resort perfectly combines the rustic vibe of the wild west with luxurious elegance. Rooms are huge with gas fireplaces, posh furnishings and spacious balconies facing the Garden of the Gods.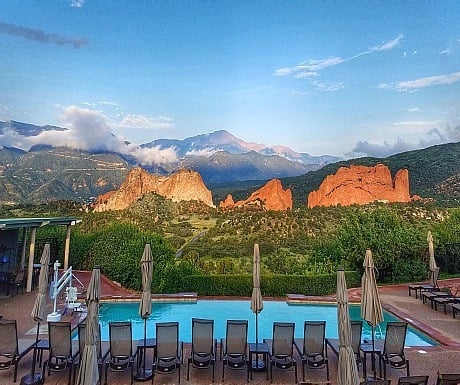 Views are front and center from all over the property, but perhaps the best place to enjoy the surroundings is from the infinity edge swimming pool which frames the scenery. Dining options also showcase the views, and you can enjoy a formal dinner in the Grand View Dining Room, or something a little more casual at The Rocks, which has a patio with fire pits. Breakfast on your private balcony is encouraged via in-room dining and don't be surprised if one of the deer who live at the resort strolls right past you while you're sipping morning tea.
This property doubles as a private country club and golf resort with a 27-hole golf course, and family recreation center with tennis courts and pool.
A stay at the Garden of the Gods Club & Resort is really not complete without visiting their exceptional Spa and Wellness Center. Unique amenities like a Himalayan Salt Room, and weightless water-filled treatment tables make this an extra special spa, while the Wellness Center provides medical treatments and healing energy work. This whole resort radiates relaxing, calm, healthful vibes and it's a wonderful place for rejuvenation.
Adventures Out West Jeep Tour
A private Jeep tour with Adventures out West is a great way to get an orientation of the area. Local guides are full of knowledge about the geological and historical significance of the area. The Garden of the Gods/Foothills tour includes a comprehensive drive through Garden of the Gods Park to see landmarks like Kissing Camels Rock and Glen Eyrie Castle. It's a great thing to do if you have limited time, that way you won't miss key sights.
This tour also includes a cruise through quirky Manitou Springs and a stop at one of the springs to taste the water. Riding around in an open-air jeep, besides being a thrill, offers unobstructed views of some of the very landscapes that inspired the famous song, "America the Beautiful."
Cheyenne Mountain Resort
For family travel, it's hard to beat Cheyenne Mountain Resort. This huge resort with a lodge atmosphere provides non-stop activities for all age groups and is especially ideal for tweens and teenagers. A 35-acre lake stocked with canoes, kayaks, paddleboards and other toys, volley ball and basketball courts, two family friendly pools, tennis courts and a fitness center should keep kids busy during the day while Gourmet S'mores Night and "Dive-In" movies will occupy them at night.
Meanwhile, adults can head for Alluvia Spa which features organic body care, lounge at the adult pool, enjoy the 18-hole championship golf course or a drink at the Pineview Grille overlooking the fairways. During the evening, you can relax by a glowing fire pit in a rocking chair facing the Rocky Mountains.
Dining options are excellent. The large Mountain View Restaurant offers an abundant Sunday Champagne Brunch, or you can dine at the more cozy Elevations Lounge, which also has outdoor seating with fire pits. The later has an exciting menu including intriguing regional dishes like Rattlesnake, Wild Boar, Elk, and Rocky Mountain Oysters. They also have excellent vegetarian options and a S'Mores dessert served in a cast iron skillet that should not be missed.
Cheyenne Mountain Resort is a AAA Four Diamond property that is in a convenient location for exploring local sights like Cheyenne Mountain Zoo and The Broadmoor.
The Penrose Room
The Penrose Room is the only Forbes Five Star, AAA Five Diamond Restaurant in Colorado. Situated on the top floor of the south building at the iconic Broadmoor Hotel, this is the place to have a formal, several-course meal. The Penrose Room has some of the best panoramic views in town including the Rocky Mountains, Cheyenne Lake and sparkling city lights. A seasonal menu is ever changing and comprised of the best available ingredients and wine pairings. The immaculate palatial grounds are ideal for strolling before or after dinner.
Wyndham Mining Exchange
Formerly the stock exchange for miners and tycoons to trade gold, the Wyndham Mining Exchange is an historical landmark brimming with character. This Wyndham Grand Hotel is in a great downtown location, within walking distance to restaurants, pubs and shops. Arched windows, exposed brick, a huge granite fireplace in the lobby, and actual vault doors on every floor showcase this beautiful boutique hotel's rich history.
The Mining Exchange has an excellent New Orleans themed restaurant called Springs Orleans with a Cajun and Creole menu that includes Fried Alligator, Blackened Shrimp, and Beignets for dessert. They also have a fabulous Happy Hour and seating in a cozy courtyard with bistro lights.
If you stay at the Mining Exchange, you have to go to the spa. MX Spa is an award winning spa where you can have the unique experience of a gold-infused treatment in an actual gold vault.