Cape Town has become one of the most visited destinations on the African continent. This cosmopolitan city, nestled between mountains and sea, draws lovers of culture and nature to its shores. The fruits of this nature are no more evident than in the beautiful winelands surrounding the city and spreading far through the Cape region. Beyond the 'sip and swirl' sittings offered by numerous high-end wine farms, there are certain experiences that make a day in the winelands an unforgettable event:
Getting there by air
Nothing will impress quite like skipping the traffic and hopping onto a helicopter to arrive into the winelands in style. Taking off from the V&A Waterfront, you'll be able to soak up the beauty of Table Mountain and the city from the sky before heading over the hills of the vineyards to the magnificent farms of Stellenbosch or Franschhoek. Here you can enjoy tastings at exclusive vineyards, often offering fine dining or farm-style eateries for long and lazy lunches.
Wine trams and pedal power
A unique and leisurely way to explore the estates in Franschhoek is on a Victoria style tram. Using lines left behind by farmers who took their wares to market over a hundred years ago, you can visit some of the oldest farms in the valley. The tram and tram-bus cover five routes and each journey, narrated by audio-guide if you wish, introduces the wine lover to the history of the region, telling the stories behind each distinguished estate. For a more active option, joining a guided cycle tour of the winelands makes for a fun day out as you burn off the calories of your luscious lunch. A local guide will introduce you to the region and guide you to the popular and local boutique estates. These are ideal excursions for everyone as it means you can leave the car behind.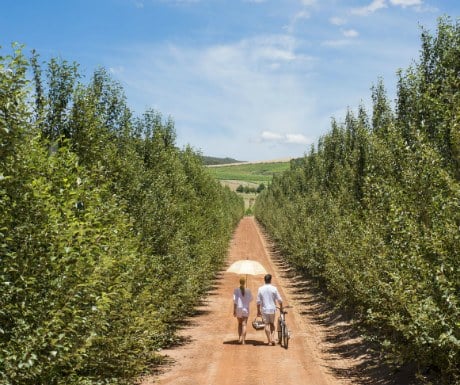 Wine and cheese pairings
Anything can be paired to perfection. One just needs to find the right wine or the perfect creation to compliment the flavours of the food and the brilliance of the bouquet. With the abundance of exceptional chefs and local producers of specialty foods in Cape Town, there will always be a delicious treat to match each wine. For the savoury palate, there are numerous options whether you'd like to try the multitude of cheeses or sample a local specialty, such as biltong. Some estates have gone one step further and paired wines with artisan salts, while even the luxury and boutique hotels have started to curate menus to match local ingredients with the local tipples. The picnic basket at Mont Rochelle is particularly special (pictured).
Chocolate tastings
After an undoubtedly delicious and likely substantial lunch among the vineyards, consider skipping dessert and instead satiating your sweet tooth with a final pairing – chocolate. A popular offering because it is just such a perfect combination, many farms have joined with local chocolatiers to specially curate chocolates to accompany their top-end wine ranges. Waterford, Spier and Creation wines are some local favourites but for something a little bit different, you can try bubbly MCCs and nougat pairings, late harvest wines and cupcakes or even white wine with chocolate pancakes… the list goes on!
Exploring the roots of biodynamic farming
Wine making in the Cape has become an advanced science in recent years, with many wine producers valuing organic and biodynamic methods. Don't be mistaken, this certainly doesn't mean stomping the grapes with your feet in a bucket. Instead the process starts with the vineyard; viewing it as a living ecological system. Biodynamic farming goes one step further and combines 21st-century science with old world farming methods. You can take a tour of these specialist farms – a particular favourite is Avondale Wine Estate. The experience beats the standard cellar tour as you are personally shown around by the farm manager or wine maker for a fully immersive wine experience from ground to glass, ideal for travellers with a passion for wine and wine making.
Julian Carter-Manning is a Co-founder and MD at Yellow Zebra Safaris.
If you would like to be a guest blogger on A Luxury Travel Blog in order to raise your profile, please contact us.