Russia is experiencing a food revolution due to food sanctions that have been in place for the last three years. We have selected just six of our favourite independent restaurants in St Petersburg to showcase how creative and forward thinking the Russian food scene is today.
Olesya Drobot is a rare find – a female head chef in Russia. A disciple of both Ivan Berezutsky (proprietor and join head chef with his brother Sergey of acclaimed Twins in Moscow) and Adrian Quetglas (Spanish Michelin Starred chef). Olesya presides over EM, an eight table restaurant located on the ground floor of a former mansion on the Moika River, close to the Yusupov Palace. The kitchen is open and everything is cooked on an Aga!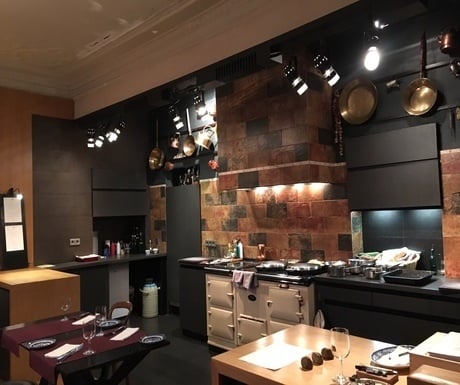 The menu is a seven course degustation (full vegetarian also available) at 3,500 roubles per person, which is a bargain. The focus is on modern Russian cooking with local produce. We just love the note on their menu: For the maximum enjoyment of our restaurant we recommend that you book your table, make it on time and refrain from talking on your mobile phone.
Named after Alexander Blok, one of Russia's greatest poets, Blok is perhaps St Petersburg's best restaurant. It is the creation of Alexander Rappoport, creator of the acclaimed Dr. Zhivago Cafe in Moscow. Executive chef Evgeny Mescheryakov (ex- Ducasse) uses only Russian produce, with a strong focus on quality meat, including rare breed beef.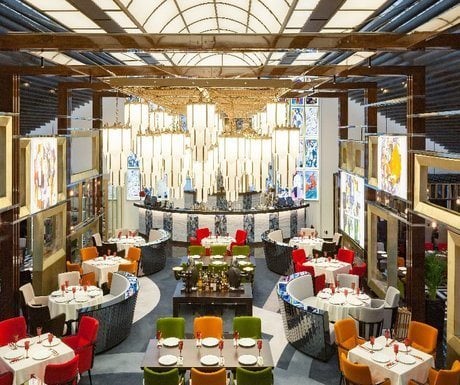 The outstanding quality of the produce is a direct result of independent farmers developing over the last three years due to food import sanctions. Located on the top floor of the Leningrad Centre which was built in the 1920's the décor mirrors the avant-garde Russian style of that era. Obsessive attention to detail and excellent Russian wines combine to make this a stand out restaurant experience.
Dolma
This charming, family-owned restaurant focusses on the food of the Caucasus. Although much of the menu is Georgian, the owners are Armenian. Everything they serve is homemade and the khatchapuri (cheesy bread) is among the best to be had anywhere. The Lobio (warm kidney beans with herbs) and tsatsivi (cold chicken breast in a walnut sauce) and of course, the Dolma (stuffed vines leaves) are all recommended. You will get a warm welcome, and even more so if you order vodka with your meal, just like a local. Good Georgian red wines also available!
St Petersburg's most stylish and on-trend restaurant relocated to the ground floor of the W Hotel from its original location a few years ago. Again, the focus is on Russian food with a modern (and often humorous) twist, created from local produce. The style is heavily influenced by Heston Blumenthal and features several deconstructed traditional Russian dishes. Our advice is to order 4 or 5 appetizers between two to see the creativity of the chef. Surprisingly good value and, we think a must experience. Reservations are essential a minimum of three days in advance.
This restaurant would be at home if you dropped it into London, New York or San Francisco. The décor features unusual art, exposed brick, chandeliers, metro tiles and gender neutral lavatories. The staff are straight out of hipster central casting! The food is a homage to tartar – beef and fish with an Asian Fusion twist. Excellent flavours and presentation, and very friendly service.
New Holland is a former naval island in the centre of St Petersburg that has lain derelict for years. It has now been transformed into a local lifestyle and arts space with park areas, a lake and two major buildings as its centrepiece. The former Naval Prison, nicknamed the Bottle (due to its large circular shape) has over 2,500 square meters of floorspace dedicated to restaurants, lifestyle outlets, shopping and arts venues. The former Foundry is now a restaurant with an eclectic menu devised by New Yorker Isaac Correa and features Tuna Po-ke and great burgers alongside traditional Russian Borsch. Decadently, breakfast is served from 12:00 and at the weekend, the restaurant turns into a club after 11pm. The best thing about New Holland is that is has been created  and designed with the local community in mind,  so it is the perfect place to feel like a local.
It goes to show that Vladimir Mukhin, Head Chef of White Rabbit Moscow, and one of the top restaurants in the world is just the tip of the talent and quality food available in Russia today!
Ala Osmond is Director at Exeter International.
If you would like to be a guest blogger on A Luxury Travel Blog in order to raise your profile, pleasecontact us.