Special feature: Carnac Thalasso Spa Resort and Hotel, Carnac, Brittany, France
We recently visited Carnac in Brittany – a resort famous for its Neolithic standing stones – so that our two boys could compete in a sailing competition. Carnac itself is divided into two distinct areas – Carnac-Ville (the historic, main town) and Carnac-Plage (the beach area). With the event being out of Carnac Yacht Club, we opted for proximity to the Carnac-Plage area and the best hotel close to the venue is
Carnac Thalasso Spa Resort and Hotel
.
The hotel is in fact located in a 24-hectare nature reserve, just 650 yards from the beach in Carnac-Plage, and next to expansive salt marshes, and has been Green Globe certified for two years (in fact, it is the only hotel and thalassotherapy resort in Brittany to be Green Globe certified).
Ahead of our arrival, we explained that we would be arriving with a boat trailer. Even though we were there in peak season, this didn't prove to be a problem as the hotel has plenty of parking, accessed via a barrier entry system, in an area where street parking can otherwise be rather scarce. We were warmly welcomed at the hotel despite arriving a little early due to
our morning ferry arrival
, and – after a short wait during which time we just stretched our legs and wandered over to the yacht club – were kindly provided with early access to our room. We had two inter-connecting rooms, one made up as a double and the other as a twin, and each with a flat-screen TV with Canal+ channels and facilities for making hot drinks.
On our bed was a welcome note…
…and a generous gift from the hotel's spa. Gowns, slippers and hats for access to the spa were also provided.
The children's room was a mirror-image of our own, but just with the bed configured differently.
Both rooms also had a small seating area and table, as well as a desk, safe, minibar and all the usual things you might expect. Notice how the table is shaped like one of the resort's famous standing stones, a theme that you see being carried throughout the hotel and even to its logo.
Each room also had a private bathroom with hairdryer and a supply of Bio Carnac toiletries.
There is free WiFi throughout the hotel.  Our rooms overlooked the car park but, to the left, you could enjoy a nice view across the salt marshes and to Carnac-Ville beyond.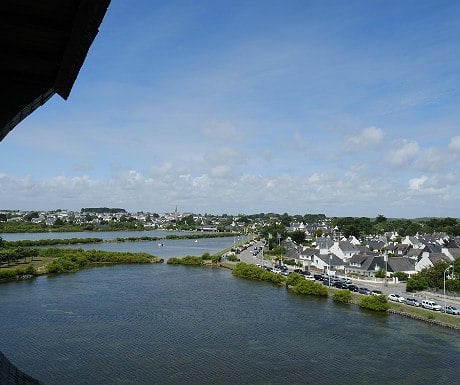 As guests of the hotel, we had free access to a heated, sea-water spa, swimming pool, sauna and hammam.
Although much of this is indoors, there is a section that extends outside, allowing you to enjoy a little sunshine at the same time as all the reputed healing benefits of salt water thalassotherapy.
Children are allowed in the pool, but the sauna, hammam and gym are for adults only.
We had breakfast at the hotel each morning, often overlooking the salt marshes………………
Other than breakfast, we didn't eat at the restaurant, often joining friends in Carnac instead, but the on-site restaurant serves regional cuisine, and has themed evenings such as a seafood buffet on Fridays and a crepes buffet on Wednesdays.
There's the option to dine inside or outside, depending on how the mood (or the weather!) takes you.
There's also 'La Thalasso' creperie just next door to (but separate from) the hotel. We found many of the places to eat out in the Carnac-Plage area served the same kinds of meals (moules frites, crepes, etc.) but did find two gems in the form of Le Cornely (away from the main hustle and bustle and just one street back from the beach) and La Potiniere (which was more in 'the thick of it' and deserving of the queue to get in). Back at the hotel is a bar should you wish to enjoy a nightcap before bed.
As mentioned, the reason for our stay was to attend a sailing event and the hotel is very well positioned for access to Carnac Yacht Club which is just a short walk away.
Of course, no trip to Carnac is complete without a trip to the Neolithic standing stones. We walked from Carnac-Plage, through Carnac-Ville, and on to the stones but, since it was quite a warm day, opted to hop on one of the many buses that run between the stones and Carnac, for the princely sum of just 1 euro per person (from memory, the children were free!).
The stones themselves are really impressive and are currently in the running to be UNESCO certified as a World Heritage Site. Out of the season you can hire a tour guide and walk among the stones but, during peak season, they are largely fenced off from the general public in the interests of conservation. Regardless, they are still well worth a visit and easily accessible from the hotel.
Disclosure: Our trip was sponsored by Brittany Ferries and Brittany Tourism.
Did you enjoy this article?
Receive similar content direct to your inbox.