While any form of exercise can burn calories, there are special benefits to skiing. One reason is the effort your body goes through to stay balanced. Which is a roundabout way of saying, tuck in, you've earned it. It's more than likely that you'll want to refuel in the middle of the day and you're in luck, Zermatt has some fabulous mountain restaurants.
Zum See
A converted farm building off the Blatten piste and a 40-minute walk from the town. Typical mountain interior, photos of rugged mountain men, lanterns and old bits of farm and climbing equipment hanging from the beams. The food ranges from haute cuisine to more traditional mountain fare, home-made pasta and rosti. Can be a tight squeeze if it's too cold to eat outside, expect to share a table at busy times. Nevertheless a charming ambience with good and hearty food to satisfy your hard earned appetite.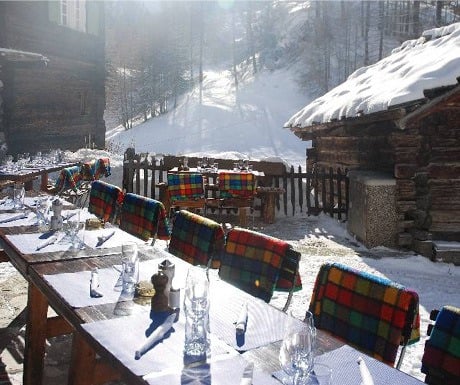 Chez Vrony
An easy ski or a 25-minute walk from the Sunnegga lift, this restaurant has fabulous views of the Matterhorn. Outside there are benches with sheepskins for sunbathing and snacking and three floors of terraces. If it's warm enough and you don't mind negotiating narrow stairs in ski boots, try for one of the outdoor tables on the top floor for a more private experience. Chez Vrony has a great reputation passed on through word of mouth by the locals, always a good sign. Very good service and excellent food in a place with a great atmosphere. You'll want to hang around longer than you perhaps should, it's such a stunning location. A firm favourite.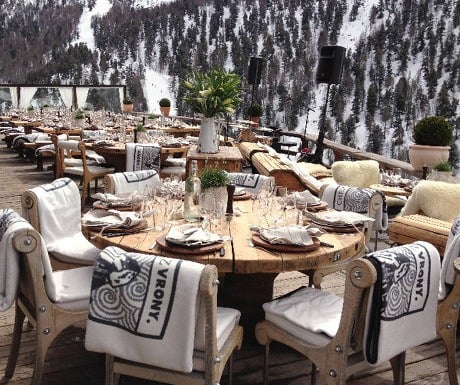 Blatten
A lovely, homely and traditional alpine restaurant. A 30 minute leisurely hike from Zermatt, or alternatively take the Klein Matterhorn Express to Furi and then ski or walk down. Blatten has existed since the earliest beginnings of tourism in Zermatt. Around 1850, Blatten welcomed it's first visitors as a small tea house. Leander and Simone Taugwalder have run the restaurant for over 30 years with a passion for their work. They also have stalwart support from their daughter Sarah, a real family affair. In addition to its gastronomic traditions the Blatten, also has its roots in alpinism. That's how Leander met his wife Simone on the summit of the Matterhorn. A charming cosy atmosphere.
Findlerhof
Close to Chez Vrony and also with marvellous views but a little farther down the slope. An entertaining short downhill walk in ski boots from the piste. Findlerhof is a charming place, run by the very friendly Heidi and her husband Franz. It's a rambling sort of place with so many bits added on and has a certain quirky charm. The food is excellent, and it's here that I've often fallen victim to the Rosti Matterhorn, a mountainous concoction of potatoes, bacon, melted cheese and two fried eggs, with a dash of fresh parsley, as one of my five a day. A year's cholesterol in a single dish. Just what you need to set up you up for the rest of the day on the slopes.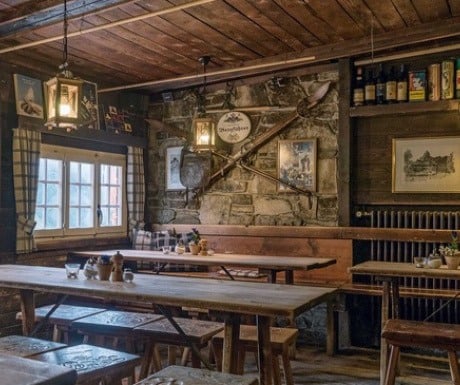 Chalet E'toile (Italy)
Not, strictly speaking, a Zermatt mountain restaurant but nevertheless well worth a visit. Ski over the top of the ridge and down into Italy and make a day of it. The Chalet Etoile is an historic restaurant which is situated at the bottom of the Cervino. It has been managed by Cesare Frassy since 1974. Today his Swedish wife Ulla and his daughter and son Caroline and Kalle are taking care of business in this superb restaurant. During the last 40 years, they have always tried to offer their clients the best. Ulla, the head chef is always researching and perfecting her craft and it shows in the quality of the fare on offer. A memorable day's skiing with a 5 star lunch break.
Rebecca Taylor is Director at SkiBoutique.
If you would like to be a guest blogger on A Luxury Travel Blog in order to raise your profile, please contact us.