Whether you're referring to its diverse heritage or the colourful people who call it home, South Africa is big on flavour. From Table Mountain to Soweto, the country has a cultural identity entirely its own. But its tastiest offerings are the dishes you'll sample in the various restaurants, delis and farmstalls along the way. Drawing on cuisines from the Xhosa, Cape Malay and Afrikaans cultures, South Africa's culinary offerings are anything but boring. We've put together a list of must-try South African dishes and the best spots you can enjoy them.
Boerewors at Lucky Bean Restaurant in Melville
South Africa's national sausage of coriander-spiced, coarsely ground beef or pork is the stuff of afternoon braai's and rugby matches. But finding it in a restaurant setting may be tricky. Fortunately, Lucky Bean perfectly mixes African and Afrikaans traditions with its boerewors and umnqgusho, a combination of sugar beans and samp. The dish is topped with a spicy chakalakka sauce that's as warm as Lucky Bean's friendly atmosphere.
Lamb potjie at Vuyos Restaurant in Soweto
On a chilly evening, there is nothing better than some good 'ol potjiekos – a thick stew cooked in an iron cauldron over a fire. Vuyos Restaurant is more than happy to warm you up with its hearty potjiekos and relaxed atmosphere. Situated on the famous Vilakazi Street, Vuyos offers a traditional potjie pot filled to the brim with slow cooked lamb and vegetables, all covered in a thick broth.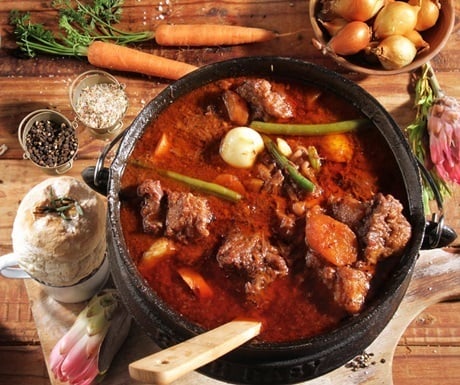 Milk Tart at Cultiv8 Café in Krugersdorp North
Milk tart (or melktert) is an Afrikaans favourite based on a Portuguese custard tart. Many South Africans claim that their grandmother's secret recipe of a delicious crust and creamy filling is the best. But the folks at Cultiv8 Café are so protective of their milk tart recipe that the confection does not even appear on the menu! Phone ahead and ask them to make a special one just for you.
Mogodu at Pata Pata in Maboneng
Enjoy the local comfort food in a comfortable South African setting. Pata Pata offers their own tasty take on Mogodu, a thick stew served on a bed of pap. Try their signature tripe and trotters dish that is just as flavourful as the Miriam Makeba song after which the restaurant was named.
Cape Malay Cuisine at Bo Kaap Kombuis in Bo Kaap
Any Cape Town travel brochure will include photos of cobblestone streets lined with brightly painted houses. This is Bo Kaap, the traditional home of the Cape Muslim community since the second half of the 18th century. Looking out over this technicolour paradise is the Bo Kaap Kombuis – one of the few (and best) spots to sample authentic Cape Malay Cuisine. The restaurant's bobotie and butter chicken will warrant a second visit, or third, or even a fourth.
Shisa Nyama at Mzoli's Place in Gugulethu
Boerewors might be popular but a Shisa Nyama is an experience for the senses. The term is derived from the Zulu phrase for 'burn meat' and is all about bringing together good people, good food and good times. A Shisa Nyama at Mzoli's Place is something to behold. Customers can buy a variety of braai meat at the adjoining butchery and hand it to one of Mzoli's braai-masters who will barbeque it to perfection. You can then sit down with your chock-full plate of food and enjoy your meal while the Gugulethu Township bustles around you.
Bokkoms at Bokkom Laan in Velddriff
The village of Velddriff lies a short drive from Cape Town and is the bokkom – a whole, salted and dried mullet – capital of the world. This is made obvious via a stroll down Bokkom Laan, a street of fisheries and restaurants that hang the freshly caught fish on hooks outside their doors. Take a stroll down the avenue, pick a spot and enjoy some sumptuous seafood with the Atlantic Ocean as your backdrop.
The Karoo
Karoo Lamb at Lord Milner Hotel in Matjiesfontein
Where better to indulge in some succulent Karoo lamb than in its namesake. The region is famous for its unique shrubbery that is rich in herbs, making the sheep who graze on it all the more flavourful. Moreover, Karoo lamb is free-range and free from added hormones. The chefs at Lord Milner Hotel know this all too well. There are a variety of lamb dishes on offer. Our favourite is the braised lamb shoulder, served with parmesan white polenta, ratatouille vegetables and lamb jus.
Malva Pudding at Pioneers Restaurant in Graaff Reinet
Malva pudding is one of the most popular South African desserts owing to its warm, sticky texture and copious amounts of creamy custard. There are many theories as to the origin of the Cape Malay dish, but one thing is for sure – Pioneers Restaurant in Graaff-Reinet serves the best. Enjoy one of their generous slices of the toffee-flavoured, spongy pudding soaked in custard while looking out over the picturesque town.
Durban
Bunny chow at Capsicum Restaurant in Durban Central
Any curry deli in Durban will claim that they are the home of the country's best bunny chow – a half loaf of bread stuffed with curried meat. For us, that honour belongs to the Capsicum Restaurant at the Britannia Hotel. The restaurant combines colonial architecture and modern trimmings to create the ideal setting for chowing down on a bunny chow. Try one filled with the restaurant's flagship mutton curry; you won't be disappointed.
Colin Dilland is Owner and Managing Director of East Cape Tours and Safaris.
If you would like to be a guest blogger on A Luxury Travel Blog in order to raise your profile, please contact us.