5 of the most Instagrammable locations in the Andamans
With a location like the Andamans, almost every sight is click worthy. The spectacular sunsets, the beautiful underwater sights, the natural wonders and historic places all come together in one vacation for you. And what is a good vacation without amazing photos that you can flash on Facebook and Instagram and get likes pouring in. (We all do a bit of that!) Photos and videos are a great way to capture your memory of the location and go back after years to relive the experience. When it comes to Andamans, here are 5 instagrammable locations that are an absolute must when you visit. Say cheeezzze!
1. The natural sand bar connecting Ross and Smith Islands
The Ross and Smith islands in Andaman have a unique connection – a natural white sand bar that is visible during a low tide. Walking from one end to another, you'll see the sea caressing both sides of this beautiful piece of land. While there is nothing quite like an aerial view, your best pic here can be when you are right at the start point at Ross Island and have the view of the sand bar behind you
2. The mud volcanoes
The Andamans is a unique natural phenomenon of nature – the mud volcanoes. A huge tourist attraction, many people travel through the reserve forest early in the day to catch a glimpse of this interesting formation. The mud volcanoes are formed when gases and hot water trapped beneath the surface start spewing out to form a mud dome. It's an 'active volcano' for all its worth and isn't something you see everyday. You can't get too close but a souvenir pic is a definite must.
3. Scuba / snorkel pictures
Andaman has some of the best diving spots in south East Asia. A trip to the islands will be incomplete if you don't take up an underwater adventure. There's snorkelling, sea walks and a variety of options in
scuba diving
. Each of these has local organizers waiting with an underwater camera just for you to say cheese! So click away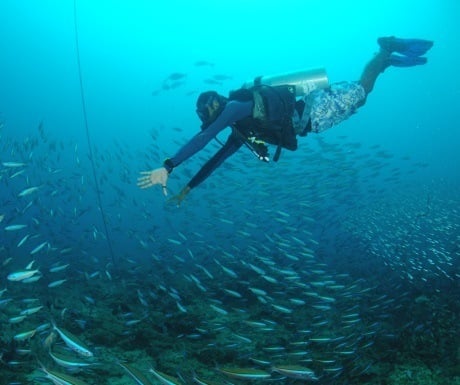 4. The ethereal roots at Ross Island
Ross Island holds the key to many important events that happened in the Andaman islands. From being a capital island to being conquered by Japanese in the World War II to an earthquake that almost ruined it, there is a lot that went on here. And it is none other than the trees in the island that'll tell you this story. With roots engulfing dilapidated structures, it almost feels like nature is on a fight to take the island back from our stronghold – and its winning. Use perfect horror filters for your pics here
5. The sunset at Chidiyatapu
Chidiyatapu or bird island has one of the most picturesque beaches in Andaman. The sunset on the beach is especially beautiful and a complete delight for photographers. Here's where you get the picture perfect beach shots that are both framable and instagrammable.
Rathnam Rathnasamy is the Founder of Andaman Holidays.
If you would like to be a guest blogger on A Luxury Travel Blog in order to raise your profile, please contact us.
Did you enjoy this article?
Receive similar content direct to your inbox.