By
Rob Stross
on Nov 18, 2017 in
Africa
,
Bahamas
,
Belize
,
Caribbean
,
Central America
,
Costa Rica
,
Guatemala
,
Leisure Travel
,
Regions
,
Seychelles
,
Speciality Travel
Fishing is not everybody's idea of a good time…
Alarm going off at 3.45, grabbing the box of maggots out of the fridge, pulling on smelly wellies, getting in a cold car, sitting by a cold river, eating sandwiches with fishy hands – there are a few downsides, that's for sure.
But, of course, not all angling is like that.
Sports fishing involves going out on high-speed boats, strapping yourself into a seat like you would the latest ride at Universal Studios, cooking fresh catch on the BBQ, snorkeling in warm, transparent waters and having an ice cold beer at lunch. All of which sounds rather fantastic doesn't it?
So where do you go for a healthy dose of option two? We've done some digging, spoken to some people in the know, used the old Google – and these are, in our opinion, the five best sports fishing spots in the world. They're so gorgeous that it's not unrealistic to say that non-fishing people would enjoy any of these trips. You're surrounded by paradise and if nothing else, you'll get a great deep tan.
Without further ado, let's cast off and get going…
Alphonse Island, The Seychelles
The Seychelles is synonymous with sumptuous sun, sea, and sand so why wouldn't sports fishing be anything less that splendid? Try saying that line with a mouthful of seawater!
Milkfish are a real prized catch for people in the know and this is one of the best places in the world to get 'em to suck on a fly… and then cling on for deal life. Contrary to the name, these little fellas are strong.
Guatemala
If you're not bothered about pulling a different type of fish out of the water every time you reel in, then this could be the spot for you… Especially if you like sailfish.
Sailfish are here in their millions and when they bite, they really bite. Veteran fisherman in the area report days of the hook barely hitting the water before getting a bite. Oh, and the surroundings are phenomenal.
Belize
The only country in Central America where English is the primary language, Belize is just two or three hours from most south-eastern U.S. cities. The fishing also happens to be wonderful.
It's hard to find a spot anywhere in the world with more willing tarpon, permit and bonefish. Many of the resorts cater for anglers too so as you can imagine – everything runs smoothly.
The Bahamas
You didn't think we could get through a list of the world's best luxury sports fishing and miss this one off the list?
The Bahamas are arguably the home of big game fishing with the waters around the islands holding some large species — including marlin, tuna, mahi-mahi, and sailfish.
Costa Rica
Costa Rica's awesome coastlines offer great variety with each coast different from the last. On the Pacific side, you are spoilt for choice with the chance to fish for dorado, tuna, wahoo, marlin, roosterfish, snapper and more. While the Caribbean side of the country is renowned for its big snook and big tarpon.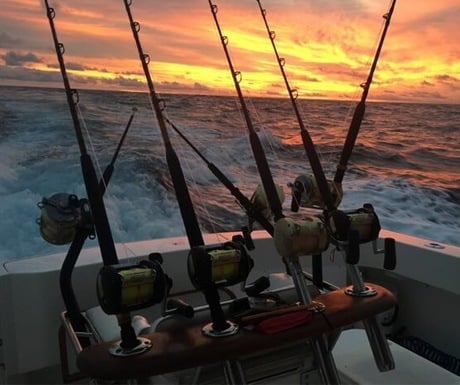 So there you have it, five of the best sports fishing spots in the whole world. You won't be dissapointed with any so go on… book it.
Rob Stross is Chief Marketing Officer at WeSwap.
If you would like to be a guest blogger on A Luxury Travel Blog in order to raise your profile, please contact us.