Madagascar – the fourth largest island in the world – is an absolute must-see for those wanting to experience a destination which is, without exaggeration, completely unlike any other. 160 million years ago, as the Gondwana supercontinent broke up, Madagascar lost physical contact with Africa but remained close, while Antarctica, Australia, and India drifted far away. Madagascar's animals were stuck on the island, isolated from outside influences, and evolved in different ways to those elsewhere. 80% of the species you see in Madagascar are endemic to the island.
But it's not just wildlife lovers who will be fascinated by Madagascar and enjoy exploring the island. It offers something for everyone! In this blog we'll tell you why five different kinds of travellers should visit Madagascar. Which one are you?
Birdwatchers
Madagascar has around 265 species of birds, of which 120 of are endemic to the island. That includes five endemic families, and one endemic subfamily. Madagascar was once home to giant land birds, which looked similar to ostrich but weighed 500 kg and stood at around 3m tall! These birds were the Aepyornis, or elephant bird, and though they've been extinct now for 1,000 years, related species survive.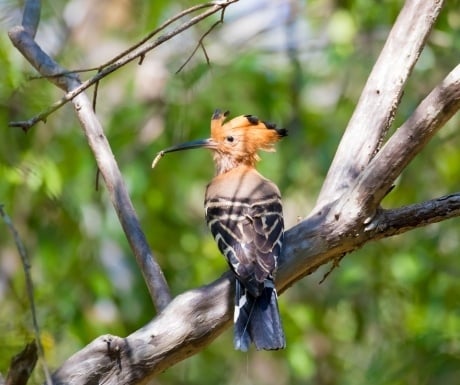 Most bird watchers go during spring and early summer, which as Madagascar is in the southern hemisphere means the end of August to December. During the winter months (May to mid August), the rainforests are quite quiet and it is more difficult to find bird life.
If you're keen to go bird watching in Madagascar, we particularly recommend the Andasibe Martadia and Masoala National Parks.
Hikers
Madagascar boasts dramatic landscapes, and 70% of the land mass sits at 1,000m to 1500m above sea level. There are mountain peaks and extinct volcanoes, and as you explore on foot you'll not only see stunning views but also appreciate the flora and fauna up close.
Lonely Planet rated the Masoala National Park and the Isalo National Park as two of the best places to hike in the world. Masoala is famed for its scenic trails through dense forest, which wind along the peninsula.
Your standard of fitness doesn't matter: there is everything from gentle day walks to multi-day marathon hikes!
Wildlife watchers
Thanks to Madagascar's unique geological history, you can see animals here which exist nowhere else on earth. Masoala National Park is the biggest protected area in Madagascar, and is home to everything from chameleon and gecko to aye-aye, fossa, and fanaloka.
Many visitors are, understandably, desperate to see Madagascar's lemur. These curious creatures are undeniably cute! In the Andasibe-Mantadia National Park you'll find 14 different lemur species, including the largest of them all. For an unforgettable experience (which sadly may not last), we also recommend visiting the Ranomafana National Park. There are fewer than 200 critically endangered golden bamboo lemur left in the wild; this is your chance to see them in their natural habitat.
Foodies
Did you know that Madagascar is a paradise for foodies? It's location in the Indian Ocean meant that for centuries traders from Africa, the Middle East, and India stopped here, sharing their own recipes. In time these influences have fused together, creating a mouthwatering cuisine.
Madagascar's national dish is romazova, a tasty spiced meat stew with greens. You'll love the fried rice, the meat pies, and the sausage stroganoff. And did we mention the seafood feasts which are served al fresco on the sands of Nosy Be? Fish doesn't get any fresher than that!
Beach lovers
Last but not least, come to Madagascar if you're searching for an earthly paradise. This island has crystal clear waters, soft white sand beaches, and light blue skies. And just off the coast there's diverse marine life which you can explore as you snorkel and dive.
There are many secluded beaches and coves. Nosy Be and Il Sainte Marie are both pristine, and far away from the crowds. Walking along the sand you can scrunch the grains beneath your toes or paddle in the surf as the sun sets and there is a the gentle scent of ylang ylang in the air.
For true luxury, head to Miavana. Perfectly placed on the private island of Nosy Ankao and offering a truly special experience.
Laura Burdett-Munns is Managing Director at Africa Exclusive.
If you would like to be a guest blogger on A Luxury Travel Blog in order to raise your profile, please contact us.