It's that time of year again! If you're tired of trawling the shops trying to find that perfect gift for him, look no further for Christmas inspiration than these top picks for the festive season. Finding him a thoughtful gift isn't always easy but here are some great ideas for the man who has almost everything.
Mavic Pro Platinum drone from DJI
The Mavic Pro Platinum drone from DJI features a sleek design and compact body that is both powerful and alluring. A new and improved 30-minute flight time coupled with 60% noise power reduction makes the Mavic Pro Platinum DJI's best portable drone yet.
With a brand-new aerodynamic design, the 8331 propellers give the Mavic Pro Platinum an impressive noise control performance, and the new FOC ESC drivers offer sinusoidal current for increased stability. No more angry buzzing and smoother-than-ever footage.
The "Planète Noël" from Pierre Marcolini
What if a planet dressed up as Father Christmas on the most beautiful night of the year? Maybe it would opt for that iconic red colour and switch Santa's classic bonnet with a gleaming crescent moon… The Collection's centrepiece – the Planète Noël – is made with the Maison's finest white chocolate wreathed in an intense dark chocolate ellipse. The planet sits atop a box with two drawers filled with exquisite little treats: the first an assortment of smooth-centred truffles; the second with miniature praline planets – blink and you'll miss them!
This year, Belgian chocolatier Pierre Marcolini invites you on an interstellar journey of the senses. Watch as Father Christmas morphs into a planet under the celestial eye of a gorgeous lunar eclipse, while this winter's tale introduces a cast of wondrous characters gleefully performing on a stage of miniature moons. These majestic, intense and irresistible chocolate creations showcase all the Maison's expertise and generosity of spirit. Crafted with masterly attention to detail, these grand cru chocolates are every bit as attractive to look at as they are beguiling to taste
Midnight blue NosiLife Fairborn blazer from Craghoppers' Ultimate Travel Collection
Ultimate Travel Collection is precision. Technical travel clothing that combines minimalist style with total performance. When luxury adventure travel calls for chic simplicity and high functionality, the clean aesthetic of the Ultimate Travel Collection clothing is your go-to. Multifunctional and built for the long haul, our technical travel clothing helps you leave the plane and, drop by a meeting, all before making your way to dinner. All designed with protective features and clean silhouettes that keep performing.
If you want to travel in style while still benefiting from Craghoppers' sun- and insect-protective tech, Fairborn Blazer from the Ultimate Travel Collection is just the ticket. This cotton-rich hot-climate travel classic features smart tailored styling and NosiLife permanent insect protection for fuss-free performance wherever you are in the world.
Soco TS1200R electric motorbike from Super Soco
Sleek design and smart features make the Super Soco electric bike the ideal gift for tech lovers and urban commuters. Choose from bold red and orange or classic black, white or silver with all colours featuring stylish design and state of the art technology. The Super Soco has been developed to revitalise urban mobility and commuting combining the latest zero-emissions electric scooter technology with the striking visuals of a motorbike. The bike's key features include keyless start, a removable lithium battery, lightweight carbon steel mainframe and intelligent LED speedometer. Costing just £2,349 the Super Soco is the UK's first affordable electric motorbike and is the perfect option for fun, emission-free mobility this Christmas.
The perfect Christmas gift for gadget lovers and motoring enthusiasts – Super Soco makes electric motorbikes accessible. Throughout the festive season, Super Soco are offering a £100 voucher to spend on moped and motorcycle riding equipment or £100 towards CBT rider training with every Super Soco bike purchased. The offer ends 12th January 2018 and vouchers are only valid at purchasing Soco retailer.
Elevation Shell Jacket with Life Pocket+™ from Helly Hansen
The award winning Elevation Shell Jacket takes protection, performance and comfort to a new level for endless freeride adventures. This durable shell jacket is developed and tested by Helly Hansen's professional free skiers to meet your most demanding needs, we have upgraded it with a Life Pocket+™ to preserve your battery life span on your mobile and action camera.
It is built around a Helly Tech® Professional 3L fabric with a new FLOW membrane enabling an unparalleled breathability and protection, in combination with our innovative H²Flow™ venting system it dramatically improves your comfort and will make sure to keep you dry, warm or cool depending on the conditions and intensity. It has a longer length with a relaxed tailored fit with pockets and ventilation zippers designed to work flawless with your backpack. Details such as Hi viz details and brim will make sure your friends finds you in the worst weather conditions, large adjustable cuffs allows for easy use with gloves.
Men's Stornoway II high ankle tweed brogue boots from Chatham
Chatham is a quintessentially British footwear brand, with an impressive 30-year heritage. Its luxurious portfolio of shoes for a multitude of active and relaxed pursuits highlights its extensive range of traditional, modern and technical footwear that offers something for everyone – whether on the water, in the country or on the high street.
These stylish brogue boots feature Goodyear welted construction on a studded sole unit. The upper features a combination of premium leather and British tweed from Lovat Mill, making them a luxury wardrobe essential for every British gentleman. RRP £199.
TRAV O SAFE PowerBank from GP Batteries
Mobile electronic devices are essential travel companions. From email and itineraries to photos, social media, games and maps, the need for a back-up power has never been greater. However, with all the restrictions placed on hazardous lithium batteries by airlines, travellers can have trouble taking a power bank on board their flight, meaning their mobile devices risk losing power. New from world-leading battery manufacturer GP Batteries, the TRAV O SAFE PowerBank offers a convenient, reliable and powerful charging device that is safe for air travel.
Welcomed by airlines, the TRAV O SAFE conforms to the latest airline safety standards for carry-on and check-in baggage and is a perfect back-up power source to recharge mobile devices on your travels. The device meets all travellers' needs, while delivering superior protection from over-heating, over-charging, over-discharging and short-circuits. As a recognised battery expert, GP Batteries emphasises safety in all products. TRAV O SAFE delivers a powerful charge, ensuring operation of smartphones and USB devices while traveling; not only safe for your daily travels, but also compliant with the most strict air travel standards.
Jamón Joselito Pieza Entera from Joselito
Welcome to the finest of Spanish cured hams from one of the best sources in the world. This beautifully-presented gran reserva Jamón Ibérico from Joselito has been cured for more than 36 months and consists of an entire piece that weighs 7-7.5kg and comes in a lovely presentation box, complete with cutting manual.
It is bellota which meaning that the pigs have been fed on acorns, giving the meat a distinctive nutty flavor. That said, it has a soft and delicate flavour, slightly sweet and with infiltrations of shiny veined fat that melt on the palate. It is also rich in proteins and a good source of vitamin B1, iron, zinc and magnesium. RRP €775.
Riut, the UK backpack startup and Kickstarter success has launced the new RiutBag X25, a two-in-one backpack that is perfect for day-to- day use but extends out for longer-term travel use when needed. The 15" laptop backpack expands from a 10 litre to 25 litre space in just seconds, making the X25 perfect for those of us short on space at home – or who simply don't want various backpacks, hold-alls or suitcases lying around gathering dust when not in use!
Like all RiutBags, the X25 is a 'backwards backpack', meaning the zips nestle on the inside, against the wearer's back, making them tamper proof and vastly more secure than traditional backpacks. To this it adds state-of- the-art design that means it can be made 2.5x larger in just a few seconds, and packed back down again just as quickly. Commuting with a laptop or travelling light? Wear it in its compact mode. Heading to the office with just wallet, phone and keys but coming back laden with paperwork? Go compact and return expanded. Travelling for a couple weeks' break? Expand it to its full 25L capacity and it will provide more than enough room for your holiday wardrobe.
Superfast Thermapen Digital Thermometer
Wherever your Christmas travels take you this year, don't be without this digital thermometer for your roast turkey! It's red, shiny, fast and accurate and for food enthusiasts the equivalent of a Ferrari parked on the drive. A Superfast Thermapen Digital Thermometer featuring a patented 360° self-rotating display is ideal for testing the temperature of turkey and according to foodie bible, Chefs Illustrated, it's the "Ferrari of food thermometers".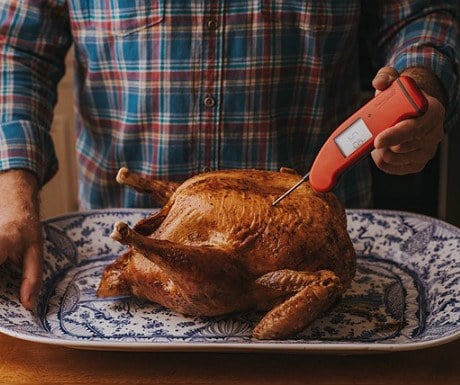 With an intelligent backlit display sensing light levels, automatically turning the backlight on/off in varying light conditions. The motion-sensing sleep mode automatically turns the Thermapen Mk4 on/off when set down or picked up, maximising battery life – 3000 hours in normal use. Used by chefs and food writers the length and breadth of the country, a Superfast Thermapen Digital Thermometer is a gadget that serves a real purpose so it won't get banished to the back of the drawer or recycled for another year. You'll get extra marks for being practical and stylish and there's a better chance that the turkey will be cooked to perfection.
If you have a luxury travel product that you'd like to see feature in a future gift round-up, make sure you sign up on this mailing list in order to receive an alert when we are compiling the next one.