With Christmas over it's natural that thoughts will soon start to drift to all the exciting prospects in store for 2018, and with it thoughts of a well-deserved holiday in the sun (which no doubt feature all the more strongly when it's cold and wet outside!).
So, to get you in the mood for 2018, I thought I'd highlight 15 of my favourite things about Provence, along with things to do and places to visit. And if you think I've missed an important one then please let me know in the comments below!
Sunshine
Unless you're off skiing, odds are you would like some warmth and plenty of sunshine on holiday. Provence hits the mark here in a big way with over 2850 hours of sunshine every year on average. Compare that with London's 1400hrs and you can quickly see that Provence is definitely the place to be to catch some sun. And with temperatures in the 20C's during the summer months you won't get cold either!
Markets
France is renowned for the quality of its markets and Provence is no exception. You are hard pushed to find a town that doesn't have its own market at some point during the week. Most are packed with stallholders selling an amazing array of fruits and vegetables, flowers, honey, fish, meat and wonderful cheeses. Much of the produce is locally sourced as well making it low on food miles! Even if you don't end up doing any shopping, strolling around town on market day is quintessentially French and a great way to spend a couple of hours.
Coastline
Winding its way down the south-eastern edge of France from the Camargue to Nice, with the Mediterranean lapping at its edge, is the Provencal coast. This beautiful, varied stretch of coastline is home to some amazing beaches, dramatic landscapes and trendy towns. On a gorgeous sunny day, a trip to the Calanques is a must – stretching for 20km, these sheer cliffs are interspersed with small beaches, some of which can only be accessed by kayak. Also worth a visit is the coastal town of Cassis, where Winston Churchill learned to paint. Quaint fishing boats bob about in the harbour with a backdrop of pastel painted cottages making this a truly picturesque destination.
Villages, towns and cities
Where to start! There are so many truly stunning towns and cities and an endless supply of charming villages, that you will never be short of places to explore. Avignon is a notable city to visit – overflowing with churches and stunning chapels it is often described as the heart of Provence. Aix-en-Provence is probably one of the prettiest towns in Provence, if not France. A beautiful mixture of 15th-17th-century townhouses, leafy squares and churches it's the perfect destination for a refined city break. And if you are after a picture-perfect village, then Le Castellet ticks all the boxes with amazing elevated views across the surrounding countryside.
Lavender fields
In bloom from June to August, lavender fields encapsulate the very essence of Provence. Fragrant, rich purple coloured rows neatly cross in lines over the fields making the surrounding landscape look even more beautiful than normal. Used in soaps and other toiletries as an essential oil, as well as occasionally in cooking, it not only looks amazing but is useful too!
Gorges du Verdon
The deepest gorge in France, the Gorges du Verdon, is one of the 'must-see' natural wonders of Provence. As well as spectacular scenery this is also a great area for hiking. Kayaks are available for hire which allows you to explore from the water as well as on foot.
Paul Ricard Track
Located a short distance from the historic village of Le Castellet is the iconic Circuit Paul Ricard. Built in 1969 by the maker of the famous pastis drink, this race track has seen a raft of memorable races and more recently has been used as an advanced test track. If you are into F1 then you'll hear plenty more about the circuit as it welcomes the Grand Prix to its tarmac in 2018 after a 10 year hiatus from France.
The wine
Provence is home to an extensive array of fine vineyards and wineries located in instantly recognisable regions, such as the famed Chateauneuf-du-Pape which produces the extraordinary reds that bear its name. Although the red wines produced in Provence are exceptional, the region is really famed for its Rosé. This pink hued wine is simply superb and the perfect cooling drink to enjoy during the warm weather. Whatever your preference, a trip to a vineyard should be high on your list of to-do's during your visit.
Fine dining
France has been renowned for its gastronomy for many years and Provence is home to its fair share of excellent restaurants. You owe it to yourself to book a table and enjoy a memorable meal at one of the Michelin starred restaurants found across Provence. A search of the Michelin Guide will list them all but from experience I can thoroughly recommend the Restaurant Christophe Bacquié at the Hotel du Castellet – awarded two Michelin stars in this year's guide, your taste buds will thank you for the experience.
Sunflowers
Up there with a visual wow factor alongside lavender are Provence's sunflower fields. When you have been used to buying these in bunches of 4 from the supermarket it quite takes your breath away to see tens, if not hundreds of thousands of these bright yellow flowers marching across the landscape.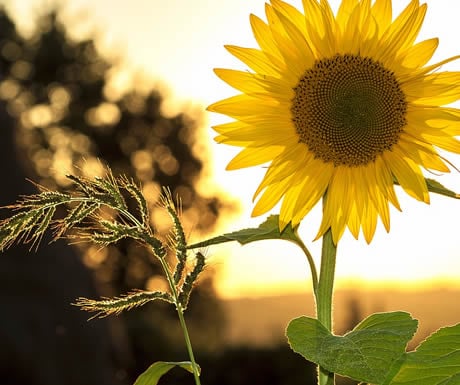 Café culture
It's not only food that the French do well. Coffee is another specialty. But it's not just the coffee, it's the way the drinking of it is integrated into everyday living which gives rise to the café culture that is so enjoyable. Forget Starbucks and a £4 latte and instead settle down at a small table overlooking the town square, order 'un café' and enjoy the espresso they bring (which will set you back about a euro). Milk is not commonly served but if an espresso is too much then try 'un café allongé' which will get you an espresso in a large cup with hot water to dilute.
The outdoors
Provence is a dream for anyone who loves being outdoors. There are endless miles of tracks to walk, paths to explore with stunning scenery on route. There is no shortage of active sports either – cyclists will love the dry trails and variety of terrain to bike through, whilst the adventurous might like to try paragliding or even bungee jumping! And let's not forget the watersports available – from sailing to diving there is something for everyone.
The beaches
Perhaps unsurprisingly for a region where the coastline features so heavily, there are plenty of lovely beaches for you to enjoy. From wide sandy stretches to small almost undiscovered coves, if you love sand and sun then you're in for a treat. The coastal town of Bandol marks the start of the French Riviera and is home to several notable beaches in easy reach of the town. Alternatively, try St. Croix beach which is mostly frequented by locals. Family friendly waters and lots of lovely white sand make this a real find.
The history
Provence has a varied and rich history dating back millennia and can still be seen today in much of the ancient architecture which still stands in villages, towns and cities across the region. From the fortified village of Le Castellet to the magnificent Aix Cathedral, anyone who has an interest in history will find Provence a truly fascinating destination.
The long lunches
A holiday should be about relaxing and enjoying a change in pace from your normal day-to-day life. In part due to French culture and also helped by the wonderful weather you'll have plenty of opportunities to make the most of a leisurely lunch which can extend into the afternoon (perhaps followed by a nap back home under the shade of a tree). Forget a rushed sandwich and instead enjoy a lunch of 2 or 3 courses, al fresco if possible! Watch out for the ever-changing daily set menu offered by most restaurants; these are normally excellent value and make the most of seasonal ingredients that the chef likely bought from the local market that day.
Provence is such a varied region it's almost impossible to get bored with an almost endless array of things to see and do, opportunities to relax, to have fun and explore… the French really do know how to live and Provence provides the perfect setting in which to have a truly wonderful holiday.
Whether your plans for 2018 involve Provence or not, may I wish you a Merry Christmas and a wonderful, happy New Year!
Su Stephens is Owner of Olives & Vines.
If you would like to be a guest blogger on A Luxury Travel Blog in order to raise your profile, please contact us.