My expectations for food in Colombia were not high. I envisaged quite a bit of meat and a lot of black beans! I was very pleasantly surprised by the quality of the food in Colombia – and it is generally amazing value! I visited Bogota, Cartagena, Medellin and La Macarena in my time in Colombia so the list below contains my eating highlights!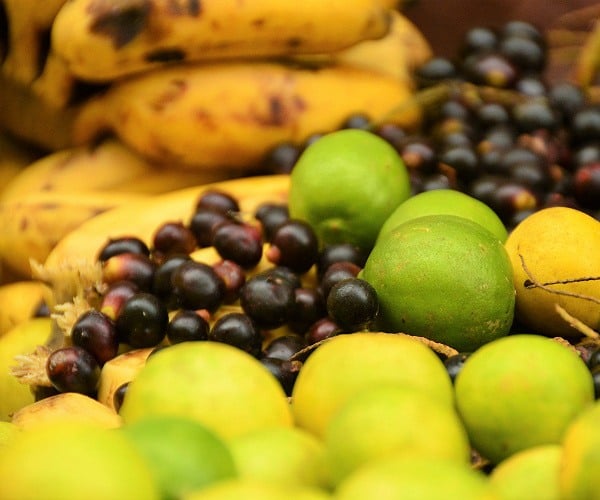 Obleas Bogota
The obleas is a wafer based snack that is sold on carts in the street across Colombia. However, Bogota claims to be its natural home. The obleas can have as many layers as you would like. The standard obleas is three wafers with sauces in between. The two key sauces are the delicious caramel sauce Arequipa and a blackberry jam of sorts. As this is Colombia grated white cheese is also often added to the core offering.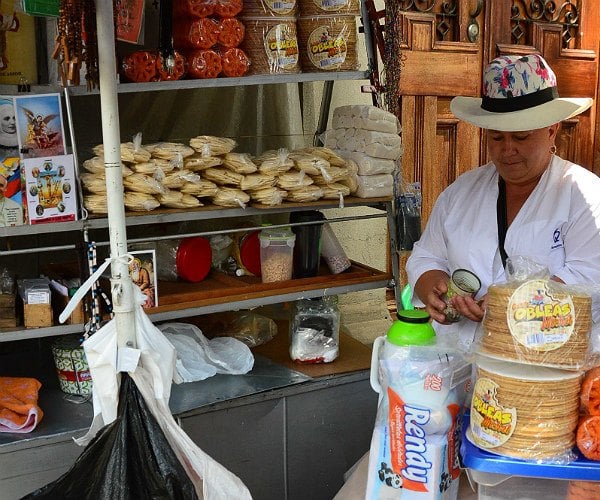 However, there is no need to limit yourself! Your Obleas can have 6, 7 layers and many different toppings from fruit spreads to cream options.
One of my favourite Colombian stories concerns the marketing of the obleas. Some years ago The Rolling Stones did a concert in Bogota. Apparently, during their stay, Mick Jagger tried an Obleas and was a big fan. Word got out. Now, virtually every obleas stand in Bogota has a poorly Photoshopped image of Mick Jagger holding an obleas and claims to be the stand from which he made this original and memorable purchase! No one is saying who was the true maker of the Jagger obleas!
The tasting menu at Carmen Medellin
Carmen is one of the top restaurants in Medellin. Its chef, Carmen, is Cordon Bleu trained. The restaurant is in a lovely home in the El Poblado neighbourhood of Medellin. It is quite a large space with a good sized bar area. There is outdoor and indoor seating.
Carmen is best known for its tasting menu. I enjoyed the 7-course tasting menu – it was absolutely delicious! I chose to have this with the wine sampler which worked very well – it is often the only way I will try new wines and the choices were excellent. Portion sizes are generous so have a light lunch – and make sure you book ahead as Carmen fills up.
Cevicheria Cartagena
Cartagena on the Caribbean coast of Colombia is famous for its seafood. And its most famous form of seafood is ceviche. The tiny restaurant Cevicheria was plucked from obscurity by well-known chef Anthony Bourdain. By this famous reference has not gone to its head!
As you would expect most of the menu is seafood. There are ceviche platters on offer which is what I tried and it was absolutely delicious. The balance of the menu was cooked seafood offers which also looked fantastic.
It is quite a small restaurant and does not take reservations. There is an inside area with a small bar and a small number of lovely outdoor tables. Do try to arrive on the early side for dinner to minimize your wait. There is a good albeit pricey bar literally across the road.
Crepes and Waffles, across Colombia
I seldom include a chain when I talk about great eating experiences but I am making an exception for the fantastic Crepes and Waffles. The first reason for that is because of their hiring policy. They only hire women who have been in difficult situations and need help which I very much support.
The second reason is the crepes. They are amazing – and the menu is so extensive! It would hard to find something on the menu that didn't match any food craving you might be having. The third reason is, of course, the waffles. Same as the crepes but I always feel that waffles are better on the sweet vs savoury side. They do excellent waffles with caramel or Arequipa.
The fourth reason is the ice cream. They have amazing ice cream and you can buy it takeaway – again don't miss the salted caramel. The final reason is you can have breakfast, lunch and/or dinner at Crepes and Waffles. The extensive menu caters for all meal occasions!
Oci Medellin
This was my favourite restaurant in Colombia! The chef Laura trained at the Paul Bocuse Institute in Lyon and has cooked across Europe and Asia. She then spent time in Sydney refining her expertise in fusion cuisine. She has used this experience to craft an interesting and delicious offer at Oci. Everything is prepared at Oci and they specialize in long slow cooks.
I had a particularly amazing lamb shank when I was there – slow cooked of course! And the tempura bananas with Arequipa were amazing for dessert.
There is a nice little bar as well where you can order from the menu. The atmosphere is relaxed and friendly and there is a good wine list. Overall the value for money is amazing – Oci would easily hold up in London and would be able to charge more than double the price and still be excellent value.
Oci is in the El Poblado area of Medellin.
Maria's Mangos Medellin
The fruit in Colombia is amazing! It is almost as good as chocolate – almost! There is quite a bit of fruit on offer when it comes to street food. A street food vendor often has several different brightly coloured fruits in slices and plastic cups. The highlight for me was the mango.
The vendor adds salt and fresh lime/lemon to the slices, pops them upside down to coat the salt and lime across the mango slices and then serves them up. They are absolutely delicious! Locals tend to prefer their mangoes green or unripe. As a foreigner, I preferred mine ripe and juicy. The best person to buy mangoes from in Medellin is Maria. She has a stall just outside the main entrance to San Antonio station and not only provides an amazing mango experience she is great fun!
La Macarena/Cano Cristales pork BBQ
La Macarena is literally a one-horse town in Colombia. That horse has a cart and takes the luggage off the small planes that bring people into the base for exploring the amazing Cano Cristales or the Rainbow River. Locals put on a show for the tourists on Calle 4 8 where one of the local teachers is the MC (in Spanish) and sings. He is then followed by the cutest kids you've ever seen doing the most fantastic dancing and then the grown-up version. So cute!
However, the key highlight was the amazing pork that we were served! My expectations were rather low based on the basic set up but gosh was I wrong! The pork was barbequed and absolutely delicious.
Medellin brunch at Al Alma
There are many great brunch options in Medellin – especially around the El Poblado neighbourhood. Medellin is brilliant at a sort of fusion brunch – the typical smashed avocado with poached eggs type brunch options but with lots of interesting twists. At Al Alma, they have the most amazing brioche style bread. It is not completely brioche – more a strong touch of brioche. It adds so much to its already extensive and very tasty brunch offering.
They also do great coffee – they are a coffee roaster. And their juices and pastries are also fabulous.
Paisa Bandeja Guatape
Hungry? Starving? Then the classic paisa platter is for you! I believe this dish was designed for those who had spent a long hard day working in the fields as it is definitely not for those on a diet! It is also not for vegetarians.
It generally contains: rice, plantain, arepa, chorizo, avocado, mincemeat, black sausage, something pork and an egg on the top. The servings of each of these items tend to be rather generous. Sharing can be a good option! Paisa Bandeja is available across Antioquia but we had a fine one in Guatape.
Popsicles in Cartagena
As I mentioned earlier the fruit in Colombia is amazing – so flavoursome! So it should come as no surprise that this fruit creates amazing popsicles! Cartagena is hot – really hot. It makes a lot of sense for there to many popsicles on sale. There are several super cute little stores that specialize in popsicles and they have the most amazing range of flavours – far beyond just fruit.
My favourite was La Paleteria in the old town of Cartagena. I highly recommend trying their passionfruit popsicle. They are also relatively small so there is probably no harm in trying a couple of flavours!
Amanda OBrien is Owner of The Boutique Adventurer. The Boutique Adventurer focusses on luxury adventures in emerging destinations that end with a high thread count on the sheets in the evening.
If you would like to be a guest blogger on A Luxury Travel Blog in order to raise your profile, please contact us.