When you hear the word "Bahamas" what comes to mind? White sandy beaches. Water so clear you can see your toes as exotic colored fish and other marine life weave in and out of your legs. Palm trees, warm breezes, and cold beverages topped with umbrellas. These picturesque descriptions are synonymous with the Bahamas, and so are all-inclusive and luxurious family resorts. The Bahamas aren't only meant for honeymoons and couple's getaways. You'll find a variety of luxurious hotels and resorts that accommodate families of all sizes. Let's explore the Bahamas – family style!
1. Atlantis, Paradise Island Bahamas
No list would be complete without mentioning Atlantis – one of the Bahamas' most popular and far-reaching resorts. With over six different sections, families from all walks of life will find their ideal setting.
The Cove at Atlantis is every adult's oasis. This isolated part of the resort is tucked away between the Cove and Paradise beaches. This gives it a private and secluded feel that most vacationers seek. The open-air lobby and one of a kind pool design that pairs poolside luxury with white sandy beaches are sure to offer relaxation and serenity for guests. Though this Cove pool is for adults only, there are plenty of other amenities at Atlantis that are designed just for kids. While you are enjoying poolside spa treatments, complimentary tea, coffee, and light reading, your children will be having the time of their lives!
With over 20 swimming areas and 11 different and unique pools throughout the resort, if swimming is what your child desires most, they've come to the right place! From tube slides and water fountains to climbing equipment and cargo nets, each pool is a new and exciting adventure. When your children are back on dry land, Atlantis offers a wide range of activities for guests as young as one and as old as 17! So whether you're traveling with infants and toddlers or preteens, they're days will be busy with activities. Some of the highlights include yoga, paddleboarding, snorkeling, training programs, and time on the beach.
2. Breezes Resort and Spa
If you're looking for an all-inclusive luxury experience that the entire family will enjoy, look no further. Breezes Resort and Spa is located on Cable Beach, one of Nassau's best beaches. Have you ever imagined stepping outside of your room directly onto warm, white sand? If so, a vacation at Breezes will not only meet but exceed your expectations as one of the only Bahamas resorts that offer true, beach-side rooms. If you're looking to spend your day near the water, you can rent a cabana which includes personalized waiter service.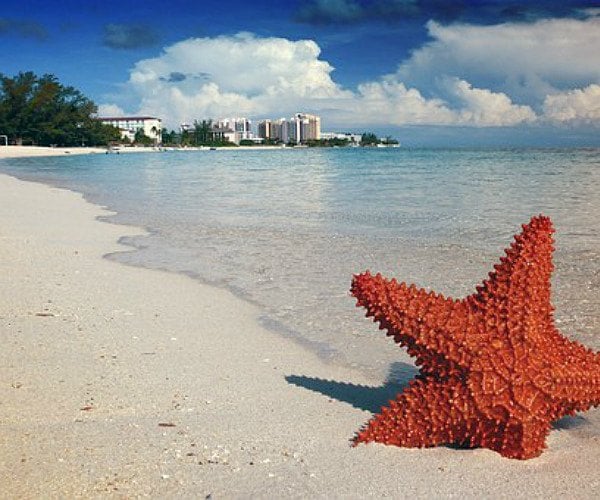 If your kids prefer swimming in pools over the ocean, they can choose from one of the resort's three freshwater options, though the Sip & Dip swim-up bar and pool is for adults only. Not to worry, there's plenty for the kids to do on dry land from beach volleyball and flying trapeze to visiting the game room and rock climbing wall or laughing the day away with sumo wrestling and bouncy boxing! And the fun doesn't stop when the sun goes down. Breezes offers nightly entertainment including live bands and themed parties. Breezes is likely geared toward families with older children that can take full advantage of the awesome entertainment and activity features, plus appreciate the beauty of its beaches.
3. Old Bahama Bay
For a truly unique experience, Old Bahama Bay, located just 56 miles off the shore of Florida on the westernmost tip of the Big Island, offers a breezy and relaxed getaway experience. With friendly staff, an international airport, and only a short drive to Freeport, you can enjoy all that the Bahamas have to offer without feeling completely isolated.
As far as activities and amenities go, the list is long. All guests have access to hammocks and lounges along the resort's white sandy beaches. The oceanfront pool offers an infinity edge and lounging area. Are you and the kids interested in watersports? No problem! You can try your hand at paddleboarding and even fish kayaking right from the shore. If your children are into technology, they'll be delighted to find a poolside Wii station and a children's DVD library. Other dry activities include a playground, table games, tennis courts and basketball courts. Old Bahama Bay also offers babysitting services for an hourly fee.
If you're looking to splurge a little and truly experience the luxury of the Bahamas, Old Bahama Bay offers some amazing excursions. No resort would be complete without a spa for pampering and a fitness center. The kids will love the ecology tours where they'll have the chance to feed stingrays and observe dolphins and turtles. While the children explore wildlife, you can play around or two of golf or charter a fishing boat. After everyone works up an appetite from the day's activities, the family can dine at the Dockside Bar & Grill or Teaser's Tiki Bar where a children's menus and pricing are available.
4. Hideaways Exuma at Palm Bay
Does your family prefer a more "homey" feel than that of a resort or hotel? If so, Hideaways Exuma is the perfect Bahamian destination. This beachside oasis offers accommodations ranging from studio apartments and two bedroom cottages to three bedroom villas. The resort prides itself on offering guests a safe, casual, and friendly experience.
With activities for guests of all ages, everyone will find something that fits their fancy here. Children are encouraged to splash around in the private pool, which is located on the patio or build sandcastles on the resort's private beach. Hideaways also boasts a calm beach shoreline with minimal waves, which means kids of all ages can comfortably frolic and play in the sand and near the water's edge while parents watch or play alongside them. Water activities include kayaking, paddleboarding, paddle boats that seat four, and water games poolside. But the fun doesn't stop there! Families have full access to the resort's game room, fitness center, and scuba and snorkeling excursions. After working up an appetite from the day's activities, your kids will love the Splash Beach Bar and Grill where they can choose from pizza, burgers, and other American cuisine options. But don't worry parents, there are plenty of seafood and local fare items on the menu as well!
5. Island Seas Resort
Island Seas Resort is also located on the Big Island near Freeport, which means you'll experience the tropical oasis that is the Bahamas without being too far from the action and amenities of the city. At Island Seas Resort guests will feel right at home in one of the fully-furnished suites, which come in one or two bedroom options. Suites offer a full-service kitchen, pull-out couch, and outdoor balconies that overlook either the marina, ocean, or courtyard.
The kids will love the resort's free-form pool, while parents will enjoy the swim-up bar feature and hot tub. While the adults are taking full advantage of the on-site spa services or partake in the resorts numerous water sports activities, kids will love the playground and free child-care at Camp Coconuts. Other dryland activities include shuffleboard, volleyball, and horseshoes. Did you forget something you needed? Don't worry! Island Seas Resort offers a fully-stocked convenience store to meet all your needs. Other island amenities include horseback, nature and island tours, fishing guides, snorkeling and dolphin experiences.
Booking the Bahamas
Experiencing the Bahamas means white sandy beaches, water sports, warm weather, and relaxation. These resorts will offer all that and more, especially for those traveling with kids. Whether you're taking excursions together or exploring the island in independent ways, everyone reconnects at the end of the day to reflect on their experiences, enjoy a delicious dinner, and get a good night sleep in tropical surroundings – only to wake and do it all over again!
April Sutphen is the Creator and Editor of Honest Mom. Honest Mom is where April shares beautiful moments and experiences from her travels as well as other challenges, successes and stresses of being a busy mother and wife.
If you would like to be a guest blogger on A Luxury Travel Blog in order to raise your profile, please contact us.