Experience an Amazon riverboat cruise
Some 30 years ago, most mortals feared the depths of the Amazon. Hollywood's images of sweltering jungles filled with human-eating fish, bone-crushing snakes and long-lost tribes ready to spear innocent intruders had an impact.
Over these past three decades, however, such illusions have given way to a more realistic understanding. People today are seeing this rainforest region as the sanctuary of natural life that it truly is. This has occurred in part with the opening up of the Amazon's best "roads": its rivers.
Adventurous explorers have begun to avail themselves of these aquatic thoroughfares to discover the most bio-diverse region on the planet.
Providing this access to the Ecuadorian Amazon is an extraordinary, state-of-the-art riverboat: The Anakonda – the most comfortable, informative and exciting means of exploring the rainforest.
Discover the Amazon
In addition to all the creature comforts provided on the ship, the Anakonda provides tours that allow authentic experiences and rare glimpses into how life on the river is actually lived.
Your journey starts in the city of Quito, the Ecuadorian capital, where you will take a short 25-minute flight to the Amazonian city of Coca. From there we are transferred to a motorized canoe to travel down the majestic Napo River to reach the Anakonda riverboat – where the adventure really begins
Along this major tributary of the Amazon River, not only can you interact with members of local indigenous communities, but you can also venture out on expert-led expeditions deep into the jungle itself.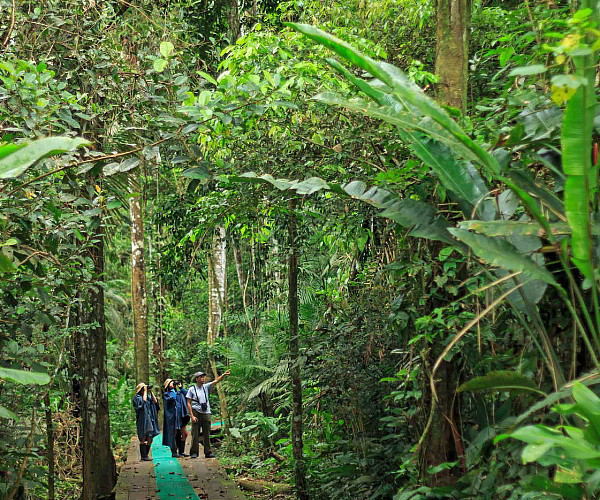 Disembarking from the ship by motorized canoe, guests go on daily land-excursions and jungle treks that have been designed to reveal the exotic wildlife that calls the rainforest home.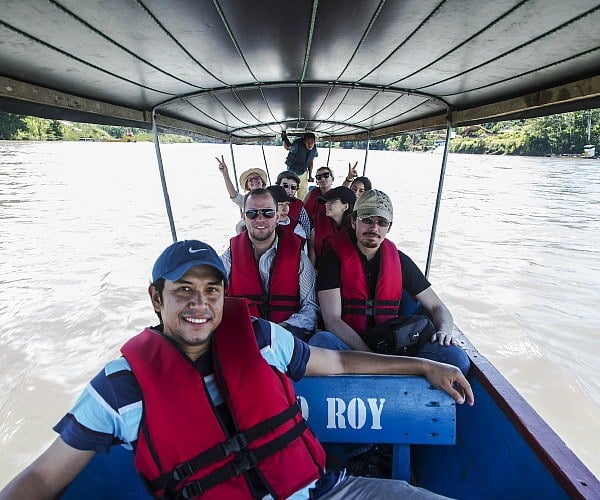 Here, by direct experience, you will find how the surrounding rainforest is home to 14 species of primates, 600 species of birds and more than 100 fish species. With any luck at all, guests will spot sloths, toucans and even legendary Pink river dolphins!
Activities
Some of the activities include paddling by canoe on Piranha Lake in search of White caiman and Water monkey fish (Arawana). Then too, you can explore the waterways of the flooded Pañayacu Biological Corridor with a team of four expert naturalists. Later, you can crouch down behind a bird blind to observe up to hundreds of parrots descending onto a "clay lick."
Cultural contact
With rainforest hikes, birding walks, and nocturnal river safaris…there are definitely lots of things to do. From the cultural angle, you can learn about the everyday traditions of the indigenous Kichwa women on visits to villages at the river's edge.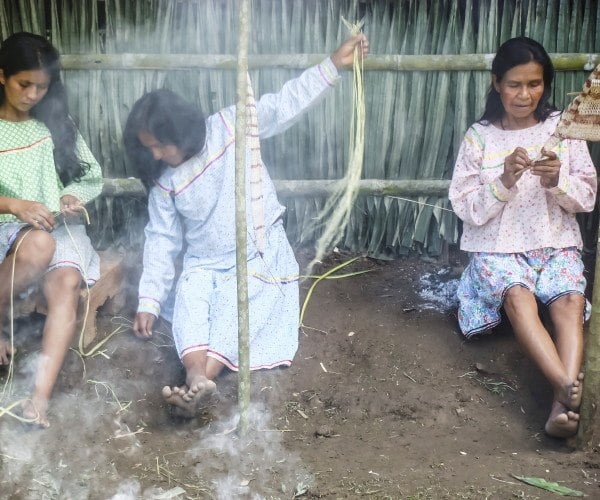 Accommodations
Accommodations on board this "floating boutique hotel" consist of 18 suites, each with an area of 215-258 square feet and offering you all the comforts of home. These include spacious air-conditioned guest rooms, private bathrooms, private balconies, 24-hour electric service and hot water, satellite-serviced Wi-Fi internet. Plus, the panoramic floor-to-ceiling cabin windows that make it seem like you're watching a big-screen National Geographic special as the rainforest passes by.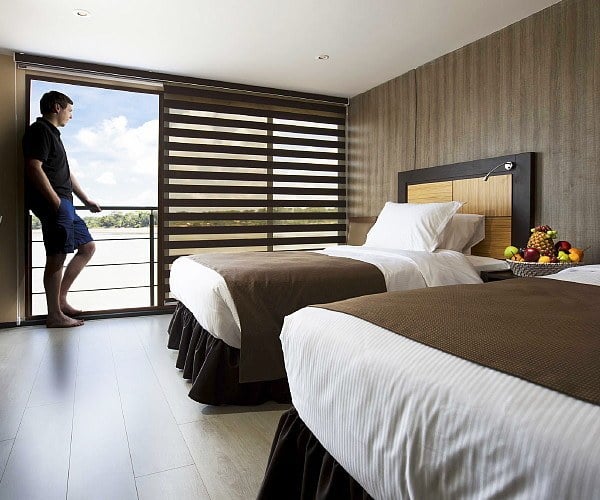 Dining
For your eating pleasure, the cooking staff will serve you irresistible and delectable cuisine. You can choose everything from classic international dishes of world renown to adventurous Ecuadorian dishes that highlight our country's rich and unique ingredients. By all means, we encourage such "culinary adventure," as these menus are yet another excellent opportunity for you to explore.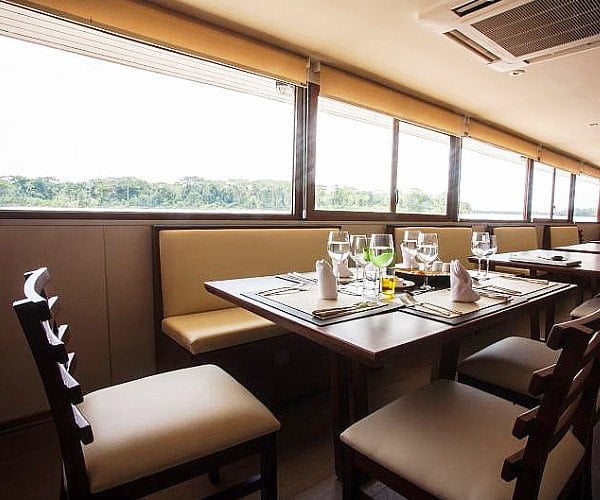 Social areas
All passengers can socialize in the dining room, the bar/lounge, the observation deck, in the outdoor Jacuzzi, and in the al fresco lounge.
There's also a small boutique where one can purchase souvenirs or perhaps any vanity product that was left at home. For more private travelers, you can enjoy your own panoramic scenery from the privacy of your cabin – just make sure you bring some good binoculars with you.
Types of travelers
The Anakonda is suited for any kind of traveler. Thinking of visiting the Amazon with your children? No problem. To accommodate families, the Anakonda offers accommodations in its four interconnected suites that feature amenities suitable for children. But what about honeymooners? Of course! But travel on board the Anakonda is by no means limited to young people. What better way for retired couples to enjoy more of life's thrills than by experiencing an Amazon adventure? You'll also be surrounded by other interesting travelers seeking authentic experiences.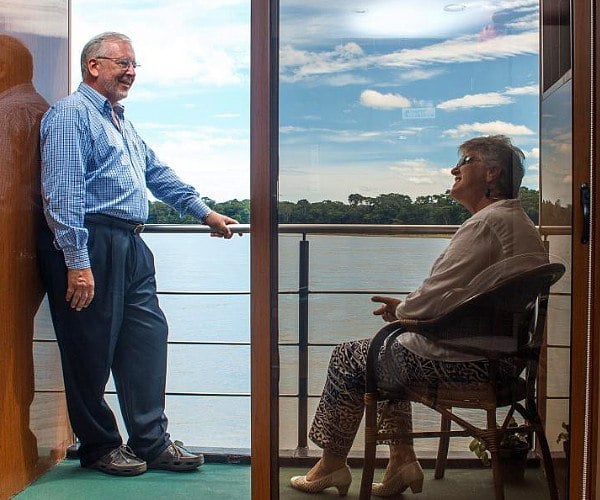 Guests are assisted by the 25-member crew, which includes a concierge, a steward, a paramedic, four knowledgeable bilingual naturalist guides, and four local guides.
All these features make the Anakonda the perfect option for large groups as well. Consider chartering an Amazon cruise for your family reunion or a corporate event.
Like the tropical awe of the rainforest itself, your options are simply limitless!
Alfonso Tandazo is President and CEO at Surtrek Tour Operator. Surtrek Tour Operator is a well-established firm, specializing in custom-designed luxury tours in Ecuador, the Galapagos and throughout the rest of South America.
If you would like to be a guest blogger on A Luxury Travel Blog in order to raise your profile, please contact us.
Did you enjoy this article?
Receive similar content direct to your inbox.